Analysis
Biological safety cabinets also are known as biosafety cabinet which is enclosed and ventilated laboratory space used for working with biohazard materials safely to avoid contamination of laboratory environment with the harmful bacteria present in the sample. These cabinets are equipped with HEPA filters (high-efficiency particulate arresting) and exhaust filters to maintain the sterility of environment. There are certain standards for biological safety cabinets include Australian Standard AS 2252, American Standard NSF 49, Japanese Standard JIS K 3800, and European Standard EN 12469 to make sure the safety and hygiene of biological safety cabinets. Proper maintenance of these cabinets is required on a regular basis which involves replacement of HEPA filters, airflow and proper handling of cabinets while working.
There is a constant increase in innovation, knowledge, and R&D over a period of time resulted in the increased demand of biological safety cabinets. There is a significant growth of e-commerce which has given a huge platform to the biological safety cabinets and made it easily available on a large scale. As the healthcare facilities are increasing it requires fast and accurate results for the treatment of any disease or disorder which require improved setup and extensive use of technology. From past few years, there is an increase in the adoption of automation in laboratories which provide better results with minimal or no errors and this automation helps in the storage, handling of samples and materials easily. Biological safety cabinets are very easy to use as they come up with the latest technology and digital interface makes it much easier of an individual to work on, it also reduces the complexity of operations which in result support the growth of biological safety cabinets market.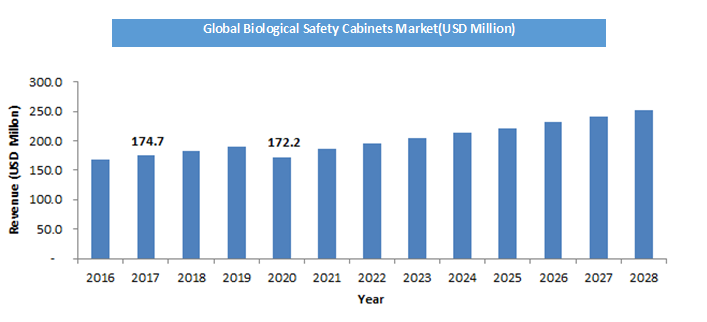 Based on the product type biological safety cabinets market have been segmented into class I, class II and class III. Class II biological segment is expected to grow at fastest rate because it provides protection of both sample and environment. Biological safety cabinets markets are segment based on application into research, academic and industrial purpose. Research segment is expected to dominate the market in near future.
Europe is the leading market for lab equipment's and it is closely followed by North America and Latin America supported by fast-growing healthcare facilities and life science industry and high economic development. Asia Pacific is expected to grow moderately in lab equipment market because of emerging economies such as India, China and Japan due to the constant increase in pharmaceutical, biotechnology and life science industry. The Middle East and Africa are expected to experience a considerable growth.
Some of the key players in biological safety cabinets market include Erlab, Thermo fisher Scientific Inc., Labconco, AirClean Systems Inc., Germfree, Cruma, Azbil Telstar S.L, and Polypipe, The Baker Company and ACMAS Technologies Pvt Ltd among others.