Analysis
Biofuels are the fuels produced from metabolic by-products such as organic and food waste products or from living organisms. Biofuels are solid, liquid or gaseous fuel derived from biomass, living organisms or their metabolic by-products like manure from cows. Biofuels originally come from the sun captured through photosynthesis by the plants which are used as feedstock for biofuel production and is stored in the plant's cells. For manufacturing of biofuels various plants and plant derived materials are used like, natural oils from plants, wood and it's by products sugar crops, and waste from industry, agriculture, forestry, and households.
Biofuels are significantly gaining attention globally as substitutes for petroleum-derived transportation fuels so as to help energy security, energy cost and global warming concerns linked with fossil fuels. Biofuels can contain relatively familiar ones, such as diesel-like fuel made from soybean oil or ethanol made from sugar cane to less familiar fuels like dimethyl ether (DME) or Fischer-Tropsch liquids (FTL) made from lignocellulosic biomass.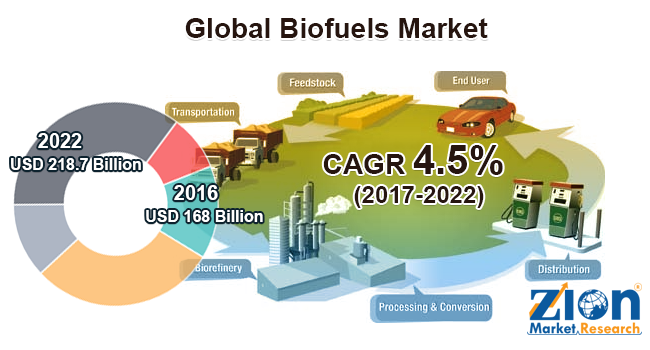 The Biofuels market has grown at a rapid pace over the past few years and is witnessing stupendous growth during the forecast period. The market for biofuels is driven by a number of factors, such as stringent environmental regulations promoting the use of biofuels, and need for economic development. However, hurdles related to distribution, development and retailing of fuels may adversely hamper the growth of the market.
Global biofuels market has been segmented on the basis of type, form, and region. On the basis of type, biofuels market is classified into bioethanol and biodiesel. Bioethanol segment dominated the overall market in 2016 owing to growing applications in wide range of industrial applications, in the pharmaceutical sector, the chemical industry, and as a fuel. On the basis of form, the market is characterized into liquid, solid, and gaseous.
Geographically, biofuels market can be segmented into North America, Europe, Asia Pacific, Latin America, and the Middle East and Africa. North America biofuels market dominated the overall market in 2016and is likely to account for the leading share of the revenue during the years to come. The rising awareness about the advantages of biofuels on conventional fuels and strict policies and regulations pertaining to the environment with environmental issues among the public are contributing to the growth of the region. North America will be followed by Europe, whose development will be governed by similar factors.
Key players in biofuels market are Copersucar S.A DSM, Green Plains Inc., Aemetis Inc, Western Dubuque Biodiesel LLC, Solazyme Inc., Renewable Energy Group, Raizen Energia Participacoes S.A, BlueFire Renewables, Aventine Renewable Energy Holdings, Inc. (AVRW), and Australian Renewable Fuels Ltd. among others.