Analysis
Silencer is also termed as muffler; the muffler is a device that is primarily used for reducing the amount of noise or sound emitted by the automobiles or any other machine. Usage of the muffler is the most effective method of noise control in automotive, where it is directly connected to the exhaust pipe of the engine. The effective way employed is the usage of the muffler, where it is directly connected to the exhaust pipe of the engine. Mufflers are to be installed along the exhaust pipe as a part of the exhaust system to reduce the exhausted noise. Different types of mufflers namely baffle type mufflers, resonance type mufflers, wave cancellation type, combines resonance, absorber type, and absorber type.
The government of various nations has been taking action on the excess sound of the vehicle to overcome the problem of noise pollution. The regulation is aimed at improving environmental protection and public safety and at ensuring a better quality of life and health, by reducing major sources of noise caused by vehicles. Growing environmental concerns and stringent exhaust noise laws are driving the automobile mufflers market. The automobile muffler market is mainly dived into the motorbike, scooters & moped, snowbike, and others. Motorbike segment dominated the automobile muffler market with more than 36% of the overall market share in 2016 in terms of revenue. In terms of value, scooters & moped segment held the second largest market share of the overall automobile muffler market in 2016.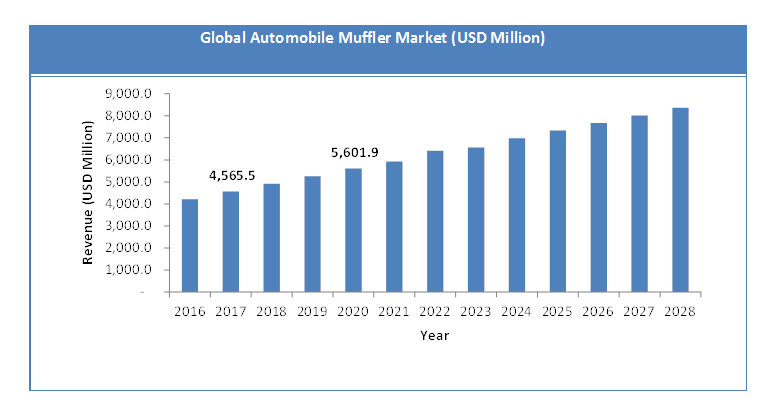 The automobile muffler market can be segmented on the basis of vehicle types such as motorbike, scooters & moped, snow bike, and others. By sales type segmentation the automobile muffler market is segmented as OEM and aftermarket. Increasing R&D investments in various developing countries including India and China, coupled with major leading two-wheeler manufacturers expanding their production capacities across Asia Pacific is expected to strengthen the automobile muffler market in the region. The market for e-motorcycles and e-scooters is driven by high demand for these vehicles in China, where the majority of these vehicles are sold. Growing age of the vehicle population is supporting the aftermarket for mufflers.
By geographical segment, China, India, and Americas are anticipated to witness significant growth over the forecast period. High demand for automobiles in India and China is driving the market for automobile muffler in Asia Pacific. Demand for of motorcycle in the U.S. is increasing at a rapid rate which is expected to strengthen the market in Americas. This, in turn, results in healthy CAGR of the global automobile muffler market over the forecasting period 2016-2022.
Some of the key players included in automobile muffler market are Onyxautosilencer, Apexhaust, Faurecia, ASPO Ltd., THUNDER and others. This report segments the global automobile muffler market as follows:
Automobile Muffler Market: Vehicle Type Segment Analysis
Motorbike
Scooters & Moped
Snowbike
Others
Automobile Muffler Market: Sale Type Segment Analysis
Automobile Muffler Market: Regional Segment Analysis
North America
Europe
Asia Pacific
Latin America
Middle East and Africa