Analysis
Automated guided vehicles (AGVs) can navigate without any human intervention. These vehicles are majorly used in manufacturing plants to transport materials, without any manual operator. These vehicles are widely used in flexible manufacturing systems and material handling systems, among other handling applications.
Automated guided vehicle market is projected to grow during the estimated timeframe, owing to the technological developments made in the automotive manufacturing sector. The use of automation in this field has helped companies to enhance their outputs in the past couple of years. These systems have reduced production time and labor costs. In 2017, the number of vehicles manufactured globally was nearly 97 million units, as compared to 77 million units in 2010. Further, in 2016, the global number of cars manufactured was 72 million units, as compared to 68 million units in 2015.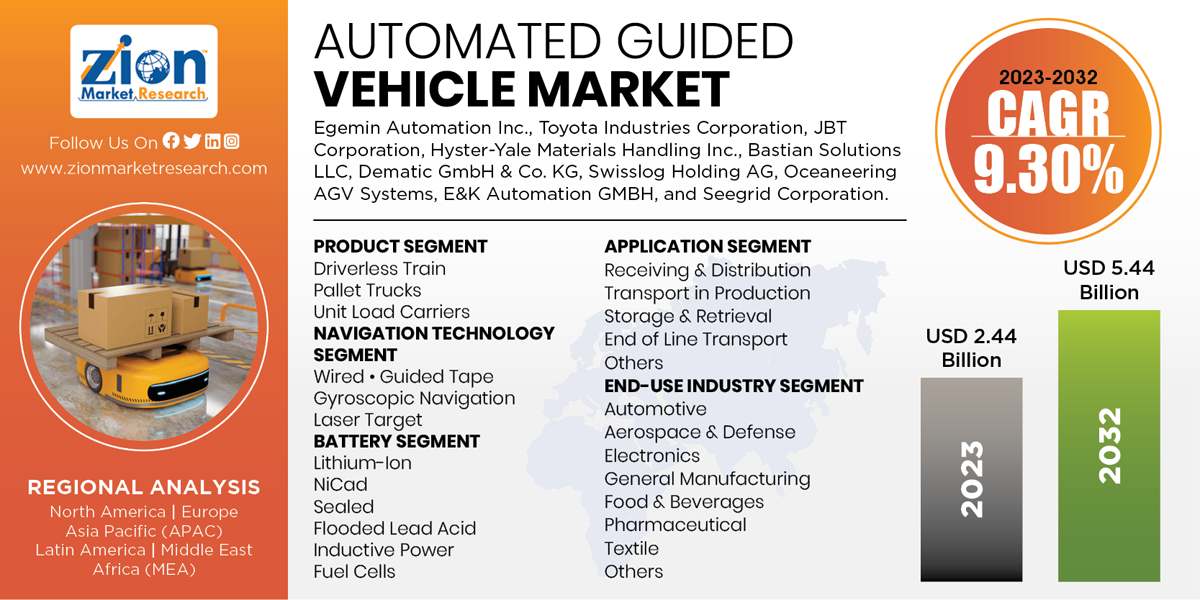 Audi, Mercedes, and BMW, among other automobile manufacturing companies, have already opted for AGV in their manufacturing factories. In 2012, Mercedes deployed automated guided vehicles in its Ludwigsfelde manufacturing plant. In 2018, SEAT, a Volkswagen subsidiary revealed that it had nearly 125 AGV's in its Martorell factory in Spain. However, high initial investments for product manufacturing might slow this market's growth. Moreover, increasing use of artificial intelligence (AI) in the manufacturing sector might open new opportunities for the automated guided vehicle market in the near future.
The automated guided vehicle market is divided into the product, navigation technology, battery, application, and end-user industry. By product, the automated guided vehicle market is segmented into the driverless train, pallet trucks, and unit load carriers. Driverless train is anticipated to hold a considerable share during the forecast timeframe, due to the growing product demand from the aerospace industry. Wired, guided tape, gyroscopic navigation, and laser target comprise the navigation technology segment of the automated guided vehicle market. Lithium-Ion, NiCad, sealed, flooded lead acid, inductive power, and fuel cell comprise the battery segment of this market. By application, this market includes receiving and distribution, transport in production, storage and retrieval, end of line transport, and others. Transport in production is expected to grow at a significant rate during the forecast time period, owing to the increasing demand from manufacturing companies to reduce the product transit time between assembly lines. By end-use industry, this market is divided into automotive, aerospace and defense, electronics, general manufacturing, food and beverages, pharmaceutical, textile, and others.
The Asia Pacific is likely to hold a substantial share in the global automated guided vehicle market during the forecast timeframe, due to the increasing electronics production in China, South Korea, and Japan. Further, western manufacturing companies, such as Apple, Ford, Volkswagen, and General Motors, have opted to establish their manufacturing plants in Asian various economies, such as India, China, Taiwan, and Thailand.
Noticeable players operating in the global automated guided vehicle market are Egemin Automation Inc., Toyota Industries Corporation, JBT Corporation, Hyster-Yale Materials Handling Inc., Bastian Solutions LLC, Dematic GmbH & Co. KG, Swisslog Holding AG, Oceaneering AGV Systems, E&K Automation GMBH, and Seegrid Corporation.