Free Analysis
Athletic footwear is designed for athletics which is to be worn for sports, jogging, recreational activity, exercise, or gym. Athletic footwear's are made up of flexible materials such as leather, rubber, etc. Athletics shoes are primarily designed for sports activities or for physical exercise. Owing to its comfort level athletic shoes are mostly used for running. Increasing health awareness related to obesity, blood pressure among people fuels the demand for athletic footwear. People prefer footwear which gives more comfort, durability and is of greater quality. Increasing preferences towards activities such as exercises, sports, and gym among the people anticipate propelling the demand for athletic footwear market in coming years. Athletes mostly prefer shoes that prevent muscle injuries, pain, leg injuries, etc. thus the popularity of the product is increasing across the globe. Accordingly, the demand for athletic footwear is expected to record a sharp rise over a forecast period.
The global athletic footwear market is categorized on the basis of product type and end user. Based on the product type, the global market is classified as aerobic and gym wear shoes, hiking and backpacking shoes, running and walking shoes, and sports shoes. By end-user, the global athletic footwear market is categorized into man, women, and kids. Among all, the men's footwear segment is growing consistent pace. It is the leading segment in the global footwear market. It accounted for 55% of the value share in 2017. Women prefer shoes which give them both style and comfort. This segment is expected to grow with the highest CAGR. The market growth is mainly driven by rising awareness about fitness and health among people coupled with the increasing interests in different sports events accelerating athletic footwear market. The main integral part of the global athletic footwear market is comfort which will lead the market in the coming years. However, rising raw material costs may hamper the global athletic footwear market growth.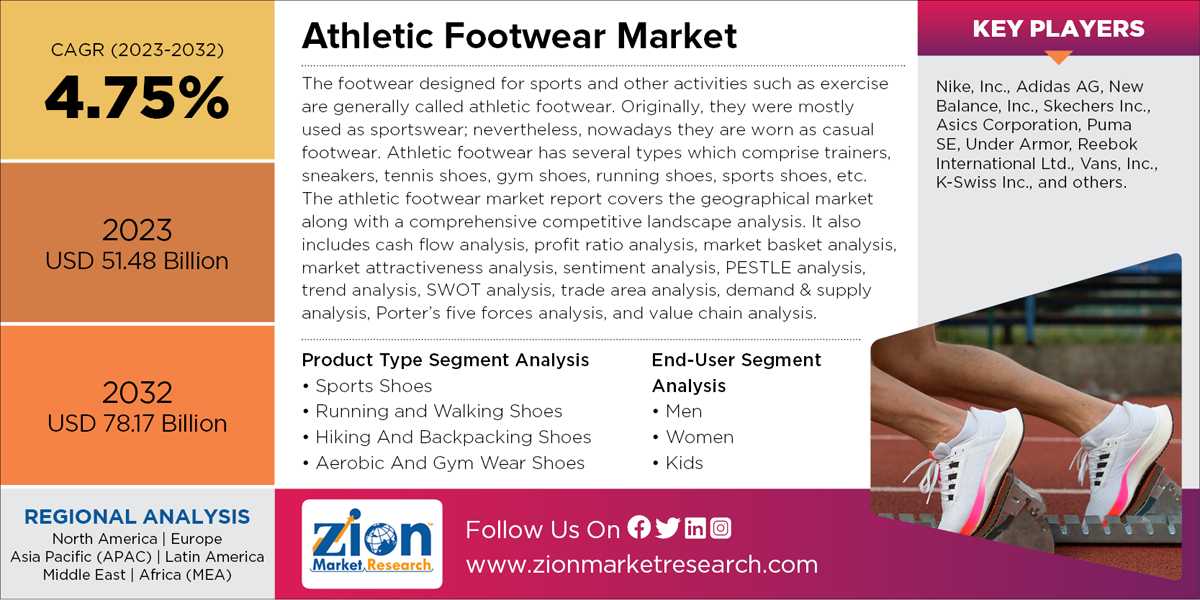 By geography, athletic footwear market finds its market scope in North America, Europe, Latin America, Asia Pacific, and the Middle East & Africa. The Asia Pacific is anticipated to be the fastest growing region owing to the facts such as growing awareness regarding health and increasing interest in exercise and outdoor activities. The Asia Pacific accounted for approximately 45% value share in 2016. The rapid development of the footwear industry in emerging economies such as China and India also contributes to the market growth. The demand for athletic footwear in Europe is expected to remain slow as compared to other regions.
Some of the key manufacturers involved in the global athletic footwear market are Nike, Inc., Adidas AG, New Balance, Inc., Skechers Inc., Asics Corporation, Puma SE, Under Armor, Reebok International Ltd., Vans, Inc., and K-Swiss Inc. The report includes detailed profiles including a company overview, key developments, business strategies, financial overview, etc. of key players operating in the global athletic footwear market.