Analysis
Artificial Intelligence (AI) can prove to be a powerful tool in the future. AI will be implemented in almost every sector, as it provides accurate outputs that are far superior to human efforts. AI technology allows computers to perform tasks using machine-based learning.
The artificial intelligence in accounting market will grow due to the rising need for automation in accounting processes, which will eventually support the decision-making and enhanced data-based advisory. Integration of AI with accounting to automate mundane and repetitive tasks and reduce accounting variations will also prove to be beneficial for the artificial intelligence in accounting market in the upcoming years. The technology holds potential to bring the accounting process at ease, which would include invoice classification, bookkeeping, reporting, contract interpretation, tax and revenue filing, cost auditing and management, and fraud detection. NLP and ML algorithms can draw business insights from both structured and unstructured data. AI can also improve fraud detection via more advanced machine languages models, which will enable better prediction of fraudulent activities. The artificial intelligence software impersonates the way a human thinks, enabling software to acquire knowledge by performing basic tasks. By processing large data volumes and identifying patterns, it can help in making recommendations and spot issues, as these algorithms process data in lesser time than humans. AI has proven to be useful and powerful tool for analyzing, processing, and automating some of the most complex business functions. However, rising concerns over criticality of data quality and volume and issues related to investments with the help of AI in accounting may curtail the artificial intelligence in accounting market.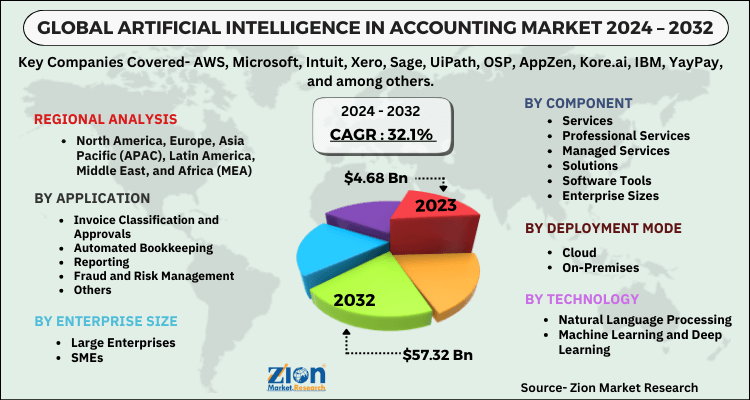 By component, the artificial intelligence in accounting market includes services and solutions. Services will hold a noteworthy share over the forecast period, owing to the rising deployment of AI in accounting tools, which will enhance the demand for pre-deployment and post-deployment services. The solutions segment is anticipated to hold a substantial market share, owing to the easy integration of the pre-built solution with prevailing accounting infrastructure. The rising number of partnerships between solution providers and growing number of innovations in the accounting sector are also influencing this segment's growth.
North America is expected to witness notable growth in the artificial intelligence in accounting market globally, owing to the substantial developments witnessed in the AI domain and rising implementation of AI across all the business sectors.
Some major players of the artificial intelligence in accounting market include AWS, Microsoft, Intuit, Xero, Sage, UiPath, OSP, AppZen, Kore.ai, IBM, and YayPay.