Analysis
Aquaponics stands for raising aquatic plants and aquatic animals together in a symbiotic environment. It is a sustainable form of farming plants and fish together in a beneficial way. Fish waste contains a lot of nitrates and ammonia which are beneficial for the plant. Nitrates and ammonia are good fertilizers for the plant. But nitrates and ammonia are harmful to fishes if it remains in water in large quantity. Plants in aquaponics can consume all the nitrates and ammonia and purify the water.
Growing population and increasing demand for food are expected to impact positively the global aquaponics market. Moreover growing demand for vegetables and organic fruits is expected to drive the demand for aquaponics in near future. Improvement in the adoption of new urban farming methods and demand for off-season availability of fruits & vegetables is expected to fuel the market growth over the years to come. In addition, low cost of production, time, lower transportation & storage cost of food and higher margins are other beneficial factors for the aquaponics market growth. However, high price of initial system setup & installation and unavailability of skilled labor required for aquaponics is expected to hinder the market growth within the forecast period. Nonetheless, technological advancement in farming and innovative steps towards environmental sustainability offer a vast opportunity for the industry participants in aquaponics market.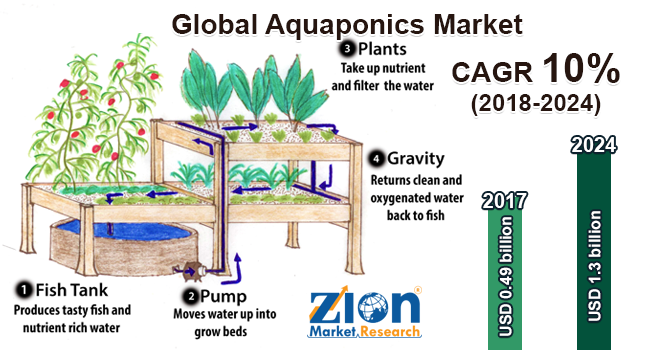 The product line includes fish, herbs, fruits, and vegetables. By product, vegetable segment dominated in 2017. Fish is another important segment and is poised for strong growth during the forecast period.
Based on components the market is segmented into bio-filter, settling basins, rearing tanks, hydroponics subsystem, and others. The hydroponic subsystem segment is anticipated to grow at an estimated CAGR of 6.39% from 2018 to 2024.
By geography, North America and Europe accounted for the largest chunk of market share in terms of revenue in 2017. The industry is expected to be driven by increasing population and demand for organic food products in developed and developing economies. In terms of revenue, North America and Europe were followed by Asia Pacific and Latin America in 2017 where most of the countries are developing. North America and Europe are expected to grow significantly in the years to come. This is chiefly due to increasing demand for organic products, technological advancement, and growing investment by key stakeholders.
The global aquaponics market is consolidated with the major players; these players accounted for a considerable share of the market in 2017. Some of the leading companies have been investing in product advancement and are maintaining superior standards in order to hold their dominance in the market. Some of the major players in the aquaponics market are Backyard Aquaponics Pty Ltd., Aqua Allotments, Nelson and Pade Inc., The Aquaponic Source, Ultrasonics Canada Corporation, ECF Farmsystems GmbH, My Aquaponics, and UrbanFarmers AG.