Free Analysis
API management platforms have come into vogue as the apps proliferate within the enterprise across the globe. As APIs go up in importance, so has the increasing need for better practices in API creation, development & management. The major API management services have built strategies that they CAN use as guiding principles when working with their customers. The rapid growth in the number of application programming interfaces (APIs) and micro services has created a business environment that allows the user to expand beyond users existing organization. With APIs, the user can add new partners, reach new demographics and expand to new geographies seamlessly.
The growth of API management is mainly attributed to rapidly increasing the popularity of web APIs paired with the mounting demand for private and public APIs. In addition, mobility and apps explosion is another key factor favoring the global API market growth massively. Furthermore, increasing needs to manage API traffic, advancements of the Internet of Things & Big Data and cost and feature benefits are expected to flourish the growth of API management market over the analysis period. However, security issues related to API is expected to have an adverse impact on the growth of API management market in the analysis period. Even so, system integrators and SOA and PaaS integrations may disclose new avenues for API management market in near future.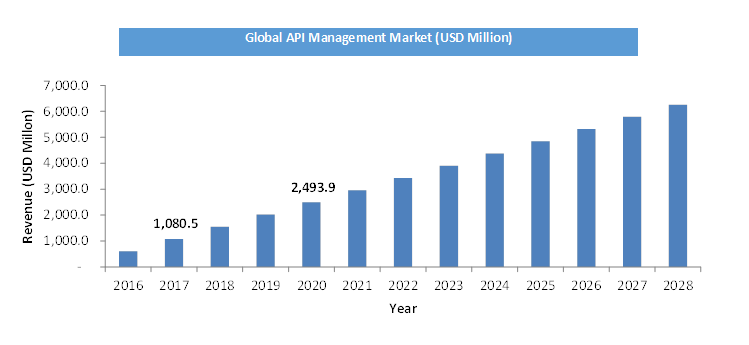 API portal, security, monetization, API gateway, API analytics and administration are the major solution segment of API managements market. API Security solution segment is expected to observe remarkable growth in coming years and expected to grow with highest CAGR owing to increasing demand for threat prevention, data encryption, and perimeter security. Service segment of API managements market is categorized into training & consulting, support & maintenance and integration. On-premises and cloud are the deployment type segment segments of API management market. The industry segment of API management market is categorized into BFSI, IT & telecom, government, healthcare, retail & consumer goods, manufacturing and others industries. BFSI dominated the industry segment for API managements market in 2016.
North America is estimated to hold largest market share in API management market in coming years owing to increasing popularity of web APIs, Europe is estimated as a most lucrative market for API Management market in near future. Growing numbers of mobile subscribers coupled with penetration of e-commerce in emerging economies will be key driving factors for Asia Pacific region in years to come.
Noticeable players operative in this API management market are CA Technologies, Google, Inc., Apiary, Inc., Axway, Inc., Cloud Elements, Microsoft Corporation, IBM Corporation, HP, Fiorano Software, SAP SE, Sensedia, Tibco Software, TYK Technologies and Red Hat, Inc. amongst others.