Analysis
A scalable system that provides complete protection from unmanned aerial vehicles (UAVs) of an area and various other facilities is called an anti-drone system. It includes a variety of equipment depending on specific applications, such as prisons, private residency, government buildings, commercial venues, and military applications, among others.
The demand for anti-drone solutions is likely to be driven by rising government security issues related to unmanned aerial vehicles (UAVs) or drones. Drones have resulted in many confidential data breaches by unauthorized users of other nationalities. Thus, to enhance national data security, the defense sectors of different countries are predominantly opting for counter or anti-drone systems. Deployed counter or anti-drone systems efficiently detect, track, and locate drone systems from specific distances. Depending on particular requirements, anti-drones are designed for both short- and long-distance applications, such that demolishment of drone does not harm the nearby civilizations. The rising deployment of the counter or anti-drone systems for military and defense sector is predicted to notably contribute toward the anti-drone market in the future. However, the prolonged and stringent government clearances for anti-drone systems may hinder the anti-drone market globally. Furthermore, technological commercialization by local companies for the development of their own anti-drone versions is anticipated to create new market opportunities over the forecast timeframe.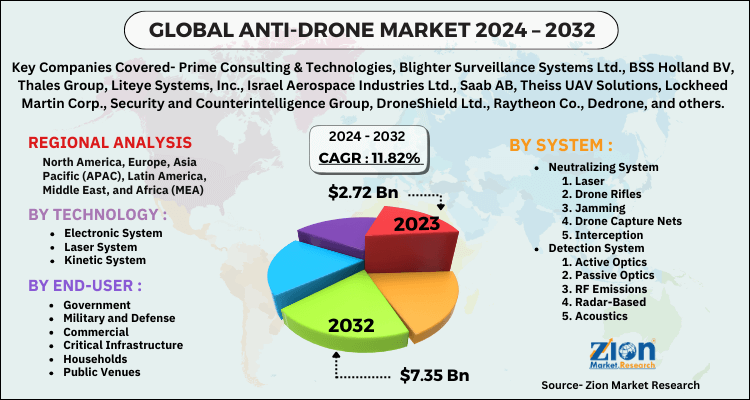 The global anti-drone market is segmented on the basis of system, technology, and end-user. By type, the market is categorized into neutralizing system and detection system. The neutralizing system segment is further classified into laser, drone rifles, jamming, drone capture nets, and interception. The detection system segment includes active optics, passive optics, RF emissions, radar-based, and acoustics. The technology segment includes electronic system, laser system, and kinetic system. By end-user, the market includes government, military and defense, commercial, critical infrastructure, households, public venues, and others.
By region, North America is likely to dominate the global anti-drone market in the years ahead, owing to the rising incidences of security breaches. The U.S. is anticipated to hold the largest share of this regional market due to the rising number of terror attacks. The Asia Pacific anti-drone market is forecasted to register significant growth in the upcoming years, owing to the emerging government initiatives and growing spending on military and defense infrastructure in developing Asian economies, such as India and China.
Some key participants operating in the global anti-drone market are Prime Consulting & Technologies, Blighter Surveillance Systems Ltd., BSS Holland BV, Thales Group, Liteye Systems, Inc., Israel Aerospace Industries Ltd., Saab AB, Theiss UAV Solutions, Lockheed Martin Corp., Security and Counterintelligence Group, Drone Shield Ltd., Raytheon Co., and Dedrone, among others.