Analysis
Aging is a procedure that accumulates various changes in a body over a time. Human aging process involves multidimensional changes over a period of time internally as well as externally and leads to degeneration of body affecting health, beauty and physical strength of a person.
Anti-Aging market has developed in the past decades due to evolution in modern technology. Anti-Aging is expected to grow at high growth rate in forecast period. One of the most important factors boosting the global anti-aging market is the large baby boomers population. Baby boomer is a term referring to a person who was born between 1946 and 1964. Baby boomers are most potential driver of anti-aging market as they are maturing and getting more aware about the current anti-aging services, products, and devices. In 2012, the first of the baby boomers generation came to close retirement age and it is evaluated that for the following 18 years baby boomers generation will turn 65 at a rate of 8,000 individual for every day.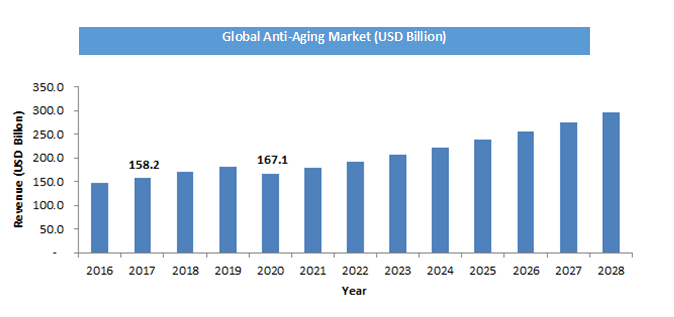 The global anti-aging market witnesses exponential growth owing to expanding demand of the consumers for natural, safe and useful products to deal with the signs of aging. However, diverse products, services, and devices are expected to open up new growth opportunities in forecast period. Anti-aging market is thought to be the biggest business sector as far as income and it indicates open door for new products which are safe and very proficient. The strict government regulations and technical advancement in anti-aging services is expected to fuel the market growth rate.
Anti-aging market is segmented based on age demographics, products, services, devices and by regions. The anti-aging market is categorized distinctively on the basis of age demographics includes baby boomer, generation X and generation Y. Baby boomer was the leading demographic segment of global anti-aging market. It accounted for more than 70% shares of the overall market in 2015. Some of the key product segments of the anti-aging market are Botox, anti-wrinkle products, anti-stretch mark products, and others. On the basis of services anti-aging market is divided into anti-pigmentation therapy, anti-adult acne therapy, breast augmentation, liposuction, chemical peel, hair restoration treatment, others. By device, anti-aging market segmented into microdermabrasion devices, laser aesthetics devices, anti-cellulite treatment devices and anti-aging radio frequency devices.
On the basis of geography, the anti-aging market is segmented into North America, Europe, Asia Pacific, Latin America, and Middle East & Africa. North America dominated the anti-aging market in 2015 due to rising obesity in the region and increasing awareness about ageing signs. Asia Pacific region is expected to show promising growth in anti-aging market in upcoming years owing to awareness about aging signs and developing economy in the region.
The key players dominant in the market include Personal Microderm, Alma Lasers Ltd, L'Oreal, Allergan Inc, Cynosure Inc., Solta Medical Inc, Beiersdorf AG and among others. Anti-aging vendors must adapt special business strategies for different anti-aging market based on gender, status, income level and age of people.