Analysis
A vehicle that runs on a fuel other than the traditional fuel such as petrol, diesel, etc. is called an alternative fuel vehicle. An alternative fuel vehicle also refers to any technological empowerment of vehicle engine that does not include petroleum. Apart from being expensive, these traditional fuels such as petrol and diesel are hazardous to the environment as well. Alternative fuel refers to nonconventional materials or substances that can be used as fuels such as gaseous fuels, electric batteries, biofuels, and liquid nitrogen. Some of the major countries such as China and the U.S. are currently focusing on increasing the production of alternative fuel vehicles. Some of the hybrid vehicles make use of petroleum fuel efficiently by using advanced technologies in the electric battery and motor/generator.
Many countries in the world have currently started using alternative fuel for new vehicles owing to environmental concerns. This factor is primarily driving the growth of alternative fuel vehicle market across the globe. Due to the increase in demand for fuel-efficient vehicles and strict regulations towards vehicle emissions, the adoption of alternative fuel vehicles is expected to grow significantly. The rapid decrease in oil reserves and other conventional fuel is another factor fuelling the adoption of alternative or hybrid fuel vehicles. High development of cleaner alternative fuel and advanced power systems for vehicles further drives the growth of alternative fuel vehicle market globally. Furthermore, the fluctuation in crude oil prices is another factor driving the growth of alternative fuel vehicle market. Moreover, electric vehicles use electric power as a source of power which is stored in batteries and is capable of recharging in public or private outlet. However, high initial setup cost and the high cost of alternative fuel is restraining the growth of alternative fuel vehicle market across the globe.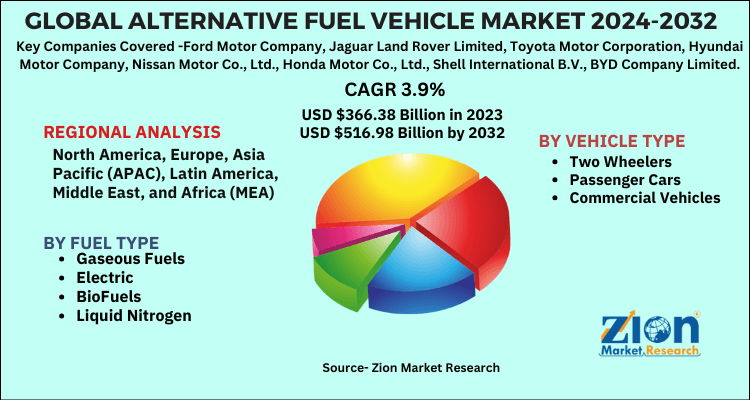 Alternative fuel vehicle market is segmented on the basis of fuel type, vehicle type, and region. Fuel type segment consists of gaseous fuels, electric, biofuels, liquid nitrogen, and others. Electricity based vehicle is leading the fuel type segment owing to its characteristics such as easy recharge ability and less operational noise. Vehicle type segments included in this study are two-wheelers, passenger cars, and commercial vehicles. Two wheeler vehicles type segment is expected to exhibit moderate growth due to the increase in production of electric bikes. The regional segmentation of the alternative fuel vehicle market includes North America, Europe, Asia Pacific, Latin America and Middle East and Africa with its further bifurcation into major countries including U.S., Canada, Mexico, Poland, Russia, France, UK, Germany, South Korea, China, India, Japan, Brazil and Argentina.
Key players profiled in this market include Ford Motor Company, Jaguar Land Rover Limited, Toyota Motor Corporation, Hyundai Motor Company, Nissan Motor Co., Ltd., Honda Motor Co., Ltd., Shell International B.V., BYD Company Limited, Daimler AG, Honda Motor Co., Ltd., Mitsubishi Motors, and others.