Free Analysis
The alcoholic beverage industry is now focusing on the latest packaging innovations that include superior branding and eccentric packaging formats such as paper wine bottles, whiskey pouches, and others. Rising consumer preferences for alcohol brands that prioritize convenient packaging and easy-to-open are expected to drive the alcohol packaging market growth over the forecast period. Clear information regarding alcohol and calorie content needs to be mentioned. Packaging, product quality, and alcohol content information promotes brand quality of the product and increases awareness level among the consumers. Latest trends in the packaging of beverages are focusing on the structure modification of packaging materials and development of novel active and intelligent systems, which can interact with the product or its environment and improved preservation of beverages, such as juice, beer, and wine. These aspects enhance the adoption rate and also improve food security.
Alcohol product labeling is considered as a component of comprehensive public health strategy to reduce the harm associated with the alcohol. Health labels are added to the alcohol containers and it is very much essential for raising awareness levels and has a long-term utility which helps to establish a social understanding of the harmful use of alcohol. Labeling requirements for alcoholic beverages are quite diverse at present and limited as compared to labeling for food products and tobacco. Regulation for alcohol labeling is applied globally, through one or combination of means which includes food standards laws and codes and voluntary agreements between industry and government. Some countries have introduced health labels and it is made mandatory for alcoholic beverages.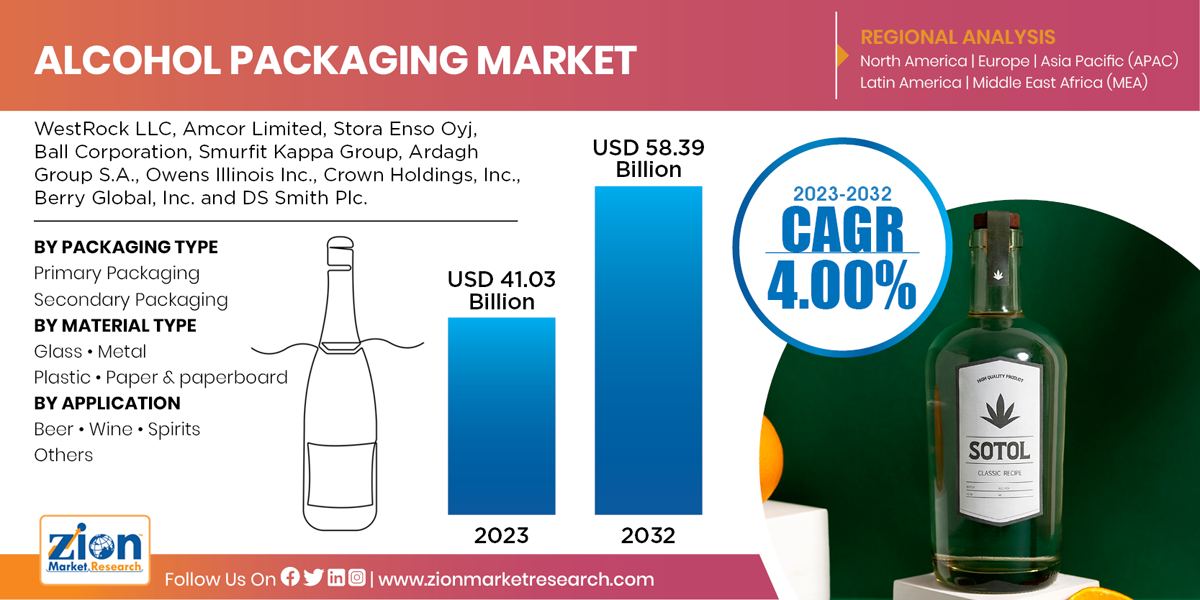 Based on packaging type, the alcoholic packaging market is segmented into primary packaging and secondary packaging. Primary packaging is further divided into liquid brick carton, bottles, growlers, pouches, cans, and bag-in-box. Secondary packaging is further divided into boxes, folding cartons, and others. On the basis of application, the market is segmented into spirits, beer, wine, and others. Based on material type, the market is segmented into plastic, glass, paper & paperboard, and metal.
North America alcohol packaging market size is expected to witness significant growth over the forecast period. Improved economic activity, growing disposable income of people, increasing consumption of alcoholic drinks will drive the alcohol packaging market growth over the forecast timeframe. Europe alcohol packaging market is expected to witness a substantial revenue share in 2017. Rising consumer spending towards recreational activities, growing urbanization, growing disposable income of people, and increasing demand for super-premium or premium products is expected to drive industry growth over the forecast timeframe.
Some of the key players operating in alcohol packaging market include WestRock LLC, Amcor Limited, Stora Enso Oyj, Ball Corporation, Smurfit Kappa Group, Ardagh Group S.A., Owens Illinois Inc., Crown Holdings, Inc., Berry Global, Inc. and DS Smith Plc. Industry players are mostly focusing on merger & acquisition strategies to gain revenue share.