Analysis
Adaptive optics (AO) is a technology in which optical performance is enhanced by quickly manipulating the shape of a lens or mirror to correct for unwanted disturbances (or to introduce desired disturbances). Adaptive optics systems usually consist of three subsystems a wavefront modulator, to correct distortions in the wavefront; wavefront sensor, to detect the state of the wavefront; and a control system to link the two.
A major strength of Adaptive optics (AO) is its application adaptability. Most of the world's major telescopes such as the European Southern Observatory (ESO) in Chile and Keck Observatory in Hawaii, rely on AO to take away wavefront distortion caused by atmospheric turbulence to provide clear images of stars and extra-solar planets. Integration of adaptive optics by a biological researcher into microscopes for proper wavefront aberrations introduced by tissue and hence extracting vital information from specimens is predicted to contribute the growth of AO market massively in years to come. Furthermore, use of AO by vision science in their efforts to detect eye disease before its onset and begin earlier treatment. Finally, laser applications for example laser beam shaping for free space communication and laser machining have been successfully established with AO.
The global adaptive optics market is primarily driven by increasing use in ophthalmology and retinal imaging. In addition, rising adoption of adaptive driver-assistance systems (ADAS) in automobiles paired with increased research investment and funding by government tends to spur adaptive optics demand significantly in coming years. Furthermore, increasing demand of adaptive optics for high-resolution microscopy, growing value for utilizing adaptive optics in free-space laser communications and utilization of adaptive optics for long-range target identification in military applications are some of the major factors predicted to drive the global adaptive optics market growth. On a contrary, rapidly changing technologies is expected to have an adverse impact on adaptive optics market growth. Nonetheless, advancing adaptive optics technology coupled with development in professional astronomy may disclose new avenues for adaptive optics market in the near future.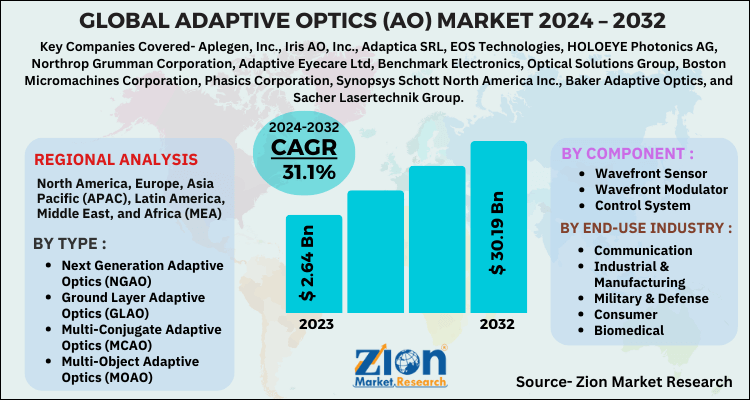 Based on the type, global adaptive optics market is bifurcated into Next generation adaptive optics (NGAO), ground layer adaptive optics (GLAO), multi-conjugate adaptive optics (MCAO) and multi object adaptive optics (MOAO). Wavefront sensor, wavefront modulator, and control system are the component segment of global adaptive optics market. Wavefront sensor segment dominated the adaptive optics market in 2017 owing to increasing use to achieve diffraction limited optical quality. Communication, industrial & manufacturing, military & defense, consumer, biomedical and others are the end user industry segment for adaptive optics market. Military and defense segment dominated the adaptive optics market and accounted for a major part of the overall market share in 2017. Consumer end-user industry emerged as a most attractive segment for adaptive optics market in years to come.
North America and Europe together held the majority of market share of the global adaptive optics market and is set to continue to dominate the world marketplace within the coming years. The major factors driving the growth of the market are rapid advancements in adaptive optics coupled with increasing demand for military and defense application. Presence of significant market player in both the region is predicted to shape the adaptive optics market massively. Increasing research & development activities is the major driving factor for the growth of adaptive optics markets in Asia Pacific region. Asia Pacific is expected to hold remarkable market share and expected to grow with highest CAGR during the analysis period.
Some of the key players in the adaptive optics market are Northrop Grumman Corporation, Adaptive Eyecare, Benchmark Electronics, Boston Micromachines, Phasics Corporation, Aplegen, IRIS AO, EOS Technologies, EOS Technologies, Holoeye Photonics, Synopsys Optical Solutions Group, Adaptica SRL, Baker Adaptive Optics, Schott North America and Sacher Lasertechnik amongst others.