The flexible AC transmission systems market is set for a rapid growth over the forecast period. In terms of revenue, the global flexible AC transmission systems market accounted for USD 1,175.8 Million in 2019 and is expected to reach USD 1,993.8 Million by 2026, growing at a CAGR of 8.1%.
Global Flexible AC Transmission Systems Market: Overview
A flexible alternating current transmission system (FACTS) is a system composed of static equipment used for the AC transmission of electrical energy. It is meant to enhance controllability and increase power transfer capability of the network. It is generally a power electronics-based system. In conventional AC transmission, the power transfer capability has been limited by various dynamic and static limits such as transient stability, voltage stability, thermal limits, etc. These inherent power system limits led to the underutilization of existing transmission sources. Traditional methods of solving these problems use fixed and mechanically switched series and shunt capacitors, reactors and synchronous generators. However, desired response has not been effective due to slow response, wear and tear of mechanical components. With the invention of thyristor devices, power electronic converters are developed that led to implement FACTS controllers. These power electronic based controllers can provide smooth, continuous, rapid and repeatable operations for power system control. FACTS is an acronym for Flexible AC Transmission System and it is an application of power electronic devices to electrical transmission system.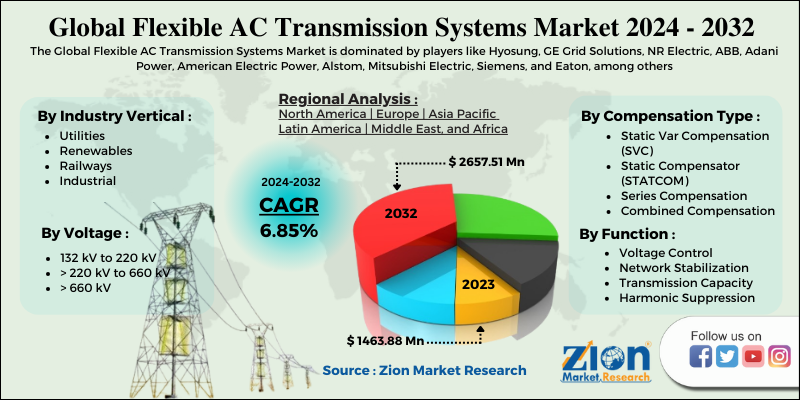 Global Flexible AC Transmission Systems Market: Growth Factors
Renewable energy is energy that is collected from renewable resources, which are naturally replenished on a human timescale, such as sunlight, wind, rain, tides, waves, and geothermal heat. There is widespread popular support for using renewable energy, particularly solar and wind energy, which provide electricity without giving rise to any carbon dioxide emissions. With the rapid growth of large-scale renewable energy projects, which often supply intermittent power, demand is driving the need for FACTS. Globally, the world produced approximately 5.9 TWh of modern renewable energy in 2016. This represents a 5 to 6-fold increase since the 1960s.
The increasing burden laid on the existing power transmission lines in order to fulfill the ever growing electricity demand, is another factor that drives the growth of FACTS devices. The electricity transmission market is currently undergoing a major change with countries in pursuit of better efficiencies and more suitability for wheeling renewable energy. Several countries are upgrading their transmission lines to higher voltages in order to reduce transmission losses. Technological changes and upgrades are also being made to make the transmission systems more stable against the intermittent nature of renewable energy sources. Besides, the advent of net metering for solar homes and coordinated charging of electric vehicles is pushing utilities to align their new infrastructure with the possibility of bi-directional flow of electricity. Increasing renewable power capacity has also increased the need for countries to interconnect their transmission systems in order to balance generation and demand through export and import of electricity. This in turn has pushed the construction of higher capacity interconnection lines.
Global Flexible AC Transmission Systems Market: Segmentation
The flexible AC transmission systems market is segmented based on compensation type, industry vertical, voltage, function, and region. The compensation type segment is further bifurcated into static var compensation (SVC), static compensator (STATCOM), series compensation, and combined compensation. The industry vertical segment is further split into utilities, renewables, railways, and industrial. Based on voltage, the market is segregated into 132 kV to 220 kV, > 220 kV to 660 kV, and > 660 kV. By function, the market is divided into voltage control, network stabilization, transmission capacity, harmonic suppression, and others.
Global Flexible AC Transmission Systems Market: Regional Analysis
Based on regions, the global flexible AC transmission systems market is segmented into North America, Europe, Asia Pacific, Latin America, and the Middle East and Africa. The Asia Pacific flexible AC transmission system market is expected to register the highest CAGR during the forecast period, owing to increase in government expenditure to build smart grids and increase in investment on electricity generation by renewable energy resources. In addition, rise in investments in high speed trains from the developing countries such as China, India, and Japan is expected to offer lucrative opportunities for market expansion. The growing demand for superior quality power supply and network reliability in electric utilities and industrial applications has created numerous opportunities for advanced power electronics based systems.
North America flexible AC transmission systems market is slated to experience an appreciable growth in the near future, owing to massive expending for bringing an advancement of long-route grid network and renewing of the local power system in the region. On other hand, the authorities in the U.S. are planning to set up electric substructure that will lead to a reduction in the cost rates across western T&D network, thereby spurring the regional market growth. North America relies on FACTS primarily to tame the unruly output from wind turbines that could otherwise destabilize their congested grids.
Global Flexible AC Transmission Systems Market: Competitive Players
Some of key players in flexible AC transmission systems market are Hyosung, GE Grid Solutions, NR Electric, ABB, Adani Power, American Electric Power, Alstom, Mitsubishi Electric, Siemens, and Eaton, among others.
Global Flexible AC Transmission Systems Market: Regional Segment Analysis
North America
Europe

France
The UK
Spain
Germany
Italy
Rest of Europe

Asia Pacific

China
Japan
India
South Korea
Southeast Asia
Rest of Asia Pacific

Latin America

Brazil
Mexico
Rest of Latin America

Middle East & Africa

GCC
South Africa
Rest of Middle East & Africa