According to the report, the global aircraft manufacturing market was valued at USD 48,526.1 Million in 2019 and is expected to reach over USD 70,938.6 Million by 2026, growing at a CAGR of around 5.6% during the forecast period from 2020 to 2026.
Aircraft manufacturing involves the manufacturing of the aircraft body along with the software and components required for the functioning of aircraft. Now-a-days, travel and tourism has become an important part of people's life as people spend more on travel as it can be work related or for holidays, due to which the demand for aircraft manufacturing market has increased.
Aircraft Manufacturing Market: Overview
Aircraft manufacturing industry contains space vehicles, engines of different aircrafts, propulsion units, guided missiles, etc. The aircraft manufacturing industry manufactures all of the above and correlated aircraft structures. Aviation is the scientific-technologic, economic and transportations activity that studies and explores the airplanes, objects heavier than the air that uses intern propulsion, and aerodynamic design to shift through the air. The development of an aircraft includes number of products such flight software, hardware, seats, turbine, wings etc. To develop such activity is necessary to work in a project process in a combination of fixed layout and product layout, where the supplies are waiting to be combined on the structure; generating a unique type of product.
Aircraft Manufacturing Market: Growth Factors
The global commercial aircraft manufacturing industry has enrolled a new step of growth over the past five years. During the global economic downturn, growing unemployment, declining per capita disposable income and overall economic uncertainty negatively affected leisure travel and weakened downstream demand from commercial air carriers. However, fast economic growth and increased air travel in rising markets, combined with the need to replace aging aircraft with new, more fuel-efficient ones in developed markets, has greatly increased demand for industry products.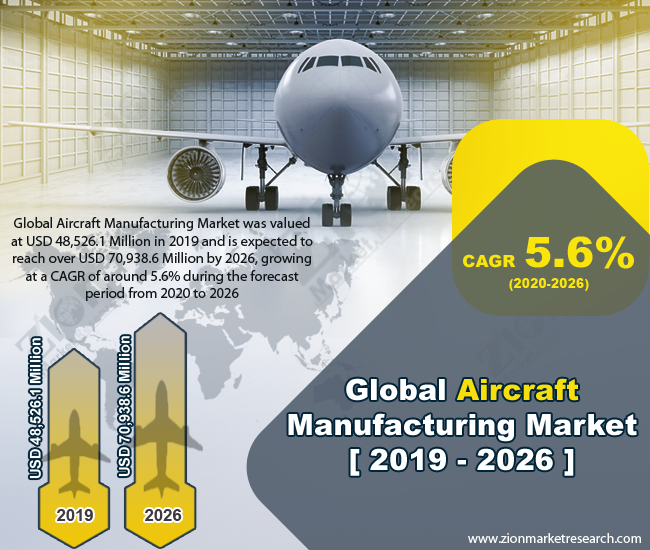 Aircraft Manufacturing Market: Segmentation
Aircraft manufacturing can be classified into a defense and a commercial segment. Although military aviation is likely to see deterioration in revenue due to dip in military spending, commercial aircraft production is expected to experience a boom. In case of passenger traffic growth, airlines are expected to add new models to their squadron, However, in case of defense aircraft, the manufacturing is dependent upon requirements of different governments. The commercial aircraft manufacturing industry had gone through a tremendous growth and evolved as a set of one of the biggest industries in the world.
Aircraft Manufacturing Market: Regional Analysis
North America has the largest aircraft and components manufacturing market. This is possible due to the presence of major aircraft and components manufacturers such as Boeing in North America. South America is the second smallest manufacturing region for aircraft and components. Mexico has shown tremendous growth in aircraft manufacturing due to the investment of companies like Bombardier, GE, Airbus, Honeywell, Eurocopter, Safran Group. Europe region also has a tremendous market share in the manufacturing of aircraft and components.
Aircraft Manufacturing Market: Competitive Players
Major players of this industry are Boeing, Airbus, Bombardier, Embraer, United Aircraft Corporation, COMAC, Honeywell, Safran Group, Pilatus Business AircraftLtd, Piaggio America, Inc., Hawker Beechcraft Corp., Gulfstream Aerospace, Dassault Falcon, Cessna Aircraft Company.
Aircraft Manufacturing Market: Regional Segment Analysis
North America
Europe
The Asia Pacific
Latin America
The Middle East and Africa
What Reports Provides
Full in-depth analysis of the parent market
Important changes in market dynamics
Segmentation details of the market
Former, on-going, and projected market analysis in terms of volume and value
Assessment of niche industry developments
Market share analysis
Key strategies of major players
Emerging segments and regional markets
Testimonials to companies in order to fortify their foothold in the market.