Description
This report analyzes and estimates the winglets market at global, regional, and country level. The research study provides historic data from 2015 to 2019 along with the forecast from 2020 to 2025 based on revenue (USD Billion). The report offers detailed insights of the winglets market drivers and restraints along with their impact analysis at a global level from 2015 to 2025.
The report covers an in-depth analysis of the strategies adopted by major competitors in the global winglets market. To understand the competitive landscape in the winglets market, an analysis of Porter's Five Forces model is also included. The research study comprises of market attractiveness analysis, wherein all the segments are benchmarked on the basis of their market size and growth rate.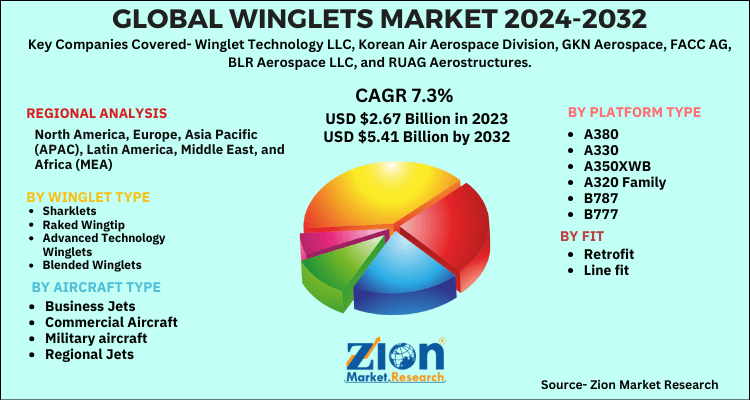 The research study provides a decisive view on the global winglets market based on winglet type, aircraft type, platform type, fit, and region. All the segments of the market have been analyzed based on the past, present, and future trends. The market is estimated from 2019 to 2025.
Despite air travel demand, the production of aircraft fleet in North America is also flourishing at a remarkable rate. North America's winglets market is considered to be holding the major revenue and production share across the globe. Moreover, the prominent aircraft manufacturers such as Airbus and Boeing are headquartered in the U.S., which will further flourish the regional winglets market in the coming years.
The report comprehensively segments the global winglets market based on winglet type, aircraft type, platform type, fit, and region. By winglet type, the global industry is segmented into sharklets, raked wingtip, advanced technology winglets, blended winglets, split scimitar winglets, wingtip fence, and others. Based on aircraft type, the global market is categorized into business jets, commercial aircraft, military aircraft, and regional jets. By platform, the sector is classified into A380, A330, A350XWB, A320 Family, B787, B777, B767, B747, B737 Max, B737, and others. On the basis of fit, the market is bifurcated into retrofit and line fit. The regional segmentation comprises the past, present, and estimated demand for the Middle East & Africa, North America, Asia Pacific, Latin America, and Europe. The regional segment is further split into the U.S., Canada, Mexico, UK, France, Germany, China, Japan, India, South Korea, Brazil, and Argentina among others.
Some of the essential players flourishing the global winglets market, but not restricted to include Winglet Technology LLC, Korean Air Aerospace Division, GKN Aerospace, FACC AG, BLR Aerospace LLC, and RUAG Aerostructures.
The global winglets market is segmented as:
Global Winglets Market: Winglet Type Segmentation Analysis
Sharklets
Raked Wingtip
Advanced Technology Winglets
Blended Winglets
Split Scimitar Winglets
Wingtip Fence
Others
Global Winglets Market: Aircraft Type Segmentation Analysis
Business Jets
Commercial Aircraft

Wide-Body Aircraft
Narrow-Body Aircraft

Military aircraft
Regional Jets
Global Winglets Market: Platform Type Segmentation Analysis
A380
A330
A350XWB
A320 Family
B787
B777
B767
B747
B737 Max
B737
Others
Global Winglets Market: Fit Segmentation Analysis
Global Winglets Market: Regional Segmentation Analysis
North America
Europe

France
The UK
Spain
Germany
Italy
Rest of Europe

Asia Pacific

China
Japan
India
South Korea
Southeast Asia
Rest of Asia Pacific

Latin America

Brazil
Mexico
Rest of Latin America

Middle East & Africa

GCC
South Africa
Rest of Middle East & Africa