Veneer Sheets Market Size & Industry Analysis:
The global veneer sheets market size was worth around USD 3,295 million in 2021 and is predicted to grow to around USD 4693 million by 2028 with a compound annual growth rate (CAGR) of roughly 4.56% between 2022 and 2028. The report analyzes the global veneer sheets market drivers, restraints/challenges, and the effect they have on the demands during the projection period. In addition, the report explores emerging opportunities in the veneer sheets market.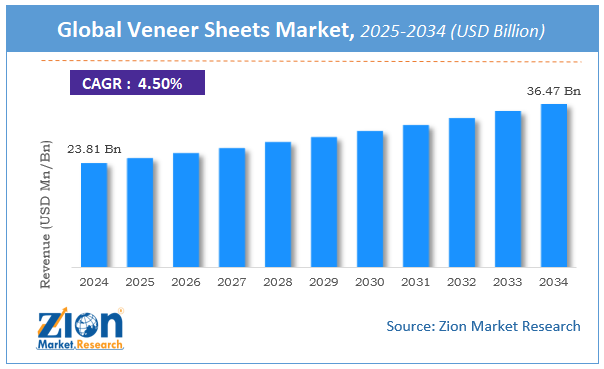 Request Free Sample
Veneer Sheets Market: Overview
Veneer sheets are marvels of carpentry, a craft comprising skilled personnel that performs activities like shaping, cutting, and installing building components in the construction of ships, concrete formwork, buildings, and timber bridges to name a few. Veneer sheets are used by applying them on a surface which may include a wooden structure, particle board, or medium-density fiberboard. When used along with these boards, veneer sheets are used for furniture, doors, parquet floors, table tops, etc.
The term veneer refers to an extremely thin film or coating over a concrete surface with the aim to improve the appearance of the surface and impart an exotic or exquisite look. Veneer sheets are thin sheets of materials that when glued to a solid surface upgrade the physical appearance of the surface and make it look expensive. Most veneer sheets are only 1/8th in terms of thickness. In the case of woodwork, the most commonly used are hardwood veneers which describe a thin piece of hardwood adhering to a section of particle board or plywood.
Generally, the surface is relatively cheaper and is known as substrate. However, after using hardwood veneer, the whole object appears high in cost and is therefore a popular choice of outer coating amongst many end-consumers. The idea behind using veneer sheets is to make low-cost substrate appear exorbitant thus increasing the product's reach amongst consumers of all segments.
Key Insights
As per the analysis shared by our research analyst, the global veneer sheets market is estimated to grow annually at a CAGR of around 4.56% over the forecast period (2022-2028)
In terms of revenue, the global veneer sheets market size was valued at around USD 3,295 million in 2021 and is projected to reach USD 4693 million, by 2028. Due to a variety of driving factors, the market is predicted to rise at a significant rate
Based on application segmentation, furniture fitting & lining were predicted to show maximum market share in the year 2021
Based on product segmentation, wood backed was the leading product in 2021
On the basis of region, Asia-Pacific was the leading revenue generator in 2021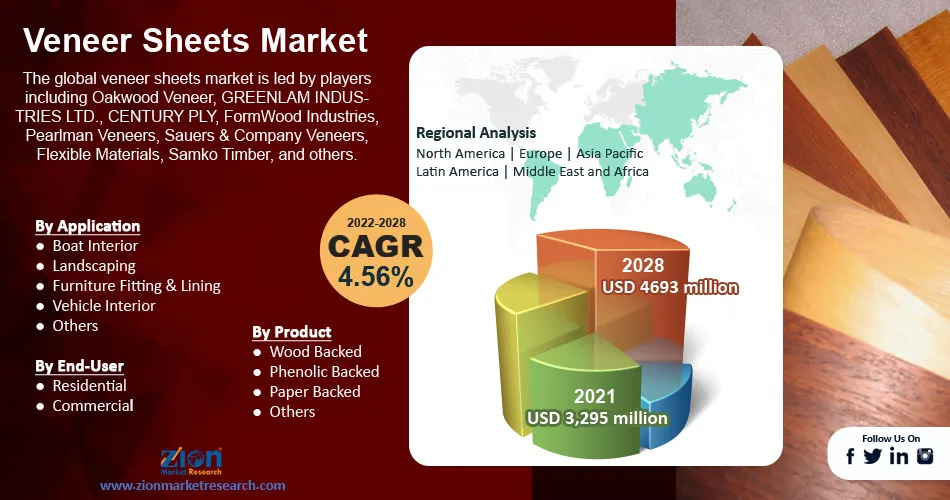 Request Free Sample
Veneer Sheets Market: Growth Drivers
Growing construction industry to contribute to market growth
The global veneer sheets market is projected to grow owing to the increasing application of the construction business where veneer sheets are widely used in flooring, paneling, and cladding. Flooring describes the activity of permanently covering a given floor or its section or work related to the installation of floor covering.
Since veneer sheets can impart a magnificent look to a given surface, they help in enhancing the aesthetics of the setting in which it is used. The end-consumers spending heftily on improving the physical appearance of living space and veneer sheets have left a long-lasting impact on such consumers. The growing interior designing business which deals with work related to improving the look of a given setting, commercial or residential, may also impact the global market growth. In 2020, the interior designing market in India was valued at USD 23.19 billion Switzerland is known to rank number 1 in terms of spending on interior decoration.
Veneer Sheets Market: Restraints
High cost to restraint market expansion
Veneer sheets are made from slim layers of naturally occurring wood and hence they are highly priced as compared to laminates that are made in factories. Even though they require substrates that are less expensive, the use of veneer sheets increases the overall cost of the product thus restricting the consumer segment that can afford these materials. Consumers opt for other substitutes that can provide almost the same effect that veneer sheets offer at a relatively lower cost resulting in a loss of revenue in the global market. Since laminates also offer easier maintenance they might take over more consumer choices during the projection period.
Veneer Sheets Market: Opportunities
Increasing remodeling activities to provide excellent expansion opportunities
The global veneer sheets market is projected to benefit from the growing renovation and remodeling activities that can be witnessed at the personal as well as national levels. At the personal level, with growing disposable income, consumers are investing heavily in renovation activities while at the national level, government and regulatory bodies have increased spending on restoring important and historical sites paving more opportunities for the use of veneer sheets. As per recent news, Spain spent over 2 billion euros on home renovation in recent times.
Veneer Sheets Market: Challenges
High maintenance to challenge further addition of consumers
Veneer sheets are high-maintenance objects as they require regular touch-ups. Even though these materials improve the physical appearance, they generally do not add the mechanical or chemical properties of the substrate. Since they are not waterproof, they cannot be used in damp areas like bathrooms or kitchens, restricting the application of the product, unlike their counterparts. These factors could pose major challenges for global market players in the coming years.
Veneer Sheets Market: Segmentation
The global veneer sheets market is segmented into application, product, end-user, and region
Based on application, the global market is divided into boat interior, landscaping, furniture fitting & lining, vehicle interior, and others. In 2021, furniture fitting & lining witnessed the highest growth rate in the global market due to the wide application of veneer sheets in furniture-making or remodeling activities.
In modern homes, exquisite furniture is one of the main investments while with globalization commercial centers have also started spending heavily on improving the interior space of offices or other centers. As per data by Eurostat, households in the European territory spent around 5.6% of the total expense on household equipment, furniture, and other day-to-day household maintenance in the year 2016.
Based on product, the global market segments are wood-backed, phenolic-backed, paper-backed, and others. The global market witnessed high demand for wood-backed veneer sheets in 2021. This high CAGR can be attributed to the natural look provided by these sheets while also providing cost-efficiency. Wood-backed veneer sheets are non-toxic and allow for a better way of utilizing wood. On average, 12 sheets of veneer should be sufficient for a room with furniture.
Recent Developments:
In July 2019, Greenply Industries, India's largest provider of interior designing solutions, announced the launch of Wood Crrests veneers. The new products are a part of the ultra-premium interior designing solution. The finest timber is used to make the product
In April 2022, Century Plywoods incorporated a wholly-owned subsidiary In Kolkata, India. The subsidiary is called Century Posts
Veneer Sheets Market Report Scope:
Report Attributes
Report Details
Report Name
Veneer Sheets Market Research Report
Market Size in 2021
USD 3,295 Million
Market Forecast in 2028
USD 4693 Million
Compound Annual Growth Rate
CAGR of 4.56%
Number of Pages
168
Forecast Units
Value (USD Million), and Volume (Units)
Key Companies Covered
Oakwood Veneer, GREENLAM INDUSTRIES LTD., CENTURY PLY, FormWood Industries, Pearlman Veneers, Sauers & Company Veneers, Flexible Materials, Samko Timber, and others.
Segments Covered
By Application, By Product, By End-User and By Region
Regions Covered
North America, Europe, Asia Pacific (APAC), Latin America, Middle East and Africa (MEA)
Countries Covered
North America: U.S and Canada
Europe: Germany, Italy, Russia, U.K, Spain, France, Rest of Europe
APAC: China, Australia, Japan, India, South Korea, South East Asia, Rest of Asia Pacific
Latin America: Brazil, Argentina, Chile
The Middle East And Africa: South Africa, GCC, Rest of MEA
Base Year
2021
Historical Year
2016 to 2020
Forecast Year
2022 - 2028
Customization Scope
Avail customized purchase options to meet your exact research needs. Request For Customization
Veneer Sheets Market: Regional Analysis
Asia-Pacific to register the highest growth rate during the projection period
The global veneer sheets market is anticipated to grow at the highest rate in the Asia-Pacific market driven by rising demand for veneer sheets in the Indian market as the country moves toward infrastructural development. The growing disposable income amongst the population has allowed for a rise in spending on designing modern homes along with growing investments in the development of corporate offices, retail, leisure places, and parks. Europe may also register high growth due to increasing renovation activities for historical sites.
For instance, the Lapland central hospital may undergo remodeling activities worth EUR 72 million as per official records. The funding will be received from the European Investment Bank. As per Euroconstruct, Europe witnessed spending of EUR 420 billion on home renovation and for new building construction, the amount totaled to EUR 320 billion.
Veneer Sheets Market: Regional Analysis
The global veneer sheets market is led by players including Oakwood Veneer, GREENLAM INDUSTRIES LTD., CENTURY PLY, FormWood Industries, Pearlman Veneers, Sauers & Company Veneers, Flexible Materials, Samko Timber, and others.
The global veneer sheets market is segmented as follows:
By Application
Boat Interior
Landscaping
Furniture Fitting & Lining
Others
By Product
Wood Backed
Phenolic Backed
Paper Backed
Others
By End-User
By Region
North America
Europe

France
The UK
Spain
Germany
Italy
Rest of Europe

Asia Pacific

China
Japan
India
South Korea
Southeast Asia
Rest of Asia Pacific

Latin America

Brazil
Mexico
Rest of Latin America

Middle East & Africa

GCC
South Africa
Rest of Middle East & Africa