UHT Milk Market: Overview
The global UHT milk market size accounted for USD 70,864 Million in 2020 and is expected to reach USD 98,958 Million by 2028, growing at a CAGR of 4.3% from 2021 to 2028.
Ultra-high temperature milk is heated at 140°C for one to two seconds and packaged aseptically. Since the milk is heated at high temperatures, it kills all the bacteria present in the milk and increases the shelf life of the products. As compared to regular milk, packaged UHT milk does not need to refrigerate as it offers higher shelf life of up to 9 months due to no presence of bacteria. However, it needs to be consumed within 3 days once opened.
Globally, the demand for UHT milk is constantly increasing. Europe is holding more than 40% of the global market share. Most of the countries present in the region are consuming UHT milk. For instance, 2 out of 3 liters of milk consumed in Germany is UHT. In addition to this, France and Belgium are also consuming UHT on large scale. Asia Pacific is projected to emerge as the second-largest market for UHT milk and is expected to grow at the fastest CAGR. It is followed by North America. The adoption of UHT milk in North America is highly limited due to various factors such as higher preference to fresh milk, more focus on nutrients and milk value, limited presence of manufacturers, and high cost, among others.
As per our analysis, semi-skimmed UHT milk is consumed on large scale around the globe, which is followed by whole milk. The dominance of semi-skimmed UHT milk is attributed to better flavor, high nutritional value, limited calories due to low-fat content, and higher consumption in Europe.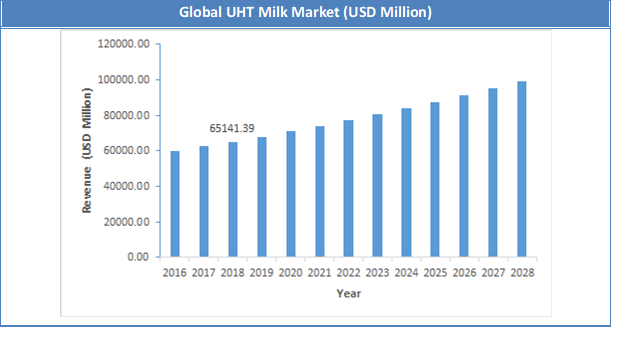 Request Free Sample
To know more about this report, request a sample copy.
COVID-19 Impact Analysis
COVID-19 pandemic has severally affected all the sectors around globe, be it a developed or a developing country. All the countries experienced the heat of the pandemic. UHT milk market also experienced a negative impact for short term. The negative impact was majorly attributed to disruption of supply chain, ban on import export activities, shortage of labor, limited operation and shrinking production capacity, increased production cost, and limited operating capitals.
However, the impact did not last long, and the market witnessed quick rebound in the demand for UHT milk. In fact, most of the buyers started purchasing UHT milk in bulk to avoid out of stock situation and shortage of the product. Also, it has been found that Covid-19 pandemic has bolstered the demand for UHT milk as people started reducing the frequency of visits to buy grocery to minimize the chances of acquiring infection. Several manufacturers around the globe also increased their overall production of UHT milk to meet the increased demand. However, the commercial consumption of UHT milk is experienced a deep wound due to shut down of the shops, hotels, restaurant, and coffee shops. The growth is likely to recover and witness V shaped recovery as the lockdown regulation eases and ban on import and export activities is lifted.
UHT Milk Market: Growth Factors
UHT milk offers higher shelf life than any other available type of milk. It is heated up to 140°C for one to two seconds and then packaged aseptically. During this process, the high temperature kills all the bacteria present in the milk, thus sterilizes it. Since the milk is sterilized and packaged aseptically, the packaged milk can stay in good shape for up to 6 months and sometimes up to 9 months. The higher shelf life encourages consumers to buy the product in bulk and store out of fridge without worrying about going bad. However, once opened, it has be refrigerated and consumed within 3 days.
UHT milk can be stored for longer period without needing refrigeration. The need for refrigeration is eliminated because of the sterilized packaging process. In addition to this, the demand for the product is majorly driven by the Western European countries, China, Australia, and Japan because of climatic conditions. Wherein, the transport and cold storage add more cost to the final product.
UHT Milk Market Report Scope:
Report Attributes
Report Details
Report Name
UHT Milk Market Research Report
Market Size in 2020
USD 70,864 Million
Market Forecast in 2028
USD 98,958 Million
Compound Annual Growth Rate
CAGR of 4.3%
Number of Pages
177
Forecast Units
Value (USD Billion), and Volume (Units)
Key Companies Covered
Nestle, Danone, Arla Foods, Amul, FrieslandCampina, Lactalis, Dairy Farmers of America, Dean Foods and Fonterra
Segments Covered
By Product, By Distribution Channel And By Region
Regions Covered
North America, Europe, Asia Pacific (APAC), Latin America, Middle East and Africa (MEA)
Countries Covered
North America: U.S and Canada
Europe: Germany, Italy, Russia, U.K, Spain, France, Rest of Europe
APAC: China, Australia, Japan, India, South Korea, South East Asia, Rest of Asia Pacific
Latin America: Brazil, Argentina, Chile
The Middle East And Africa: South Africa, GCC, Rest of MEA
Base Year
2021
Historical Year
2016 to 2020
Forecast Year
2022 - 2030
Customization Scope
Avail customized purchase options to meet your exact research needs. Request For Customization
Product Segment Analysis Preview
Semi-skimmed UHT milk segment held a share of around 60.43% in 2020. As per our findings, the products is consumed on large scale around the globe, especially in the developed countries such as the U.S., Italy, France, Spain, Sweden, Germany, and Canada, among others. This type of milk is majorly preferred by the consumers who are more concerned about taste of milk and nutrient contents. Semi-skimmed UHT milk is used for households as well as commercial applications because it offers better taste and makes coffee frothier.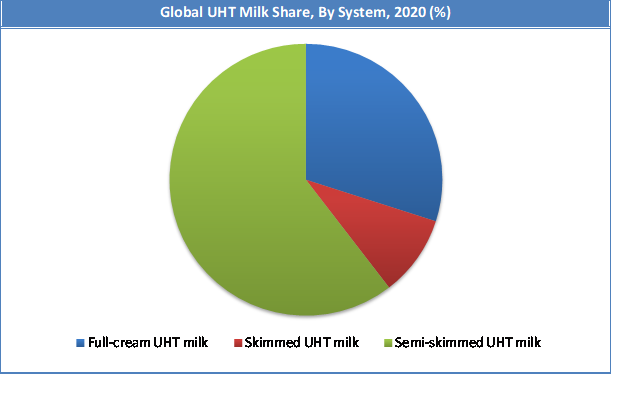 Request Free Sample
Hypermarkets/Supermarkets Segment Analysis Preview
It has been found that consumers based in the European and North American countries are predominantly buying the UHT milk products from this segment. This is further supported by countries based in Asia Pacific such as Japan, Malaysia, Singapore, India and China, among others. In the last few years, the consumers based in the Asia Pacific and Latin America have started purchasing such products from supermarkets. This is majorly attributed to the growing number of supermarket/hypermarkets, easy availability of various brands, heavy discounts on UHT milk, and availability of different flavors.
Regional Analysis Preview
The European region held a share of 35.15% in 2020. Consumers in these regions prefer buying semi-skimmed milk over other types. Demand for flavored UHT milk is increasing from past few years and this is due to the increased tourists visiting this region. The strong presence of companies offering UHT milk and being the largest producer of milk is also another factor driving the growth of the market. In 2019, Europe produced over 158.2 million tons of milk and the number is constantly growing. Consumers prefer buying UHT milk from supermarket/hypermarket. In 2019, per capita milk consumption was accounted for 64.94 kg. Countries with a strong dairy culture like Holland, Germany and Belgium have seen a strong rise in sales of UHT milk. In Germany, two out of every three liters is now long-life and in Belgium UHT dominates the market, particularly due to the fact that both production and distribution of UHT milk is easier than conventional milk.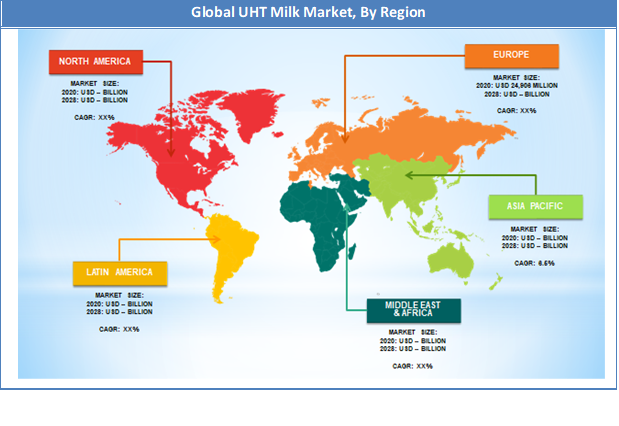 Request Free Sample
The Asia Pacific region is projected to grow at a CAGR of 6.5% over the forecast period. China, Japan, Australia, and India are the largest consumers. Consumers in this region are price sensitive, UHT cost two times than regular milk. In the last four years, the demand and import for UHT milk increased four time in China. Most of the leading producers in Europe is exporting UHT milk to China and other Asia Pacific countries. Demand for the product is increasing as more consumers in the region have started looking for safe and quality food products. Large number of European players is eyeing to tap the rapidly growing market for UHT milk in China and Japan.
Key Market Players & Competitive Landscape
Some of key players in UHT milk market are
Nestle
Danone
Arla Foods
Amul
FrieslandCampina
Lactalis
Dairy Farmers of America
Dean Foods and Fonterra
The global UHT milk market is segmented as follows:
By Product Type
Full-cream UHT milk
Skimmed UHT milk
Semi-skimmed UHT milk
By Distribution Channel
Hypermarkets/Supermarkets
Convenience Stores
Other
By Region
North America
Europe

France
The UK
Spain
Germany
Italy
Rest of Europe

Asia Pacific

China
Japan
India
South Korea
Southeast Asia
Rest of Asia Pacific

Latin America

Brazil
Mexico
Rest of Latin America

Middle East & Africa

GCC
South Africa
Rest of Middle East & Africa