The report covers a forecast and an analysis of the track and trace solutions market on a global and regional level. The study provides historical data from 2015 to 2017 along with a forecast from 2018 to 2024 based on revenue (USD Billion). The study includes drivers and restraints for the track and trace solutions market along with the impact they have on the demand over the forecast period. Additionally, the report includes the study of opportunities available in the track and trace solutions market on a global and regional level.
In order to give the users of this report a comprehensive view of the track and trace solutions market, we have included a competitive landscape and an analysis of Porter's Five Forces model for the market. The study encompasses a market attractiveness analysis, wherein all the segments are benchmarked based on their market size, growth rate, and general attractiveness.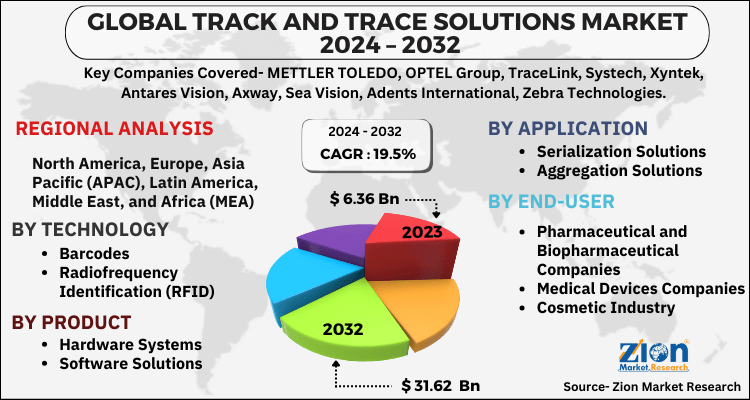 Request Free Sample
The report provides company market share analysis to give a broader overview of the key market players. In addition, the report also covers key strategic developments of the market including acquisitions & mergers, new product launch, agreements, partnerships, collaborations & joint ventures, research & development, and regional expansion of major participants involved in the track and trace solutions market on a global and regional basis.
The study provides a decisive view of the track and trace solutions market by segmenting the market based on technology, product, application, end-user, and region. Based on technology market is segmented into Radio-Frequency Identification (RFID) and barcodes. Barcode technology segment is sub-segmented into 2D barcodes and linear barcodes. Based on product, this market is segmented into software solutions and hardware systems. Hardware systems are sub-segmented into monitoring and verification, printing and marking, checkweighers, labeling, barcode scanners, and RFID readers. Software solutions are sub-categorized into line controller, plant manager, bundle tracking, case tracking, warehouse, and shipment manager, pallet tracking, and enterprise and network manager. Aggregation solutions and serialization solutions form the application segment of the track and trace solutions market. Aggregation solutions segment is further categorized into the case, pallet, and bundle. The serialization solutions segment is sub-segmented into bottle, blister, vials and ampoules, carton, and medical device serialization. Medical devices companies, pharmaceutical and biopharmaceutical companies, cosmetic industry, and others comprise the end-user segment of this market.
The regional segmentation includes the current and forecast demand for North America, Europe, Asia Pacific, Latin America, and the Middle East and Africa with its further segmentation into major countries including the U.S., Canada, Germany, France, UK, China, Japan, India, and Brazil.
Few of the key players in the track and trace solutions market include METTLER TOLEDO, OPTEL Group, TraceLink, Systech, Xyntek, Antares Vision, Axway, Sea Vision, Adents International, Zebra Technologies, Siemens, ACG Worldwide, and Körber Medipak Systems, among others.
This report segments the global track and trace solutions market into:
Global Track and Trace Solutions Market: By Technology
Barcodes

2D Barcodes
Linear Barcodes

Radiofrequency Identification (RFID)
Global Track and Trace Solutions Market: By Product
Hardware Systems

Printing and Marking
Monitoring and Verification
Labeling
Checkweighers
RFID Readers
Barcode Scanners

Software Solutions

Plant Manager
Line Controller
Bundle Tracking
Warehouse and Shipment Manager
Case Tracking
Pallet Tracking
Enterprise and Network Manager
Global Track and Trace Solutions Market: By Application
Serialization Solutions

Bottle
Blister
Vials and Ampoules
Carton
Medical Device Serialization

Aggregation Solutions
Global Track and Trace Solutions Market: By End-User
Pharmaceutical and Biopharmaceutical Companies
Medical Devices Companies
Cosmetic Industry
Others
Global Track and Trace Solutions Market: By Region
North America
Europe
Asia Pacific
Latin America
Middle East and Africa