According to the report published by Zion Market Research, global demand for Thermoplastic Polyamide Elastomers market was valued at approximately USD 1,512.6 Million in 2019, and is expected to generate revenue of around USD 2,212.3 Million by end of 2026, growing at a CAGR of around 5.6% between 2020 and 2026.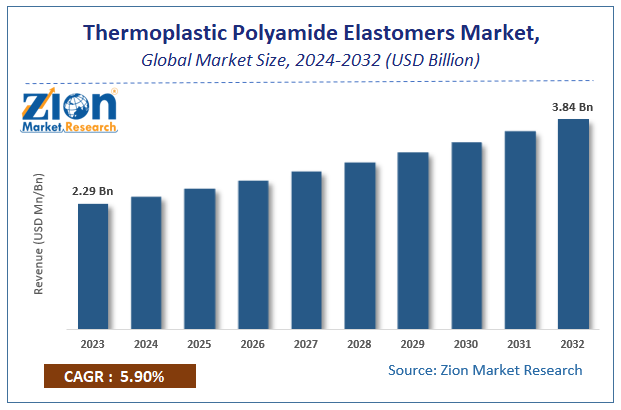 Request Free Sample
Global Thermoplastic Polyamide Elastomers Market: Overview
The product can be designed both in Hard and Soft form. The mechanical and thermal features of products are determined by its chemical structure and composition of parts. Hard segments are based on aliphatic polyamides, while soft segments are based on polyethers. They can be processed via extrusion, thermoforming, injection molding, rotational molding, and blow molding and can be synthesized through anionic ring opening lactam polymerization. Factors that affect the last properties of the products include chemical composition, molecular weight distribution and the proportion of hard and soft segments. Hard segments control mainly the level of mechanical strength, crystallinity and melting. Low temperature flexibility, thermal stability, and chemical resistance are the responsibility for soft segments.
Global Thermoplastic Polyamide Elastomers Market: Growth Factors
The massive use of thermoplastic polyamide elastomers in home appliances & sports accessories, electronics & electrical, breathable films, automotive, anti-static additives, medical, and industrial sectors will steer the market expansion. Apart from this, shifting of consumer preference toward health and fitness as a result of massive health consciousness will boost the business trends. Additionally, use of the product as accessories during winter sports as well as the winter Olympics will proliferate the growth of thermoplastic polyamide elastomers market over the years to come.
Moreover, a technological breakthrough in athletic footwear sector will help the producers to develop lightweight, comfortable, and durable footwear. This, in turn, will propel the product penetration in the sports industry. High product demand in healthcare equipment such as surgical tools, prosthetics, masks, seals, catheters, vial closures, mobility aids, and tubes will drive the business trends. In addition to this, beneficial product features such as resistance to high sterilization, torque transference, and chemical resistance will embellish the thermoplastic polyamide elastomers industry progression.
Global Thermoplastic Polyamide Elastomers Market: Segmentation
The thermoplastic polyamide elastomers market can be classified into product type and application. On the basis of product type, the industry can be sectored into polyether ester amide, polyester amide, and polyether block amide. polyether ester amide dominates the thermoplastic polyamide elastomers market in the year 2019.
Application wise, thermoplastic polyamide elastomers industry is classified into sports accessories, leisure goods, mechanical equipment, electrical & electronics items, automotive parts, breathable films, and anti-static additives.
Global Thermoplastic Polyamide Elastomers Market: Regional Analysis
Based on region, the thermoplastic polyamide elastomers market can be divided into five main regions: Asia Pacific, North America, Latin America, Europe, and the Middle East and Africa. North America is anticipated to dominate the overall thermoplastic polyamide elastomers market growth in terms of both volumes as well as revenue. The U.S. is a key product consumer is anticipated to account for the major regional share. Europe is anticipated to be the second largest driver of the global market with countries such as Italy, Germany, and France contributing lucratively towards the regional market size. Moreover, the thriving medical equipment sector, favourable government policies, and low costs of labor in countries such as Indonesia, Japan, Thailand, China, and India will drive the growth of thermoplastic polyamide elastomers industry over the ensuing years. Latin America and the Middle East & African markets will witness moderate growth in the near future.
Global Thermoplastic Polyamide Elastomers Market: Competitive Players
Some main participants of the Thermoplastic Polyamide Elastomers market are Arkema S.A, BASF SE, LG Chem Ltd., Evonik Industries AG, SABIC, PolyOne, KRAIBURG, RTP Company, Inc., and Kuraray America Inc.
Thermoplastic Polyamide Elastomers Market: Regional Segment Analysis
North America
Europe

France
The UK
Spain
Germany
Italy
Rest of Europe

Asia Pacific

China
Japan
India
South Korea
Southeast Asia
Rest of Asia Pacific

Latin America

Brazil
Mexico
Rest of Latin America

Middle East & Africa

GCC
South Africa
Rest of Middle East & Africa