Description
According to the report, the global Thalassemia Market was valued at USD 2.30 Billion in 2019 and is expected to reach over USD 4.54 Billion by 2026, growing at a CAGR of around 10.2% during the forecast period from 2020 to 2026.
The global Thalassemia market is expected to expand due to rising prevalence of the disease across entire world. Advancements in healthcare such as gene therapy, stem cell therapy etc. has opened new avenues for incurable diseases. Rising awareness of people towards healthcare expenditure by governments has compelled policymakers to increase spending on healthcare.
Global Thalassemia Market: Overview
Thalassemia is an exceptional genetic blood disorder majorly characterized by the generation of abnormal hemoglobin, which is accountable for the damage of red blood cells, which mainly lead to anemia. Iron chelation therapies and blood transfusion are the only cure alternatives accessible at present. This gives augment to abundant opportunities and prospects in the market for expansion of the worldwide curative cure for thalassemia.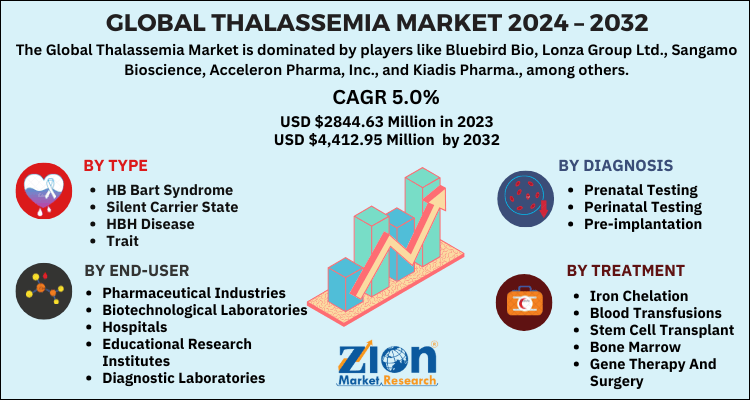 Global Thalassemia Market: Growth Factors
Augment in the occurrence of thalassemia is projected to propel market development. In spite of technological developments, the unmet requirement for a consistent treatment alternative still exists. Healing or treatment process of thalassemia is mainly limited to usual iron chelation and blood transfusions therapy. Medicines or drugs prescribed for thalassemia mainly cures symptoms as well as side effects, for instance, iron overload, anemia, and vitamin shortage. On the other hand, gene therapy is up-coming as a consistent treatment choice for the syndrome. The occurrence of thalassemia is expected to augment steadily in the coming years across various regions. This can be accredited to inhabitant's migration, environmental & genetic, and intermarriages aspects prompting the issue as well as its implications. All these factors are expected to boost the global thalassemia market.
Global Thalassemia Market: Segmentation
The global thalassemia market is categorized in terms of type, treatment, diagnosis, and end-users. In terms of type, the market is classified into Hb Bart syndrome or hemoglobin Bart hydrops fetalis syndrome, silent carrier state, HbH disease, and trait. In terms of diagnosis, the thalassemia market is fragmented into prenatal testing, perinatal testing, and pre-implantation. Further, the perinatal testing division is sub-divided into DNA testing and complete blood count (CBC). The prenatal testing division is categorized into chorionic villus sampling and prenatal genetic testing. In terms of the treatment, the market is divided into iron chelation, blood transfusions, stem cell transplant or bone marrow, gene therapy and surgery. In terms of the end-user, the thalassemia market is likely to be divided into pharmaceutical industries, biotechnological laboratories, hospitals, educational research institutes, diagnostic laboratories, and others.
Global Thalassemia Market: Regional Analysis
In terms of region, the global thalassemia market mainly includes the Americas, Asia Pacific, Europe, and the Middle East & Africa. North America is anticipated to hold the highest market share which is likely to be followed by Europe. The global thalassemia market is likely to experience a growing trend particularly in the countries with ethnic grouping such as African countries, Mediterranean countries as well as few countries in the Asia Pacific. As currently, migration is becoming very common, the inhabitants of thalassemia are expected to increase specifically in the developed countries. There are numerous prenatal tests accessible in the market to find out the possibility of thalassemia comprising both invasive as well as non-invasive method. A recent development in the global thalassemia market may resolve the risk of the syndrome in vitro check of the embryo. Though there are several tests accessible in the global market however lack of knowledge leads to the slackness and delayed treatment of the diseased state in several regions.
Global Thalassemia Market: Competitive Players
Some of the most important market players in the global thalassemia market are Bluebird Bio, Lonza Group Ltd., Sangamo Bioscience, Acceleron Pharma, Inc., and Kiadis Pharma., among others.
Global Thalassemia Market: Regional Segment Analysis
North America
Europe
The Asia Pacific
Latin America
The Middle East and Africa
What Reports Provides
Full in-depth analysis of the parent market
Important changes in market dynamics
Segmentation details of the market
Former, on-going, and projected market analysis in terms of volume and value
Assessment of niche industry developments
Market share analysis
Key strategies of major players
Emerging segments and regional markets
Testimonials to companies in order to fortify their foothold in the market.