Global Terahertz and Infrared Spectroscopy Market Size And Forecast
According to Zion Market Research, The global terahertz and infrared spectroscopy market size, and share were valued at over $1.2 Billion in 2021 and are projected to reach $.4.3 Billion by 2028 while growing at a CAGR of 21.09% during the forecast period. The report analyzes the global terahertz and infrared spectroscopy market's drivers, restraints/challenges, and the effect they have on the demands during the projection period. In addition, the report explores emerging opportunities in this market.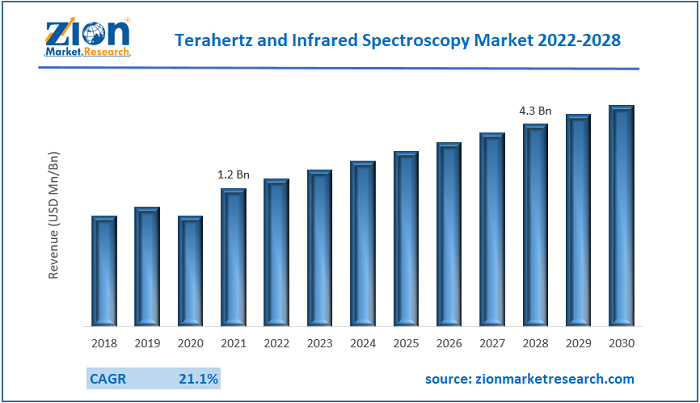 Request Free Sample
Global Terahertz and Infrared Spectroscopy Market: Overview
Terahertz spectroscopy aids the detection and control of matters that have electromagnetic fields ranging in frequency between a few hundred gigahertz and multiple terahertz. In the system that pertains to many problems related to interacting microscopic particles, there are multiple relevant states where energy difference matches the energy of a Terahertz photon, thus making Terahertz spectroscopy an efficient method to resolve and control the individual transition between multiple many-body states. The vast application of THz spectroscopy in understanding the vibrational modes of biomolecules with extremely low frequency has made it one of the most powerful tools to research life-science-related organic molecules.
Infrared spectroscopy refers to technology that deals with light that has a longer wavelength and a lower frequency than visible light or the infrared region of the electromagnetic spectrum. The technology is used to interact with molecules with the help of infrared light. The IR spectrometer plots a graph with the help of absorbed infrared light and the graph is then studied by analyzing it in the following three ways: measuring reflection, emission, or absorption. Infrared spectroscopy has vast applications in the field of food sciences, pharmaceutical, petroleum, and forestry as it is one of the most sought-after analytical tools. These properties have created a huge demand in the global terahertz and infrared spectroscopy market in the last few years.
Covid-19 Impact
The global market had a positive impact due to Covid-19 owing to the high demand for THz and IR spectrometers in research laboratories to study the virus. Given the critical situations that arose due to the virus & its ever-evolving nature, the governments, as well as private organizations, focused on learning about the virus extensively to develop effective vaccines. In 2022, even though most countries have managed to contain the pandemic, the mutating virus is still heavily researched to deal with any future problems that it may cause or any other potential biological threats.
Global Terahertz and Infrared Spectroscopy Market: Growth Drivers
Rising food safety concerns and growing demand in the semiconductor industry to aid global market growth
THz spectroscopy is used extensively in the food sector as it helps in providing the qualitative and quantitative details of food samples like the presence of foreign bodies, moisture detection, and other inspection-related data. With the increasing demand for safe food across the globe, food product manufacturers have started using terahertz spectrometers during the food analysis process thus aiding the growth in the global terahertz and infrared spectroscopy market. The growing concern for safe food is correlated to the rising awareness in consumer groups about food safety, and the presence of multiple options in the market thus propelling competition.
The global market growth is also expected to be driven by the increasing manufacturing of semiconductors that are used in electric circuits because of the ability of THz spectrometry to quantify while also detecting charge carriers. With technological advancements, some of THz spectrometers can rapidly isolate semiconductor packages without destruction within a few hours.
Terahertz and Infrared Spectroscopy Market: Restraints
High Cost of THz and IR spectrometers to restrain the global market growth
Terahertz and Infrared spectrometers used in the industrial application in the semiconductor industry are relatively higher which is expected to restrain the global market expansion. Even if bigger corporations can afford these technologies, it becomes difficult for small-scale semiconductor producers to buy new THz and IR spectrometers. The cost may vary depending on the application for the technology but generally given their advanced features, these spectrometers are quite expensive and the additional cost of their maintenance makes them out of reach of many potential users.
Terahertz and Infrared Spectroscopy Market: Opportunities
Rising demand in the healthcare sector may provide growth opportunities in the global market
One of the exponentially rising sectors in the healthcare industry which uses terahertz and infrared spectrometers for its research activities is anticipated to provide lucrative growth opportunities in the global terahertz and infrared spectroscopy market. There is a shift in preference for using THz spectrometry in biomedical analysis, which has recently taken a high jump owing to Covid-19. This is coupled with ongoing investigation to learn about the application of THz and IR spectrometers for protein characterization along with cancer detection and quality control in the pharmaceutical sector. The cancer detection segment has potential growth opportunities since THz spectroscopy is a non-invasive and non-ionizing technology and is harmless.
Global Terahertz and Infrared Spectroscopy Market: Challenges
Lack of affordability in emerging economies poses challenges to global market expansion
Given the high cost of new equipment used in Terahertz and Infrared spectroscopy along with their expensive maintenance, the adoption of these technologies may become difficult for potential consumers in emerging economies. There are insufficient manufacturers of IR and THz spectrometers in many regions, which propels domestic consumers to import these technologies thus reducing their cost-effectiveness and increasing hesitancy for their adoption. IR spectrometers do not last more than 5-7 years propelling the need to buy new equipment since the resale ones are not as effective as expected which may create challenges for global market expansion.
Global Terahertz and Infrared Spectroscopy Market: Segmentation
The global terahertz and infrared spectroscopy market are segmented by technology, spectrum, end-use, application, and region.
Based on technology, the global market segments are microcopy, benchtop, hyphenated, and portable & handheld. The global market is expected to be led by the benchtop followed by portable & handheld technology owing to the flexibility and improved workflow provided by them along with lesser space necessity to mount these spectrometers.
Based on spectrum, the global market segments are near-infrared radiation, far-infrared radiation, and mid-infrared radiation. The global market was dominated by mid-infrared radiation because of the increasing utilization in the healthcare sector and pharmaceutical applications while also contributing heavily to the food industry.
By end-use, the global market is segmented into industrial chemistry, food & beverage testing, environmental testing, and pharmaceutical & biotechnology. Increased applications in food & beverage testing along with pharmaceutical & biotechnology is expected to drive the global market forward.
By application, homeland security, semiconductors, biomedical research & development, and non-destructive testing are the global market segments. Application in the semiconductor industry is expected to generate the highest revenue in the coming years.
Recent Developments:
In 2020, for its TS9001 system, Japan-based Advantest Corporation launched TDR (Time-Domain Reflectometry) which will employ Terahertz technology to provide high-resolution analysis in case of circuit failure which is one step further in the semiconductor industry growth.
In 2020, OMEGA 5 FTIR Gas Analyzer was launched by Bruker Corporation. The gas analyzer will assist in the investigation of catalytic processes along with the determination of gas impurities and process monitoring.
Report Scope:
Global Terahertz and Infrared Spectroscopy Market: Regional Analysis
Asia-Pacific to register the highest CAGR during the forecast period
The terahertz and infrared spectroscopy market is expected to be dominated by Asia-Pacific in the coming years because of government policies to attract foreign investors along with the presence of skilled labor and the availability of sufficient space to set up manufacturing units. The regional growth is projected to be propelled by various strategic mergers, acquisitions, and tie-ups across industries which is aided by the presence of extreme growth potential in regions like China, India, Taiwan, and Singapore.
North America may contribute significantly to the global market owing to a higher rate of adoption of advanced technologies along with the presence of dominant players with better spending capabilities and stringent regulation in the food & beverage industry.
Global Terahertz and Infrared Spectroscopy Market: Competitive Analysis
The global terahertz and infrared spectroscopy market are dominated by players like Shimadzu Corporation, BATOP GmbH, Microtech Instruments, BaySpec, Teledyne Princeton Instruments, Spectra Analysis Instruments, PerkinElmer, EKSPLA, HÜBNER GmbH, Thermo Fisher Scientific, Agilent Technologies, Bruker Corporation, Bruker Corporation, and Menlo Systems GmbH.
The global terahertz and infrared spectroscopy market is segmented as follows:
By Technology
Microscopy
Benchtop
Hyphenated
Portable & Handheld
By Spectrum
Near-Infrared Radiation
Far-Infrared Radiation
Mid-Infrared Radiation
By End-Use
Industrial Chemistry
Food & Beverage Testing
Environmental Testing
Pharmaceuticals & Biotechnology
By Application
Homeland Security
Semiconductors
Biomedical Research & Development
Non-Destructive Testing
By Region
North America
Europe

France
The UK
Spain
Germany
Italy
Rest of Europe

Asia Pacific

China
Japan
India
South Korea
Southeast Asia
Rest of Asia Pacific

Latin America

Brazil
Mexico
Rest of Latin America

Middle East & Africa

GCC
South Africa
Rest of Middle East & Africa