According to the report published by Zion Market Research, global demand for Space Mining market was valued at approximately USD 0.65 Billion in 2019, and is expected to generate revenue of around USD 2.85 Billion by end of 2026, growing at a CAGR of around 20-22% between 2020 and 2026.
Global Space Mining Market: Overview
The method of excavation of materials and minerals from asteroids and near-earth artefacts is space mining. The purpose of space mining is close to that of extracting, extracting and excavating useful materials and minerals from the earth. The biggest distinction is the expense of both, which is highly expensive for space mining, but space mining may be the only viable choice for the exploration of minerals and materials because of the exponential depletion of supplies and these supplies are becoming increasingly limited on earth.
Global Space Mining Market: Growth Factors
During the forecast era, the space mining demand for the spacecraft design stage is projected to rise at the fastest CAGR. A spaceship is a computer designed to fly in outer space as a vehicle. It is used for various purposes, such as correspondence, observation of the earth, meteorology, navigation, colonisation of space, planetary discovery, and human and freight transportation. The total spacecraft, consisting of numerous devices such as instruments (including radiometers, spectrometers, thermal emission and reflection systems , sensors, magnetometers and multispectral scanners, among others), altitude control systems and electrical power systems, is configured depending on the type of task. The architecture of the spacecraft is crucial since the spacecraft must be sustained in space under critical or extreme conditions, such as microgravity.
Global Space Mining Market: Segmentation
The Space Mining market is fragmented based on phase, type of asteroid and type of commodity resource. By phase, the market is divided into spacecraft design, launch, and operation. On the basis of type of asteroid, the Space Mining market includes Type C, Type S, and Type M. On the basis of type of commodity resource, the market is segmented into water, platinum group material and structural elements.
Region-wise, the global market is segregated into North America, Europe, Asia Pacific, Latin America, and Middle East & Africa.
Global Space Mining Market: Regional Analysis
In the years to come, North America is anticipated to be the dominant space mining market. The United States is currently spending enormous sums in the space mining industry. OSIRIS-REx of NASA flew to a near-Earth asteroid named Bennu and could carry a small sample for research back to Earth. In September 2016, the mission was started. NASA's OSIRIS-REx spacecraft arrived at its destination, asteroid Bennu, in December 2018 after flying across space for more than 2 years. The spacecraft is scheduled to return a sample to Earth in 2023, as anticipated.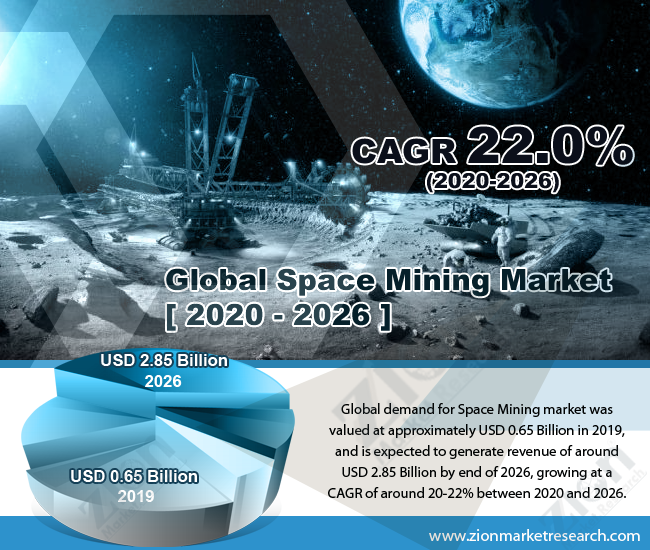 Global Space Mining Market: Competitive Players
Some main participants of the Space Mining market are Deep Space Industries Inc., Planetary Resources, Moon Express, ispace, Asteroid Mining Corporation Limited, Shackleton Energy Company, KLEOS SPACE S.A., ISRO, Boeing, SPACE EXPLORATION TECHNOLOGIES CORP., Northrop Grumman Corporation, Sierra Nevada Corporation, Virgin Galactic, Made In Space Inc., Ad Astra Rocket Company, Airbus S.A.S., TransAstra Corporation, OffWorld, SpaceFab.US Inc., NASA, European Space Agency, Japan Aerospace Exploration Agency, China National Space Administration, Roscosmos, among others.
Space Mining Market: Regional Segment Analysis
North America
Europe

France
The UK
Spain
Germany
Italy
Rest of Europe

Asia Pacific

China
Japan
India
South Korea
Southeast Asia
Rest of Asia Pacific

Latin America

Brazil
Mexico
Rest of Latin America

Middle East & Africa

GCC
South Africa
Rest of Middle East & Africa