According to the report published by Zion Market Research, the global Smart Ovens Market size was valued at USD 210.36 Million in 2022 and is predicted to reach USD 556.39 Million by the end of 2030. The market is expected to grow with a CAGR of 12.99% during the forecast period. The report analyzes the global Smart Ovens Market's growth drivers, restraints, and impact on demand during the forecast period. It will also help navigate and explore the arising opportunities in the Smart Ovens Market industry.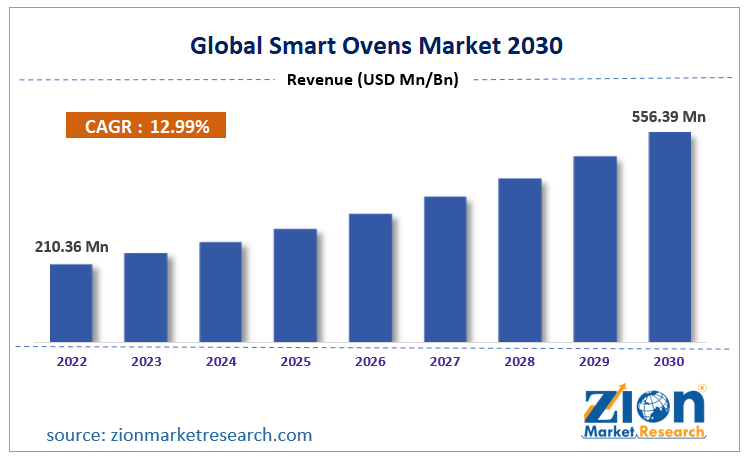 Request Free Sample
Global Smart Ovens Market: Overview
A smart oven is an electronic appliance which comprises the functionalities of a traditional oven with that of a microwave, added with extra features such as Bluetooth and Wi-Fi connectivity for providing a better and more efficient experience to the user. The high-end varieties of smart ovens are integrated with voice command feature and even flexible cooktops. The smart oven can be operated by using a mobile application provided by the manufacturing company, or even the home automation software–integrated home assistant devices, which include Amazon Alexa and Google Home.
Additionally, these smart ovens provide enhanced operations such as remotely changing the temperatures and food preparation settings, enabling easier cooking of food. Equipped with ultra-modern technology, smart ovens are also fused with higher number of cooking configurations, ranging from baking, grilling, roasting, and reheating food.
Global Smart Ovens Market: Growth Factors
Due to the factors such as busy lifestyles of the people, increasing disposable incomes, the preference for smart home and kitchen appliances has increased considerably. Moreover, the high level of convenience and lower power consumption associated with the latest range of products is offering a considerable impetus to the global smart ovens market share.
Furthermore, rapid technological enhancements have allowed the smart oven manufacturers to include advanced features such as self-cleaning and even automatic powering off when the cooking cycle is over or when the food cooks to the correct temperature with the help of heat detection sensors.
Additionally, the availability of several features such as integrated food recipes in the smart oven's memory or system, where the device is able to change its temperature according to the dish being cooked and for the right amount of time, is a major factor attracting a larger customer base. These factors are expected to drive the global smart ovens market in the forthcoming times.
However, because of the COVID-19 pandemic, the global smart ovens market share has been impacted negatively. Several smart ovens manufacturers are facing issues such as unavailability of product parts, lower demand for such products, lesser investments for production, and restrictions on transport. Also, the temporary worldwide ban on import and export transactions has resulted in a substantial loss on a global scale. On the other hand, in the regions where the governments are slowly resuming with production activities, companies providing smart ovens and other related machine components are also gaining back their momentum.
Global Smart Ovens Market: Segmentation
The global smart ovens market is differentiated by type, capacity, structure, connectivity, distribution channel, end-user, and region. Based on the type of smart oven, the market is divided into single function and multiple function smart ovens. On the basis of capacity, the market is classified into 20-25 liters, 26-30 liters, and above 30 liters. By structure, the market is segmented into built-in and counter-top.
Based on connectivity, the global smart ovens market can be categorized into NFC, Wi-Fi, and Bluetooth. The Wi-Fi sub-category accounts for a major share owing to the longer range of Wi-Fi connections and convenience. By distribution channel, the market is bifurcated into offline and online. On the basis of end-user, the market can be segregated as commercial and residential. The commercial segment dominates the market due to prevalence of restaurants and hotels in the developed countries.
Smart Ovens Market: Report Scope
Report Attributes
Report Details
Report Name
Smart Ovens Market Research Report
Market Size in 2022
USD 210.36 Million
Market Forecast in 2030
USD 556.39 Million
Growth Rate
CAGR of 12.99%
Number of Pages
195
Key Companies Covered
June Life, Inc., Robert Bosch GmbH, Sharp Corporation, Samsung Electronics Co., Ltd., LG Corporation, Tovala, Hitachi, Ltd., Panasonic Corporation, Breville Group Limited, Haier Group, Sub-Zero Group Inc., and Electrolux AB.
Segments Covered
By glass, By position, By vehicle, By electrical vehicle, By material, By sales channel and By Region
Regions Covered
North America, Europe, Asia Pacific (APAC), Latin America, Middle East, and Africa (MEA)
Base Year
2022
Historical Year
2017 to 2021
Forecast Year
2023 - 2030
Customization Scope
Avail customized purchase options to meet your exact research needs. Request For Customization
Global Smart Ovens Market: Regional Analysis
North America dominates the global smart ovens market due to the fully mechanized industrial sector, rising disposable incomes, high urban population, improving standard of living, and increased preference for smart kitchen appliances owing to the hectic lifestyles of the people. North America is followed by Europe in terms of market share due to the presence of a number of giants companies in this region that produce smart ovens and increasing preference for automated home devices due to their convenience.
Asia Pacific is projected to witness substantial development of the smart ovens market in the upcoming timeframe. This can be attributed to several factors such as changing lifestyles, increasing urban population, presence of densely populated countries such as China and India in the region, and higher requirements for smart home devices due to the emergence of home automation systems in the region.
Global Smart Ovens Market: Competitive Players
Some of the key companies dominating the global smart ovens market include:
June Life, Inc.
Robert Bosch GmbH
Sharp Corporation
Samsung Electronics Co., Ltd.
LG Corporation
Tovala
Hitachi, Ltd.
Panasonic Corporation
Breville Group Limited
Haier Group
Sub-Zero Group Inc.
Electrolux AB
The global Smart Ovens Market is segmented as follows:
By Type
single function
multiple function smart oven
By Capacity
20-25 liters
26-30 liters
above 30 liters
By Structure
By Connectivity
By Distribution channel
By End-user
Global Smart Ovens Market: Regional Segment Analysis
North America
Europe

France
The UK
Spain
Germany
Italy
Rest of Europe

Asia Pacific

China
Japan
India
South Korea
Southeast Asia
Rest of Asia Pacific

Latin America

Brazil
Mexico
Rest of Latin America

Middle East & Africa

GCC
South Africa
Rest of Middle East & Africa
What Reports Provides
Full in-depth analysis of the parent market
Important changes in market dynamics
Segmentation details of the market
Former, on-going, and projected market analysis in terms of volume and value
Assessment of niche industry developments
Market share analysis
Key strategies of major players
Emerging segments and regional markets
Testimonials to companies in order to fortify their foothold in the market.