Smart Mobility Market Size & Overview
The Global Smart Mobility market size accounted for USD 38.21 Billion in 2020 and is expected to reach USD 148.91 Billion by 2028, growing at a CAGR of 18.74% from 2021 to 2028.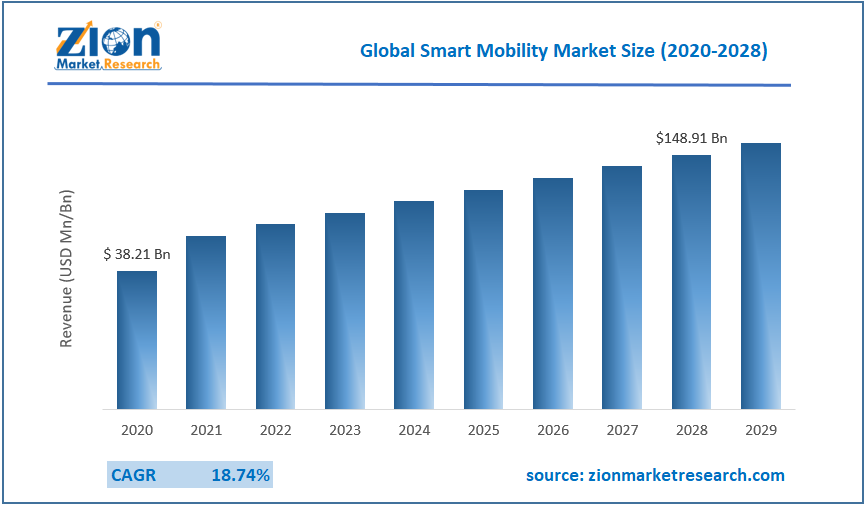 Request Free Sample
To know more about this report, request a sample copy.
Smart mobility is one of the primary needs for the development of smart cities. Smart technology, smart mobility smart infrastructure smart governance is also vital for the development of smart cities. Smart mobility is concerned with offering intelligent transportation solutions through the use of new and integrated technologies and solutions that are environmentally friendly and also enhance social mobility.
The term "smart mobility" refers to the incorporation of cutting-edge technologies and forward-thinking solutions into existing transportation networks in order to enhance those networks in terms of their effectiveness, safety, and environmental friendliness. Connected cars, electric vehicles, autonomous vehicles, mobility-as-a-service (MaaS) platforms, and smart transportation infrastructure are just some of the products and services that fall under the purview of the smart mobility market.
In recent years, the global market for smart mobility has experienced significant expansion, which can be attributed to a number of factors including the rise in urbanization, the rise in demand for environmentally friendly transportation solutions, and developments in technology.
The growing number of people who drive electric cars is one of the most important factors propelling the smart mobility market (EVs). Electric vehicles are becoming an increasingly popular option for individuals and governments alike as a means of transportation that is both less harmful to the environment and more compatible with long-term sustainability goals. In addition, developments in battery technology and infrastructure for charging are making electric vehicles more practical and convenient for day-to-day use.
The increased need for MaaS systems, which give customers access to a multitude of transportation options through a single app or platform, is another factor that is driving the smart mobility market. MaaS platforms are especially popular in urban areas since they provide an alternative to car ownership, can aid in the reduction of traffic congestion, and can enhance air quality.
Also, it is anticipated that autonomous vehicles will play a key part in the smart mobility sector in the years to come. Self-driving cars and trucks are already being tested and deployed in select locations, and it is anticipated that they will become more common in the coming years. While the widespread adoption of fully autonomous vehicles may still be a few years away, it is expected that self-driving cars and trucks will become more common in the coming years.
In general, it is anticipated that the market for smart mobility will keep expanding over the next few years. This growth is anticipated to be driven by an increasing demand for environmentally friendly transportation solutions, advances in technology, and government support for smart transportation infrastructure.
COVID-19 Impact Analysis
The demand for smart mobility has been steadily expanding over time. However, due to the outbreak of the COVID-19 pandemic, the smart mobility sector has seen a significant drop. The pandemic resulted in an increase in automobile ownership in order to restrict the use of public transportation and reduce direct contact with other individuals.
Growth Factors
There are several factors that are responsible for the growth of the smart mobility market such as supportive government initiatives for smart cities and rising demand for on-demand transportation solutions, the smart mobility market has a bright future. All of these factors have resulted in a surge in smart mobility usage, which is driving the global smart mobility market forward. Furthermore, expanding network infrastructure and increased usage of smart mobility for fleet management are also contributing to overall market growth. On the other hand, there are some roadblocks to the smart mobility market's growth, such as limited internet penetration in emerging nations and the risk of data hacking.
Smart Mobility Market Report Scope :
Report Attributes
Report Details
Report Name
Smart Mobility Market Research Report
Market Size in 2020
USD 38.21 Billion
Market Forecast in 2028
USD 148.91 Billion
Compound Annual Growth Rate
CAGR of 18.74%
Number of Pages
110
Forecast Units
Value (USD Billion), and Volume (Units)
Key Companies Covered
Cardinal matrix, Cisco Systems Inc., Toyota Motor Corporation, Siemens AG, TomTom N.V., Robert Bosch GmbH, Excelfore Corporation, Ford Motor Company, among others.
Segments Covered
By Element, By Solution, By Technology, And By Region
Regions Covered
North America, Europe, Asia Pacific (APAC), Latin America, Middle East, and Africa (MEA)
Countries Covered
North America: U.S and Canada
Europe: Germany, Italy, Russia, U.K, Spain, France, Rest of Europe
APAC: China, Australia, Japan, India, South Korea, South East Asia, Rest of Asia Pacific
Latin America: Brazil, Argentina, Chile
The Middle East And Africa: South Africa, GCC, Rest of MEA
Base Year
2021
Historical Year
2017 to 2021
Forecast Year
2022 - 2030
Customization Scope
Avail customized purchase options to meet your exact research needs. Request For Customization
Element Analysis Preview
The element segment is expected to grow at a CAGR of XX% during the forecast period. Due to its widespread adoption, ridesharing received the highest revenue share in 2019. However, due to the widespread acceptance of car sharing, the segment is expected to rise at a rapid pace over the forecast period, contributing to the worldwide smart mobility market's growth. The element segment is bifurcated into three categories ride-sharing, car-sharing, and bike commuting.
Technology Segment Analysis Preview
The technology segment is expected to grow at a CAGR of XX% during the forecast period. In 2019, the RFID market under the technology segment is anticipated to dominate the global smart mobility market, with a CAGR of 16.6% during the forecast period. Furthermore, the GPS market is anticipated to grow at an annual rate of XX% in the forecast period. Due to the rising use of GPS in automobiles for smarter route planning, automated real-time alerts, and better customer service. Embedded systems, Wi-Fi, 3G & 4G and others form the remaining of the technology segment.
Request Free Sample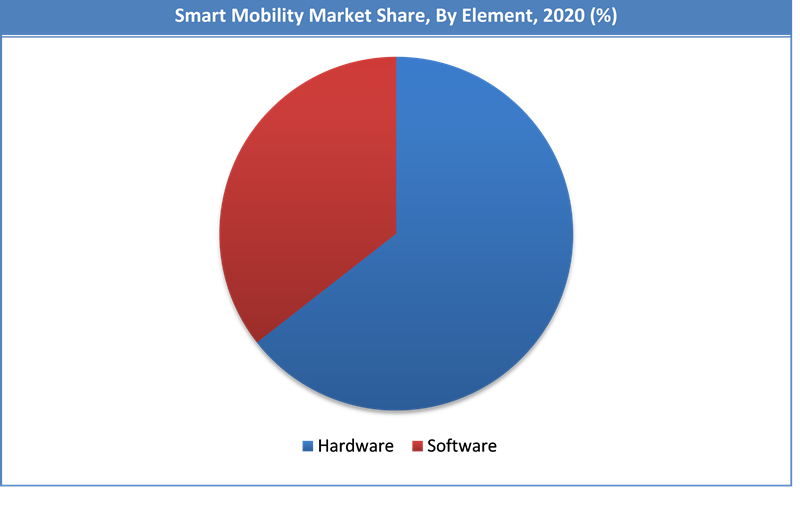 Request Free Sample
Regional Analysis Preview
North America accounted for the larger share of 34% in 2020. Due to a surge in the adoption of the smart mobility concept in North America, the United States gained a significant revenue share in 2019 and is expected to increase at a significant rate over the forecast period.
Asia Pacific is projected to grow at a CAGR of over XX% during the forecast period. DUE to the increased government spending along with the acceptance of more eco-friendly mobility solutions in developing regions the demand for smart mobility is evident in the forecast period.
Key Market Players & Competitive Landscape
Some of the key players in the smart mobility market are
Cardinal matrix
Cisco Systems Inc.
Toyota Motor Corporation
Siemens AG
TomTom N.V.
Robert Bosch GmbH
Excelfore Corporation
Ford Motor Company
Some of the recent developments include TomTom's agreement with precisely, the world's leading data integrity company, which was extended in February 2021. Precisely customers can utilize TomTom's top map and traffic information to make better-informed, more confident business decisions. TomTom's highly accurate map data, as well as historic and real-time traffic data, are utilized precisely.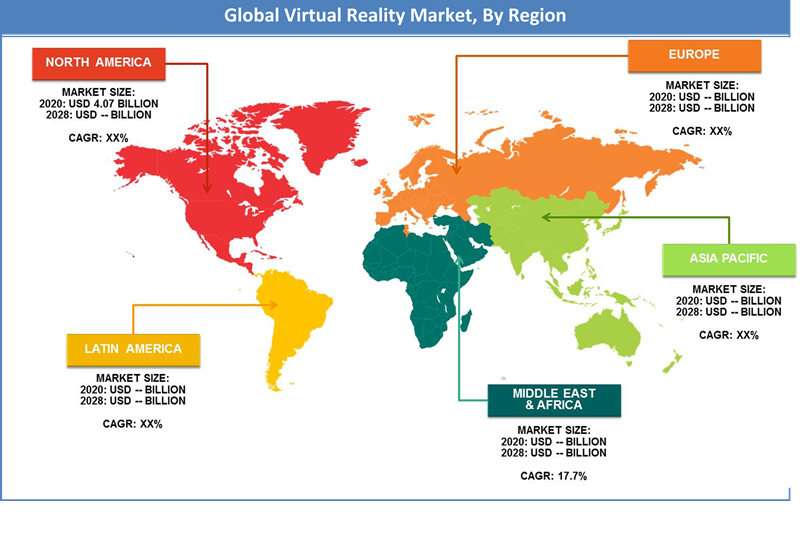 Request Free Sample
The Smart Mobility market is segmented as follows:
By Element
Ride Sharing
Bike Commuting
By Solution
Parking Management
Mobility Management
Others
By Technology
RFID
GPS
Embedded System
Wi-Fi
3G & 4G
Others
By Region
North America
Europe

France
The UK
Spain
Germany
Italy
Rest of Europe

Asia Pacific

China
Japan
India
South Korea
Southeast Asia
Rest of Asia Pacific

Latin America

Brazil
Mexico
Rest of Latin America

Middle East & Africa

GCC
South Africa
Rest of Middle East & Africa