Smart Mirror Industry Perspective:
The prospective CAGR value of the global smart mirrors market stands at 11% for the period 2022 – 2028. The value is believed to reach a market value of USD 7300 Million by the end of 2028. This report will be a thorough analysis on what are the growth factors, obstacles, and challenges of the global market in the stipulated forecast period of 2022 - 2028. Many industrial applications have had a major growth prospective in recent years which seems to be reflecting the potential growth of the global market value as well.
Smart Mirror Market: Overview
A smart mirror is basically a component that is incorporated in various sensors, cameras, and some technical equipment. Many industries use this component ranging from retail to technology and automotive industries by and large. Smart mirrors are said to be a household and common commercial product to identify people, learn their habits, and their favorites in the shopping arena. These mirrors can be generally seen in vehicles as rear-view mirrors or side-view mirrors which indicates the traffics in specific directions. They have a major usage in the fashion and retail industry to display people in their chosen outfits.
According to the smart mirror market, smart mirrors are integrated with high-profile sensors, cameras, and displays that stores and records data in multiple utilities right from retail to electronic gadgets. They can be used in an assortment of medical appliances identifying the patterns of patients and devise solution therapies instantly.
The artificial intelligence integrated with the framework of smart mirrors can be used in automotive arenas and commercial premises to give a real-time digital experience for the customers.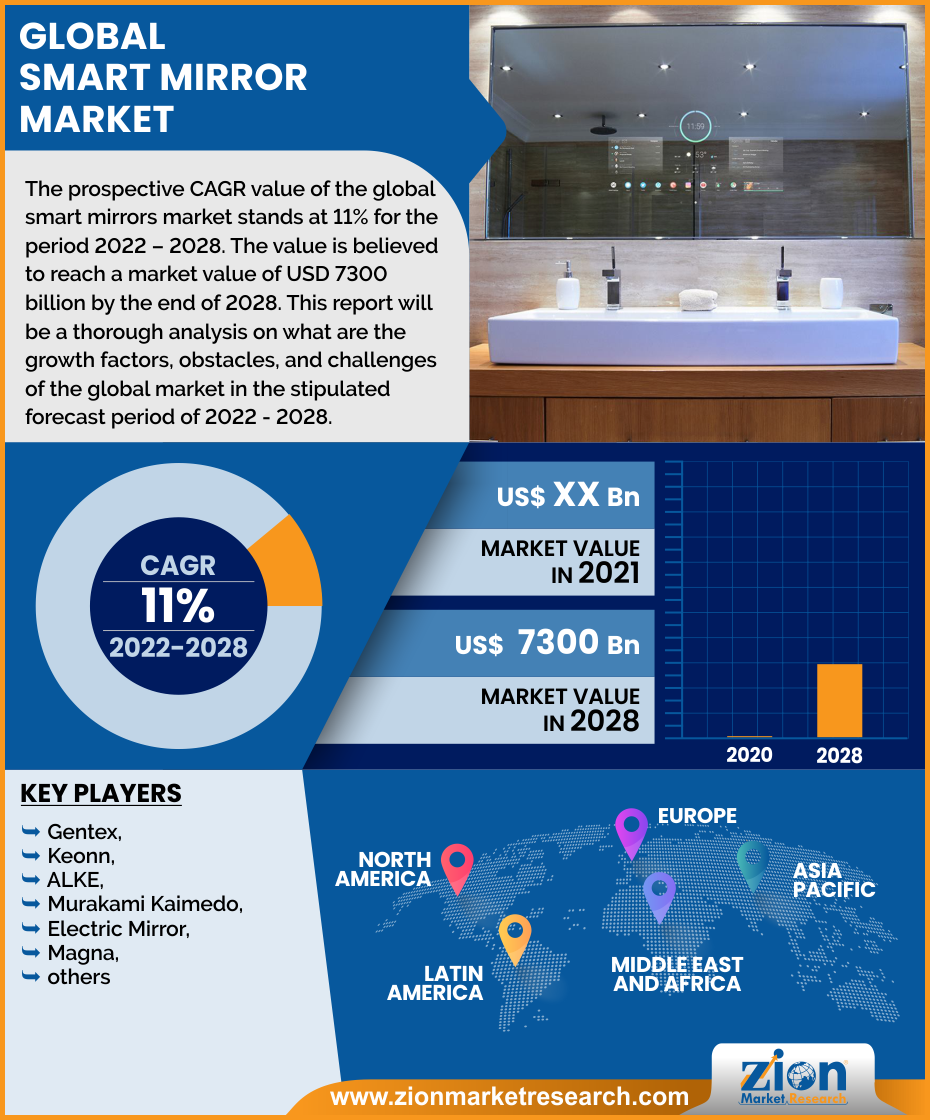 Request Free Sample
Covid – 19 impacts:
Covid-19 has had a conspicuous negative effect on the global smart mirrors market worldwide. The lockdowns and curfews had curtailed the demands and supply chains of the market. The business applications pertaining to the usage of smart mirrors took a drastic hit during that period because of the rampant closures of high-profile industries across the world. The supply chains were obliterated because of massive shutdowns which stifled the growth of global market.
The CAGR values for the pre-Covid-19 period stood at 9% and post Covid-19 period has shown a decline of 8.2% which indicates the consequence of the pandemic impact on the global market values. Many business fields are picking up their positions now which in turn would recover the global market values of the smart mirror in the coming years.
Smart Mirror Market: Growth Drivers
Rise of many companies with multiple smart mirror utilities globally to drive market growth
The global market of smart mirrors has a prospective high growth because of its barrage of utilities in all newly emerging companies and business fields.
The mirror is designed and manufactured with the capacity to recognize and record identifying information for any objects. They are built with an underlying framework to recognize patterns and display results based on that. The security basing is also very carefully planned in the smart mirrors to preserve the data of multiple objects.
All these qualifications make the mirror an able component for an assortment of companies and business fields that are cropping up in the current generation. The growing artificial intelligence and augmented reality applications in multiple digital sectors boost the global market values of smart mirrors. The integrated framework of augmented reality with the shrewd mirrors can be used for various applications to track information for posterity and use it as an analytical tool in commercial marketing applications as well. All these factors are expected to drive the growth of the global smart mirror market during the coming period.
The facial recognitions that come as an advantage while using the mirror make them more suitable for many high-profile applications to decode patterns and behaviors. The recording capacity of the intelligent mirror is looked at as a benefit to devise customers' preferences and alter suggestions according to their predilections, thereby driving the demand for smart mirrors.
Smart Mirror Market: Report Scope
Report Attributes
Report Details
Report Name
Smart Mirror Market Research Report
Market Size in 2021
USD USD 3441 million
Market Forecast in 2028
USD 1USD 7300 million
Growth Rate
CAGR of 11%
Number of Pages
147
Key Companies Covered
Gentex, Keonn, ALKE, Murakami Kaimedo, Electric Mirror, Magna, and others.
Segments Covered
By Component, By Technology, By Augmented reality feature, By End-use And By Region
Regions Covered
North America, Europe, Asia Pacific (APAC), Latin America, Middle East, and Africa (MEA)
Base Year
2021
Historical Year
2018 to 2021
Forecast Year
2022 - 2028
Customization Scope
Avail customized purchase options to meet your exact research needs. Request For Customization
Smart Mirrors Market: Restraints
High prices for the device implementation and reduction of confidentiality in retail may hamper market growth:
As smart mirrors record all the information and the footfalls recognizing the patterns, they require some capacious spacing to be positioned with all its accessories. The cost associated to do this along with spacing requirements makes it a cumbersome implementation in most of the premises.
In retail arenas, mirrors are used to record the buying history and the preferences of people with respect to their shopping experiences. This is looked like an intrusion on privacy by many prospective clients for the kind of invasion it has on every personal data. Every action of the customers including their trials and encounters can be recorded by the mirror which could potentially pose a security threat for the customers in the future. These aspects are likely to hamper the market growth to some extent.
Smart Mirror Market: Opportunities
Quick urbanization and rising population induce greater potential for the global market growth
The rising urbanization across the world and the increasing floating population in every business field and retail industries trigger ample opportunities for the global market growth of smart mirrors. There are many new headways and innovations currently happening in Japan and South Korea with respect to smart mirrors and their utilities across fields. All these factors show positive signs of huge growth for the global smart mirrors market rate universally.
Smart Mirrors Market: Challenges
Cost of savvy mirrors are very high: These smart mirrors incorporate the mechanisms of augmented reality and information storage framework which makes their implementation cost expensive. The RFID sensors instilled in the glasses inevitably raise the cost of these smart mirrors posing a great challenge for all small-scale industries and business fields.
Influx of utilities in the vehicle and retail industries: These smart mirrors have been observed to be leveraged massively by vehicle and retail industries in the future. This influx of utilities will give suppliers a hard time satisfying the demands which will also be a challenge on the manufacturers considerably. The prevalence of high demands needs to be satiated with immediate accuracy over time to meet the needs of consumers.
Personal data intrusion in retail and commercial industries: smart mirrors have the capacity to load and store information and patterns of customers by their regular shopping experiences and encounters. These data account and help the sensors to get activated as the customer enters the digital store. This augmented reality application duly aids the store managers to keep track of customers' personal order histories and their preferences. This property is construed as an invasion of private data and security violation which could pose a potential challenge for the utility of smart mirrors in retail business fields further.
Smart Mirrors Market: Segmentation
The global smart mirrors market in this research analysis is divided into components, technology, augmented reality, end-users, and region. The components segment is classified into hardware, software and services. The technology segment includes embedded technology and smart materials. The augmented reality features are classified as integrated AR-smart mirrors and non-AR-smart mirrors. The end-users segment of the global market is divided into automotive, healthcare, consumers, and others.
Recent Developments:
February 2022, Capstone company conducted analysis to prove that smart mirrors are not just confined to display and can be used for many internet based content.
March 2022, MySize's enabled smart mirrors to display superimposed outfits on the customer to check their styling as a part of easing their trial room encounters.
Regional landscape:
The global smart mirror market is likely to be dominated by Europe during the forecast period. This region is believed to increase the production of smart mirrors thereby increasing the supplies and triggering demands. Europe has been looking to establish many AR-induced infrastructures throughout the continent and smart mirrors would be a fitting addition to such targets in the future.
North America is also touted to expand the usage of shrewd mirrors by improving its utilities in vehicles, retail, and electronic gadgets. They have shown infrastructure improvements in multiple arenas after the pandemic which will stimulate the market growth of smart mirrors aptly.
Asia Pacific regions seem to trail the above regions by being the pioneer in the manufacturing of smart mirrors and leveraging them across different lines of fields. Manufacturing divisions in Asia Pacific region is looking to bloom in the recent future and the usage of smart mirrors in manufacturing units of automotive and electronic components would be an added benefit.
Competitive Landscape:
The key companies profiled in the global smart mirrors include:
Gentex
Keonn
ALKE
Murakami Kaimedo
Electric Mirror
Magna
others.
Global smart mirror market segmentation follows:
By Component
Services
Software
Hardware
By Technology
By Augmented reality feature
AR-Smart Mirror
Non-AR-smart Mirror
By End-use
Automotive
Healthcare
Consumers
Others
By Region
North America
Europe

France
The UK
Spain
Germany
Italy
Rest of Europe

Asia Pacific

China
Japan
India
South Korea
Southeast Asia
Rest of Asia Pacific

Latin America

Brazil
Mexico
Rest of Latin America

Middle East & Africa

GCC
South Africa
Rest of Middle East & Africa