Introduction
The prescription delivery services market is set for a rapid growth over the forecast period. In terms of revenue, the global prescription delivery services market accounted for USD 50.81 Billion in 2019 and is expected to reach USD 199.65 Billion by 2026, growing at a CAGR of 21.59%
Global Prescription Delivery Services Market: Overview
Delivery services are more common than ever, thanks to companies like Amazon, who have made the iconic "click to buy" actions the norm. This need for immediate gratification has spilled over into many sectors, with an increasing demand for on-demand service. This involves prescription delivery. However, a Google search for the word yields a mixed bag of results, including chain pharmacies providing free shipping, digital pharmacies with odd names, and even on-demand delivery services. Patients are becoming accustomed to quicker, on-demand service that suits their schedules, such as telemedicine, that provides care anywhere and at any time. As consumer demand grows, so does the need for new or enhanced technology in prescription delivery options.
For instance, ScriptDrop, a health information technology company, is excited to be a part of a rising community of healthcare IT solutions that can satisfy consumer demand for new options and a more robust offering for pharmacies. The company is venturing into uncharted territories. It is high time for the industry to have a dependable patient-initiated prescription delivery solution, allowing patients to have improved access to medication and results. Prescription delivery was already gaining popularity by the beginning of 2020. Experts in the industry acknowledged the positive effect, prescription home delivery may have on medication adherence and, as a result, overall healthcare spending.
When COVID-19 struck, it reshaped and limited every part of our lives, including how we obtained healthcare and medicines. Although states initially allowed people to shop for groceries and medication after the pandemic, as more people of all ages and risk groups were infected, more states closed down non-essential businesses.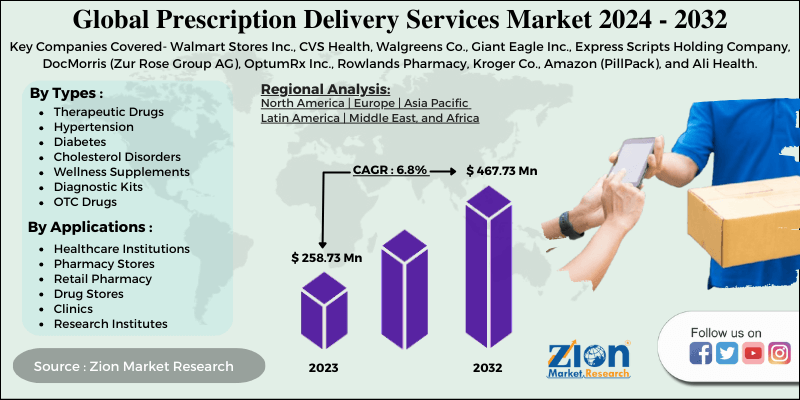 Global Prescription Delivery Services Market: Growth Factors
As the global population rises, so do chronic diseases and co-morbidities. Chronic diseases are projected to grow at a fast pace, with developing economies bearing 60% of the burden. As a result, there is a greater need for efficient healthcare delivery systems. The prompt administration of medications is a critical component of effective treatment for such conditions. Therefore, access to a nearby retail pharmacy or doorstep delivery is important. Some delivery systems also provide 24 hours customer service to help with therapy adherence.
System development, such as PharmacyOS, has proven to be extremely successful in handling several daily medications. The platform proactively detects, comprehends, and resolves any issues that could stand in the way of a consumer receiving their medication.
The modern prescription delivery services industry is still in its early stages. Hence, pharmacies and healthcare providers are expected to find profitable growth prospects over the forecast era. At the moment, traditional physical delivery accounts for more than 60% of all home-based medication availability.
Service providers have started to examine alternatives over the years, such as hyperlocal, single-store, or direct manufacturer-to-customer distribution, especially for Schedule H drugs. This will greatly assist in incurring cost savings by decrease the burden of middlemen, especially for patients who are unable to afford costly lifesaving drugs.
In light of increasing internet and smart device penetration across potential markets, healthcare providers are looking to exploit electronic pharmacies. CVS Health, for example, has introduced the CVS Pharmacy Mobile App, which assists customers in saving time and money via an interactive platform that includes online payment and pickup/refill options.
Similarly, Walgreens offers online refilling, new drug order placement, and order monitoring through its online pharmacy platform. In order to use these facilities, users must have a user ID. Such innovations are proving beneficial to the growth of the prescription delivery services industry.
Global Prescription Delivery Services Market: Segmentation
Prescription drugs are expected to have the greatest market share by 2026, accounting for almost half of the global market. The rising prevalence of chronic diseases has encouraged patients to seek out home-based treatment, which has improved growth opportunities.
Diabetes drugs are gaining momentum in this sector, taking more than a third of the market during the forecast period. Diabetes, according to the World Health Organization, is a leading cause of other co-morbidities such as heart attacks and kidney failure. Patients are increasing their intake of diabetic medicines to avoid the onset of such issues, which are now much more affordable.
Retail pharmacy stores are poised to account for the majority of all prescription drug sales worldwide. Leading vendors are focused on offering streamlined services to consumers by integrating smart billing services post-purchase. Self-checkout kiosks and automated cash dispensing devices have aided vendors in maintaining customer loyalty, thus growing growth prospects.
Global Prescription Delivery Services Market: Regional Analysis
By Geography, the prescription delivery services market is segmented into North America, Europe, Latin America, Asia Pacific, and Middle East and Africa.
The North American prescription delivery services industry is expected to account for a notable market share in the coming years. Increased healthcare knowledge, access to high-value medications, and high per capita healthcare spending are driving growth. OTC drugs for a variety of ailments are becoming increasingly popular in the region, owing to customers' ease of access to retail pharmacies. These pharmacies stock a wide range of hypertension, diabetes, and other chronic or infectious disease-relieving medications.
Europe is the second-largest market in terms of value, with the United Kingdom, Germany, and France leading the way. The ability to turn to home delivery for over-the-counter, self-diagnostics kits, and schedule 'H' drugs prescribed via telemedicine consultations is outpacing prospects for advanced prescription delivery services. Strong regulatory compliance play an important role in deciding the availability of various groups of drugs in different countries. To deter fraud, the United Kingdom's National Health Service (NHS) encourages online pharmacies to only dispense medications with verified doctor's prescriptions. Vendors must also obtain a legal license in order to operate in the European market. Manufacturers, importers, and distributors of medicines must be authorized to sell prescription drugs in the European Union. A competent authority verifies the vendor's legitimacy before allowing them to function.
East Asian prescription delivery services are projected to gain a sizable market share in the near future. Rapid developments in the Chinese pharmaceutical industry are cited as the primary growth factor. The Chinese market is being driven by extensive research into designing robust healthcare solutions. The enormous potential of China's healthcare industry has drawn vast investments from global players, resulting in the creation of a robust infrastructure. This capital inflow has increased drug production and availability, creating opportunities for pharmacies to expand their presence.
Global Prescription Delivery Services Market: Competitive Players
The major players in the global prescription delivery services market include Walmart Stores Inc., CVS Health, Walgreens Co., Giant Eagle Inc., Express Scripts Holding Company, DocMorris (Zur Rose Group AG), OptumRx Inc., Rowlands Pharmacy, Kroger Co., Amazon (PillPack), and Ali Health among others.
The report segment of global prescription delivery services market are as follows:
Global Prescription Delivery Services Market: Types Segment Analysis
Hypertension
Diabetes
Cholesterol Disorders
Wellness Supplements
Diagnostic Kits
OTC Drugs
Global Prescription Delivery Services Market: Applications Segment Analysis
Healthcare Institutions
Pharmacy Stores
Retail Pharmacy
Drug Stores
Clinics
Research Institutes
Global Prescription Delivery Services Market: Regional Segment Analysis
North America
Europe

France
The UK
Spain
Germany
Italy
Rest of Europe

Asia Pacific

China
Japan
India
South Korea
Southeast Asia
Rest of Asia Pacific

Latin America

Brazil
Mexico
Rest of Latin America

Middle East & Africa

GCC
South Africa
Rest of Middle East & Africa