The precast concrete market size accounted for around USD 105 Billion in 2018, growing at a CAGR of 5% during the forecast period.
Precast concrete is a product which is used for construction processes. It is manufactured by casting the concrete in a recyclable frame which is then maintained in a controlled environment, and then transported to the construction site and installed to the designed place. Precast concrete is massively used in the construction industry. It is mainly due to the ease it offers to the builders. Precast concrete is used to create several different structures away from the construction site and then are transported to the main construction site. Due to this precast concretes produce less waste while construction and hence helps to reduce several environmental dangers at the site.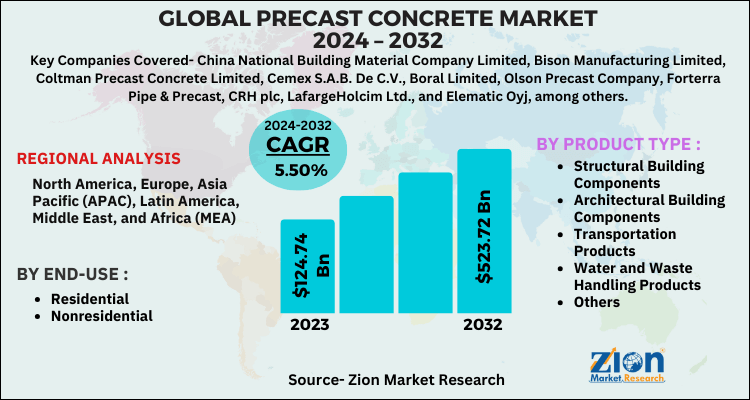 The rise in urban population is a key development, which is expected to boost the construction industry in most of the countries across the world. Moreover, the growing demand for reasonable housing, coupled with rising demand for transport and utility infrastructure is expected to further boost the growth of the precast concrete market in the forecast timeline. Lesser construction time and low cost in production are the main benefits delivered by the usage of precast concrete. This makes it quite popular among builders and contractors.
Despite cheap manufacturing costs of precast concrete structures, major weakness associated with the usage of precast concrete lies with the added transportation costs required to deliver the structures from the factory to the construction sites. Furthermore, the construction industry needs skilled labors to work with precast concrete for the construction of buildings, as it is totally different from traditional methods of construction. This is expected to obstruct the growth of the precast concrete market over the forecast timeline.
The Asia Pacific is anticipated to be the fastest-growing market over the forecast years. Rapidly growing population and increasing disposable income in developing countries in the region is expected to fuel the growth of the precast concrete market over the forecast timeframe.
Some of the key players operating in the global precast concrete market include China National Building Material Company Limited, Bison Manufacturing Limited, Coltman Precast Concrete Limited, Cemex S.A.B. De C.V., Boral Limited, Olson Precast Company, Forterra Pipe & Precast, CRH plc, LafargeHolcim Ltd., and Elematic Oyj, among others.
Global Precast Concrete Market: Product Type Segment Analysis
Structural Building Components
Architectural Building Components
Transportation Products
Water and Waste Handling Products
Others
Global Precast Concrete Market: End-Use Segment Analysis
Residential
Nonresidential
Global Precast Concrete Market: Regional Segment Analysis
North America
Europe
Asia Pacific
Latin America
Middle East and Africa