Portable MRI Market Size & Industry Analysis:
The global portable MRI market size was worth around USD 3640 million in 2021 and is predicted to grow to around USD 6165 million by 2030 with a compound annual growth rate (CAGR) of roughly 6.82% between 2022 and 2030. The report analyzes the global portable MRI market's drivers, restraints/challenges, and the effect they have on the demands during the projection period. In addition, the report explores emerging opportunities in the portable MRI market.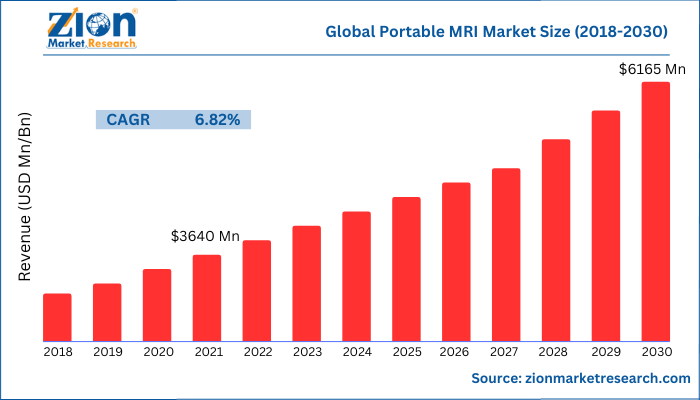 Request Free Sample
Portable MRI Market: Overview
Magnetic resonance imaging (MRI) is a medical imaging technique that is generally used in the radiology segment of the healthcare industry. The technology is used to form pictures or create images of the physiological processes or anatomy of the body. Strong magnetic fields, radio waves, and magnetic field gradients are used to generate the image of body organs. MRIs do not use ionizing radiation or X-rays and hence they are different from computed tomography (CT) scans or positron emission tomography scans. The technology has high applications in a hospital or diagnostic facilities during the various stages of medical treatment.
When compared to CT scan, MRI provides better contrast to soft tissue images, but with stationary MRI scanning, patients may become uncomfortable due to longer and louder measurements while the patient is placed in a long and confined tube. This is where portable MRI scanners come to play. The technique can provide images of body parts on-site and in-time for example, in the Intensive Care Unit thus eliminating the need to transport the patient under critical care from one unit to another for MRI and avoiding subsequent life-threatening errors.
Portable MRI machines have made access to Medicare care uniform for the population of all income groups because traditional MRI can be unaffordable for low-income strata of society. However, portable MRI devices offer the same services at a reduced cost along with the benefit of carrying the MRI machine to patients' homes which makes high-quality medical care reachable to a higher number of people. Portable MRI has also managed to reduce the response time in conducting tests when a person undergoes certain reactions like a seizure, stroke, etc. With the reduced time in understanding the underlying reason for such conditions, the doctors have sufficient time to save the patients.
Key Insights
As per the analysis shared by our research analyst, the global portable MRI market is estimated to grow annually at a CAGR of around 6.82% over the forecast period (2022-2030).
In terms of revenue, the global portable MRI market size was valued at around USD 3640 billion in 2021 and is projected to reach USD 6165 billion, by 2030. Due to a variety of driving factors, the market is predicted to rise at a significant rate.
Based on facility segmentation, hospitals were predicted to show maximum market share in the year 2021
Based on application segmentation, neurology was the leading revenue-generating application vertical in 2021.
On the basis of region, North America was the leading revenue generator in 2021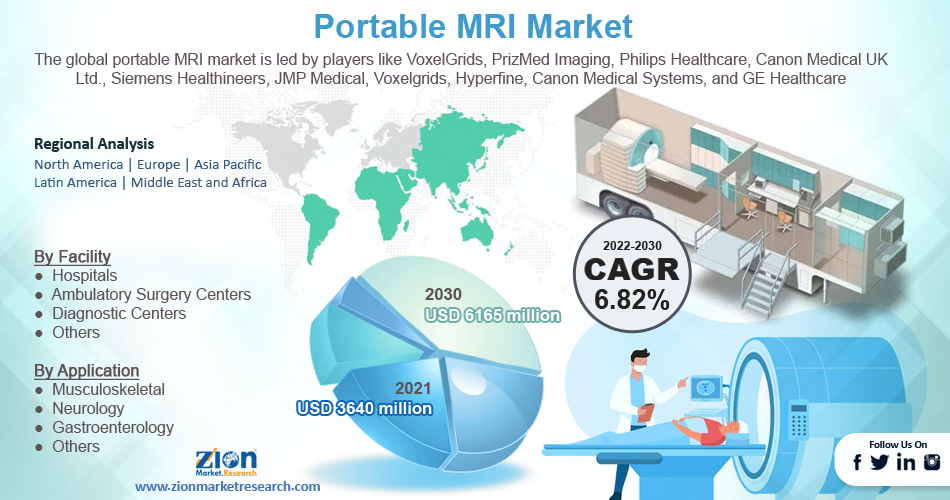 Request Free Sample
Covid-19 Impact
Even though the technology is fairly new in the healthcare market, the global demand for the products increased considerably during Covid-19. A lot of small medical facilities ordered the product to conduct tests on Covid-19 patients. Portable MRI machines were highly useful during this time because of covid-19-related restrictions like maintaining social distancing, and transportation disruption. If a patient was unable to travel to the medical unit, a portable MRI machine could be used to conduct tests.
Portable MRI Market: Growth Drivers
Increased government spending on public healthcare infrastructure to propel market growth
The global portable MRI market cap may witness growth during the forecast period owing to a significant increase in government expenditure on public healthcare. The rise is anticipated to be propelled by the increasing initiatives undertaken by private investors to improve health-related systems for the general population. Basic healthcare is a necessity for every citizen and access to it should not be limited to high-income groups. The governments have been striving toward making efficient medical care accessible to all. MRI technology is significantly used during various medical treatment processes.
However, the high cost of traditional MRI restricts its reach. In the USA, the average cost of an MRI ranges between USD 1000 to USD 1300 in the case of an insured patient, and in the case where the patient does not have insurance, the cost may go up to USD 5000. The numbers are higher in the case of developing economies. Looking at such scenarios, many governments have taken a step forward toward advancing medical systems by investing heavily in them. In November 2021, the Indian government announced an investment of over INR 64,000 crore in the health sector over the next five years.
Portable MRI Market: Restraints
Limitations of resolution provided by portable MRI to restrict the market growth
The traditional MRI scanners are built in specially equipped rooms and have more advanced technologies installed as compared to portable MRI. Even though mobile MRI scanners deliver efficient results, they still lag in terms of technology when compared to their counterparts. There is a significant difference between the image quality provided by both MRI processes which may restrict the global market cap.
Portable MRI Market: Opportunities
Ongoing research on technological advancements to provide market expansion opportunities
There are constant efforts put into action to upgrade the outputs delivered by portable MRI. Since the technology holds immense applications and benefits, the research community is working toward sorting out the restrictions posed during the use of portable MRI machines. Investments in technological advancements by private and public institutes are expected to eliminate the restraints of mobile MRI scanners while providing more and better growth opportunities for the global portable MRI market. In 2018, Foundation for Innovation and Social Entrepreneurship by Tata Trust, a world-renowned public trust fund announced the development of a portable MRI for the Indian market. The product is capable of making MRI scans four times faster as compared to other portable MRI scanners.
Portable MRI Market: Challenges
Issues related to the initial high setup cost to challenge market growth
The portable MRI scanners are beneficial for patients as well as healthcare professionals. However, it is important to conduct thorough research to understand if installing a portable MRI will be cost-effective or not. Since in some cases, it might be more cost-friendly to visit traditional MRI scanning facilities in cases where portable MRI will not be used regularly which may challenge global market expansion trends.
Portable MRI Market: Segmentation
The global portable MRI market is segmented by facility, application, and region.
Based on facility, the global market segments are hospitals, ambulatory surgery centers, diagnostic centers, and others. The hospital segment dominated the global market in 2021. Portable MRI found wide applications, especially during medical treatment procedures for Covid-19 patients and those admitted to ICU. Biotech innovation in 2020 used a prototype portable MRI scanner to assess the brain injury of 50 patients. 20 out of those 50 patients were Covid-19 infected and showed altered mental status while the rest 30 presented with hemorrhage or ischemic stroke. The mobile MRI scanner was able to detect abnormalities in 40% of covid-19 infected patients and 97% of patients who were not infected. No adverse reaction was reported for the same.
Based on application, the global market is segmented into musculoskeletal, neurology, gastroenterology, and others. Applications in neurology dominated the global market in 2021. As per studies conducted at Harvard and Yale universities in 2021, portable MRI has proven to show efficient results in detecting the cause of stroke or stroke itself. Since mobile MRIs are capable of differentiating between types of stroke, they will be extremely useful for clinicians in remote areas. As per the 2022 report of the World Health Organization, more than 12.45 million people suffered from a stroke in the year 2019.
Recent Developments:
In June 2022, Hyperfine, Inc., creator of Swoop® Portable MR Imaging SystemTM, which is the world's first US Food and Drugs Administration-cleared portable MRI machine, announced that the company will expand and provide services in Australia and New Zealand after having registered and notified about the device in these regions. Post this, the Swoop system will be available for purchase in Australia and New Zealand. The product also includes the US FDA- cleared deep learning inclined advanced reconstruction software
In June 2021, Bill and Melinda Gates Foundation supported King's Health Partners and managed to welcome Swoop™ to the European market. The product was delivered to the Newborn Imaging Center at the Evelina London Children's Hospital and King's College London's Center for Neuroimaging Sciences. The product will aid improvements in medical care by making excellent health care accessible to the population
Portable MRI Market Report Scope:
Report Attributes
Report Details
Report Name
Portable MRI Market Research Report
Market Size in 2021
USD 3640 Million
Market Forecast in 2030
USD 6165 Million
Compound Annual Growth Rate
CAGR of 6.82%
Number of Pages
192
Forecast Units
Value (USD Million), and Volume (Units)
Key Companies Covered
VoxelGrids, PrizMed Imaging, Philips Healthcare, Canon Medical UK Ltd., Siemens Healthineers, JMP Medical, Voxelgrids, Hyperfine, Canon Medical Systems, and GE Healthcare
Segments Covered
By Facility, By Application, and By Region
Regions Covered
North America, Europe, Asia Pacific (APAC), Latin America, Middle East and Africa (MEA)
Countries Covered
North America: U.S and Canada
Europe: Germany, Italy, Russia, U.K, Spain, France, Rest of Europe
APAC: China, Australia, Japan, India, South Korea, South East Asia, Rest of Asia Pacific
Latin America: Brazil, Argentina, Chile
The Middle East And Africa: South Africa, GCC, Rest of MEA
Base Year
2021
Historical Year
2016 to 2020
Forecast Year
2022 - 2030
Customization Scope
Avail customized purchase options to meet your exact research needs. Request For Customization
Portable MRI Market: Regional Analysis
North America to lead the market growth during the projection period
The global portable MRI market is expected to be dominated by North America in the coming years majorly due to the excellent medical infrastructure of the USA, Mexico, and Canada. The countries have a high awareness rate about portable MRI machines and their application which is coupled with the presence of many domestic players manufacturing and providing services related to portable MRI machines thus propelling regional growth. Hospitals, research facilities, clinics, and diagnostic centers are all well-equipped with portable MRI scanners since there has been a significant increase in the US FDA approvals for these products.
Hyperfine, a leading manufacturer of portable MRI machines announced its plans for expansion in Canada in the year 2021 and by February 2022, Kingston Health Sciences Center and Queen's University had already received the products which were deployed for use in the next few months. As per the report submitted by the company in 2021, the organization has managed to deploy and administer more than 50 units once it received the necessary approvals.
The regional growth is also attributed to the investments made by the government in improving medical facilities. The US federal government spent over USD 1.2 trillion in 2019 to upgrade its healthcare segment.
Portable MRI Market: Competitive Analysis
The global portable MRI market is led by players like VoxelGrids, PrizMed Imaging, Philips Healthcare, Canon Medical UK Ltd., Siemens Healthineers, JMP Medical, Voxelgrids, Hyperfine, Canon Medical Systems, and GE Healthcare
The global portable MRI market is segmented as follows:
By Facility
Hospitals
Ambulatory Surgery Centers
Diagnostic Centers
Others
By Application
Musculoskeletal
Neurology
Gastroenterology
Others
By Region
North America
Europe

France
The UK
Spain
Germany
Italy
Rest of Europe

Asia Pacific

China
Japan
India
South Korea
Southeast Asia
Rest of Asia Pacific

Latin America

Brazil
Mexico
Rest of Latin America

Middle East & Africa

GCC
South Africa
Rest of Middle East & Africa