Pharmaceutical Unit Dose Packaging Market Overview
The Global Pharmaceutical Unit Dose Packaging Market Size accounted for USD 4,448.7 Million in 2020 and is expected to reach USD 9,568.3 Million by 2028, growing at a CAGR of 10.6% from 2021 to 2028. A technique of single-dose medicine distribution in non-reusable and barcoded containers is known as unit dose packaging, also known as regulatory packaging or compliance packaging. It stores a specified amount of medication in single-use containers to ensure that the patient receives the correct dose of medication when needed. It is generally used in clinics and hospitals for both solid and liquid medications.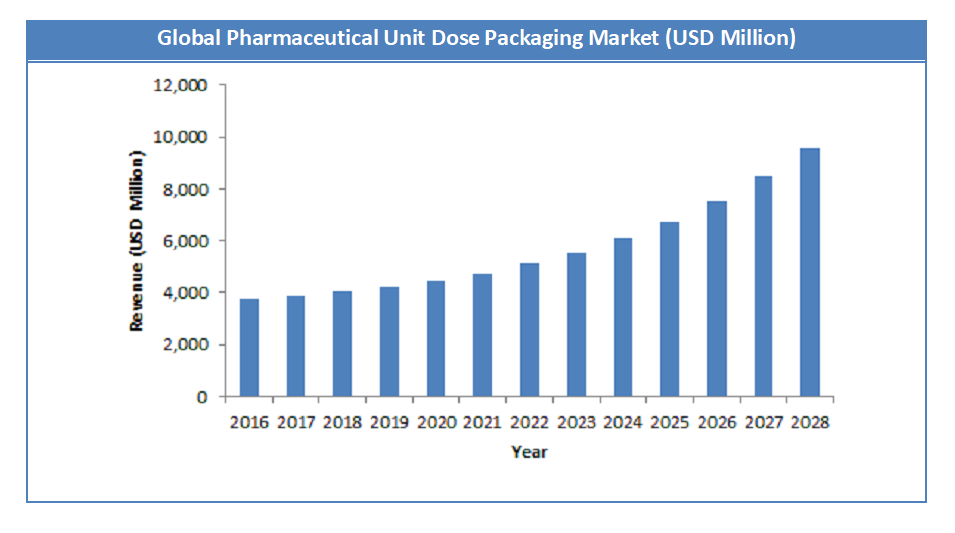 Request Free SampleSingle-dose packaging was established because of continuous packaging industry innovation to provide patients with safe and effective medication dispensing. This type of packaging was thought to be the safest because there was no risk of the prescription being refilled, and it also reduced the number of misdoes. These benefits, combined with changing lifestyles and the growing dominance of modern style culture, resulted in a broader range of uses for this product. Furthermore, the convenience and mobility benefits associated with this type of packaging are driving demand for single dosage packing.
COVID-19 Impact Analysis
During the COVID-19 epidemic, multi-dose packaging must ensure fewer 'touchpoints' for the processing of a patient's prescriptions while preventing the confusion that comes with self-medicating. With the global roll-out of COVID-19 treatment programmes, in addition to the usual illnesses' precautions and treatments, the need for pharmaceutical unit dose packaging is predicted to skyrocket. The demand for pharmaceuticals and medical items has increased over the COVID-19 era, resulting in an increase in blister packaging demand.
As the number of COVID patients grows, new hospitals and COVID-19 centers are springing up all around the world, increasing the demand for medical treatments. By avoiding the risk of handling and pouring out liquid doses from the same bottle, unit dosage packaging benefits current and post-Covid healthcare delivery procedures. Furthermore, the increased need for the Covid-19 vaccine, as well as the government's high number of immunization programmes, has resulted in a surge in demand for unit dose packaging in vials.
Growth Factors
The major growth factors of Pharmaceutical Unit Dose Packaging Market are: Growing demand for blister packaging, Consumer preference for blister packaging, which is unit-dose packaging, has gradually shifted away from traditional bottles for pharmaceutical items. In the healthcare business, blister packs are used to package pharmaceuticals and medical devices. They are also used in a variety of consumer items, industrial items, and food-related applications. Blister packaging also uses fewer resources for packing, takes up less retail shelf space, and has a great hang-hook display. As a result, blister packs are less expensive than alternative packaging styles such as hard bottles, making them cost-effective.
In the healthcare industry, there are an increasing number of regulatory regulations to maintain GMP compliance, Regulatory bodies such as the Food and Drug Administration (US), the European Medicines Agency, and the Pharmaceuticals and Medical Devices Agency (Japan) monitor manufacturers' compliance with Current Good Manufacturing Practice (CGMP) rules to assure the quality of pharmaceuticals and medical devices. The minimal criteria for the procedures, facilities, and controls utilized in the manufacture, processing, and packing of pharmaceuticals and medical devices are outlined in CGMP rules. The restrictions in place ensure that products are safe to use and contain the ingredients and strength that they promise.
End-Users Segment Analysis
Based on End Users Pharmaceutical Unit Dose Packaging Market is segmented into Orals, Respiratory Therapy, Wound Care, Biologics, Injectable, and Ophthalmic. During the predicted period, pharmaceutical and biotechnology companies are predicted to increase the most. In the overall pharmaceutical packaging market, the oral medication delivery route is the largest segment. The rising incidence of chronic diseases, improved patient compliance, reformulation, and repositioning of medications employing sophisticated oral delivery technologies are all factors contributing to the big market size.
Large pharmaceutical companies have made significant expenditures to improve their in-house expertise in the development of oral drug delivery systems. The market has also grown due to rising demand for self-administration and home healthcare equipment, as well as the growing use of inhalers and transdermal patches for chronic conditions such as migraine, diabetes, cancer pain, and asthma.
Material Segment Analysis
Based on material, Pharmaceutical Unit Dose Packaging Market is segmented into Paper Pharmaceutical & Paperboard Pharmaceutical Unit Dose Packaging, Glass Pharmaceutical Unit Dose Packaging, Aluminum Pharmaceutical Unit Dose Packaging and Plastic & Polymers Pharmaceutical Unit Dose Packaging. Plastics and polymers such as polyvinyl chloride, polypropylene, polyethylene terephthalate, polyethylene, and polystyrene, among others, are commonly used to make pharmaceutical packaging. During the projected period, the polypropylene material is expected to expand at the fastest rate.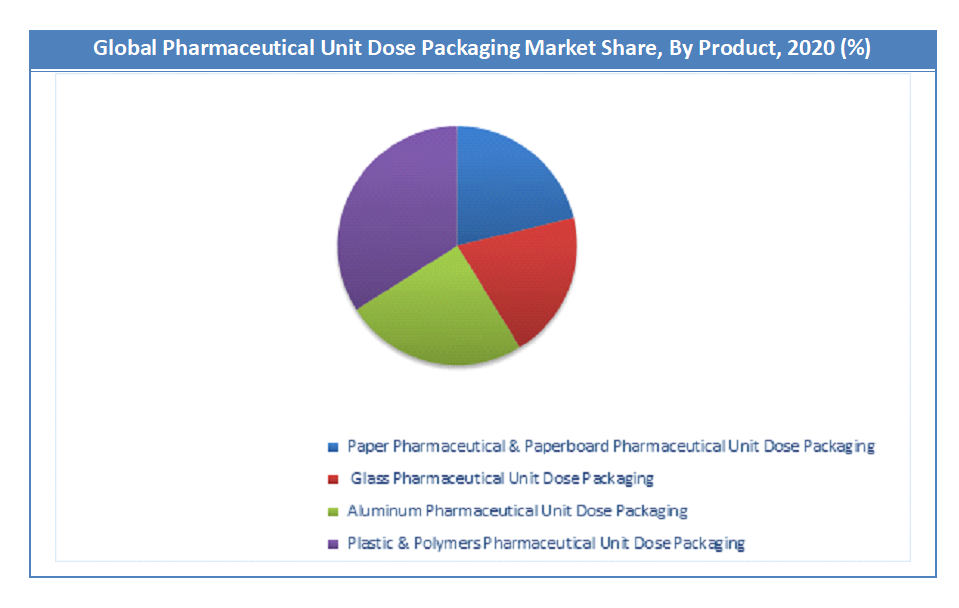 Request Free SamplePolypropylene is a cost-effective polymer that is used extensively in the packaging sector. Polypropylene also has a unique mixture of physical, mechanical, thermal, and electrical properties. Furthermore, it is resistant to organic solvents, degreasing chemicals, and electrolytic attack. The glass material segment reported for a revenue share of 20% percent in 2020. Glass is an inorganic material that is primarily made up of silica. Glass is used for manufacturing containers that are used for packing pharmaceutical products including parenteral, and non-parenteral preparations as well as pharmaceutical powders, among others.
Pharmaceutical Unit Dose Packaging Market: Report Scope
Report Attributes
Report Details
Report Name
Pharmaceutical Unit Dose Packaging Market Research Report
Market Size in 2020
USD 4,448.7 Million
Market Forecast in 2028
USD 9,568.3 Million
Growth Rate
CAGR of 10.6%
Number of Pages
160
Key Companies Covered
Pfizer Inc., Johnson & Johnson, Merck & Co. Inc., Bristol-Myers Squibb Company, AbbVie Inc., UDG Healthcare plc, Comar LLC, Berry Global, Inc., Gerresheimer AG, Amcor plc, among others.
Segments Covered
By Material, By Product, By End-Users, And By Region
Regions Covered
North America, Europe, Asia Pacific (APAC), Latin America, Middle East, and Africa (MEA)
Base Year
2020
Historical Year
2017 to 2020
Forecast Year
2020 - 2028
Customization Scope
Avail customized purchase options to meet your exact research needs. Request For Customization
Regional Segment Analysis
With a sales share of 39% in 2020, North America dominated the global market. The presence of large pharmaceutical markets such as the United States, Canada, and Mexico characterizes the region. The United States has the world's largest pharmaceutical market. The industry has been fueled by the country's extensive healthcare system, high per capita income, and significant investments in drug discovery. Furthermore, the presence of large corporations such as Pfizer Inc., Johnson & Johnson, Merck & Co., Inc., Bristol-Myers Squibb Company, and AbbVie Inc. is expected to boost regional growth.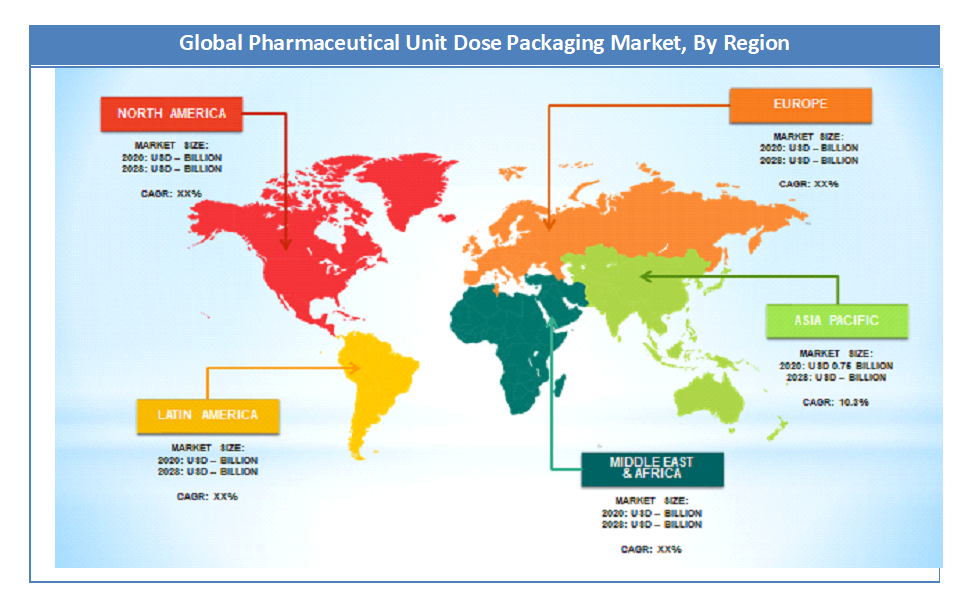 Request Free SampleThe Asia Pacific region is projected to grow at a CAGR of 10.3% over the forecast period. Over the forecast period, Asia Pacific is expected to grow at the fastest rate. The most important regional markets are China, India, Japan, and South Korea. In the future years, steady economic expansion combined with strong population growth in the region is predicted to stimulate product demand. Furthermore, increased government restrictions for drug safety are projected to fuel regional expansion.
Key Market Players & Competitive Landscape
Some of key players in Pharmaceutical Unit Dose Packaging Market are
Pfizer Inc.
Johnson & Johnson
Merck & Co. Inc.
Bristol-Myers Squibb Company
AbbVie Inc.
UDG Healthcare plc
Comar LLC
Berry Global Inc.
Gerresheimer AG
Amcor plc
The global Pharmaceutical Unit Dose Packaging market is segmented as follows:
By Material
Paper Pharmaceutical & Paperboard Pharmaceutical Unit Dose Packaging
Glass Pharmaceutical Unit Dose Packaging
Aluminum Pharmaceutical Unit Dose Packaging
Plastic & Polymers Pharmaceutical Unit Dose Packaging
By Product
Prefilled Syringes Cartridges
Vials Pharmaceutical Unit Dose Packaging
Ampoules Pharmaceutical Unit Dose Packaging
Blisters Pharmaceutical Unit Dose Packaging
By End-Users
By Region
North America
Europe

France
The UK
Spain
Germany
Italy
Rest of Europe

Asia Pacific

China
Japan
India
South Korea
Southeast Asia
Rest of Asia Pacific

Latin America

Brazil
Mexico
Rest of Latin America

Middle East & Africa

GCC
South Africa
Rest of Middle East & Africa