Description
According to the report published by Zion Market Research, global demand for the Pharmaceutical Robots market was valued at approximately USD 93.37 Million in 2019 and is expected to generate revenue of around USD 222.40 Million by end of 2026, growing at a CAGR of around 13.2% between 2020 and 2026.
Global Pharmaceutical Robots Market: Overview
Pharmaceutical robots are broadly used in various applications in the medical sector. A wide range of medical divisions, such as pharmacies and laboratories, utilize pharmaceutical robots to execute various drug manufacturing methods. This is primarily due to the high functionality in which these robots can function, which is likely to make them extremely competitive as compared to human precision.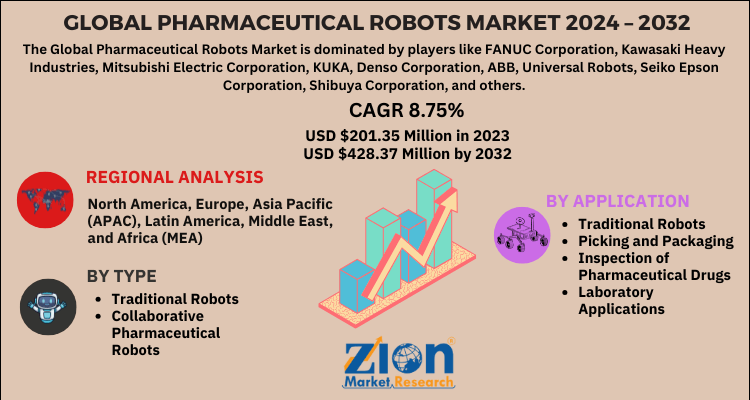 Global Pharmaceutical Robots Market: Growth Factors
The major growth driver in the pharmaceutical robot market is the various benefits offered by these robots in pharmaceutical manufacturing. These benefits include high accuracy, better speed, the capability to trace and track, error-free operations, fewer accidents, and enhanced utilization of floor space, among others. Pharmaceutical robots support in packaging and transferring of various materials, like assays and diagnostic kits. This, in turn, helps in reducing human errors and aids the scientists to majorly focus on their experiments. The other various applications of robots comprise uncapping, lessening repetitive capping work, and execution of manual pipettes. The robotics sector is likely to witness large-scale technical developments. In the industrial robots sector, pharmaceutical robots are likely to emerge as a separate segment. Different organizations are advancing technically and using developed robotic machines, which is further expected to propel the global pharmaceutical robot market. Several pharmaceutical companies are altering conventional robots with advanced robots that are a combination of robots and humans, due to their capability to provide flexibility and better effectiveness.
Global Pharmaceutical Robots Market: Segmentation
The pharmaceutical robot market is classified in terms of type, application, and end-user. By type, this global market is bifurcated into collaborative robots and traditional robots. In terms of application, the global market for pharmaceutical robots is categorized into inspection of pharmaceutical drugs, laboratory applications, and picking and packaging. The picking and packaging segments are likely to dominate the market in the upcoming years, owing to personalized packaging configuration demands and various advantages of these robots related to pharmaceutical manufacturing. Based on end-user, the pharmaceutical robot market is fragmented into research laboratories and pharmaceutical companies.
Region-wise, the global market is segregated into North America, Europe, Asia Pacific, Latin America, and Middle East & Africa.
Global Pharmaceutical Robots Market: Regional Analysis
Based on geography, the global pharmaceutical robot market is categorized into North America, Europe, Latin America, Asia Pacific, and the Middle East and Africa. The Asia Pacific region is likely to hold a major share of the global pharmaceutical robot market. This can be attributed to the existence of several local pharmaceutical companies in China and Japan, which are expected to propel the pharmaceutical robots market in the Asia Pacific region. The occurrence of major pharmaceutical companies with huge manufacturing units in these regions is projected to fuel the development of this province. Europe is likely to hold a substantial share of the global market for pharmaceutical robots, owing to the high acceptance of robots in Germany and the initiatives undertaken by the European Union to establish authoritarian standards associated with safety protocols in robotics. North America is projected to offer lucrative development opportunities in the coming future, due to the presence of pharmaceutical companies in the U.S. and the growing number of exhibitions and conferences related to robotics.
Global Pharmaceutical Robots Market: Competitive Players
Some main participants of the Pharmaceutical Robots market are FANUC Corporation, Kawasaki Heavy Industries, Mitsubishi Electric Corporation, KUKA, Denso Corporation, ABB, Universal Robots, Seiko Epson Corporation, and Shibuya Corporation, among others.
Pharmaceutical Robots Market: Regional Segment Analysis
North America
Europe

France
The UK
Spain
Germany
Italy
Rest of Europe

Asia Pacific

China
Japan
India
South Korea
Southeast Asia
Rest of Asia Pacific

Latin America

Brazil
Mexico
Rest of Latin America

Middle East & Africa

GCC
South Africa
Rest of Middle East & Africa