Description
The pharmaceutical lipids market is set for a rapid growth over the forecast period. In terms of revenue, the global pharmaceutical lipids market accounted for USD 2,226.02 Million in 2019 and is expected to reach USD 3,279.85 Million by 2026, growing at a CAGR of 5.69%.
Global Pharmaceutical Lipids Market: Overview
Lipids perform essential roles in a number of contexts. They are vital for all living things because they perform important plastic, energy, and metabolic functions. They also have various uses in nutrition and dietetics, food science, cosmetics, pharmaceuticals, varnishes, detergents, paints and so on. According to the Food and Agriculture Organization of the United Nations (FAO) and the World Health Organization, the five major functions of dietary fats are as follows: for cell structure and membrane functions, as a source of energy obtaining mainly water and carbon dioxide in their final conversion, as a source of essential fatty acids for prostaglandin synthesis and cell structures, as a medium for oil-soluble vitamins such as vitamin A, vitamin D, vitamin E, and vitamin K, and for blood lipid regulation. Fats have a long and contentious history in relation to cholesterol metabolism and cardiovascular disease (coronary thrombosis, atherosclerosis, and cerebral haemorrhage). Many concerns regarding the roles of fats in these phenomena in relation to the structures of dietary fatty acids remain unanswered. Many recent advances have been made in complexes where lipids and proteins are held together by van der Waal forces, like in lipoproteins. Now it appears that there is a close association between the occurrence of blood levels of High-Density Lipoproteins (HDL) and cardiovascular disease, or the ratio of high to low density lipoproteins.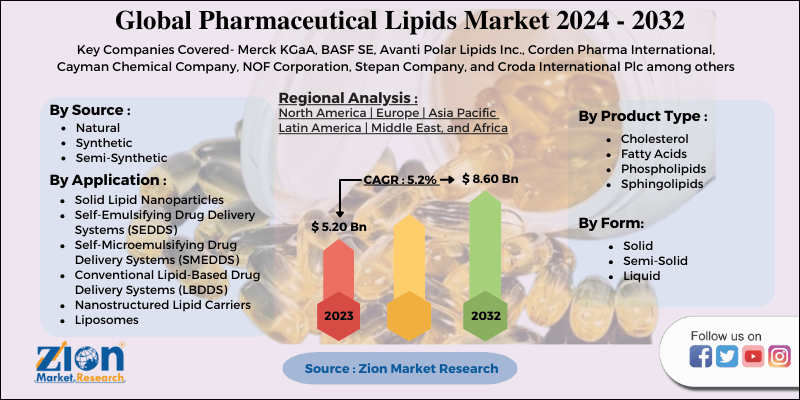 Global Pharmaceutical Lipids Market: Growth Factors
The global healthcare industry has undergone significant changes in recent years. The advancement of drug delivery technology, as well as the implementation of drug formularies, is driving the growth of the pharmaceutical lipids market. One of the main factors driving the growth of the global pharmaceutical lipids market is the rapid onset of chronic health problems and the subsequent drug delivery to patients.
According to the American Association of Pharmaceutical Scientists (AAPS), approximately 90% of pipeline drugs and 40% of marketed drugs have low water solubility. Based on this assumption, lipid-based formulations are becoming more common in nutraceuticals, vaccines, diagnostics, and pharmaceuticals. This is projected to be a significant growth driver for the market.
Moreover, lipid-based formulations protect active compounds from degradation, or biological transformation, thereby increasing drug production and shelf life. Furthermore, lipid-based particulate drug delivery system changes biodistribution and, as a result, decreases the level of toxicity in a number of medications. This raises the safety index, accelerating market growth.
Because of the increased demand for lipid nanocarriers due to their improved biocompatibility, market participants are moving away from polymeric nanoparticles towards the former. This is expected to generate lucrative business opportunities in the coming years.
The outbreak of Covid-19 has increased competition for pharmaceutical lipids along with other medications. This is because healthcare workers and researchers around the world are looking for ways to tackle Covid-19. For instance, in May 2020, Moderna Inc. announced its agreement with CordenPharma to secure large quantities of lipids used in the production of its experimental Covid-19 vaccine. Moderna also announced that if the vaccine is effective, it plans to supply one million doses per month in 2020 and 10 million doses per month in 2021. According to researchers at Hebrew University (Israel), fenofibrate, an existing cholesterol medication, is capable of reducing the danger posed by Covid-19 to common cold.
Global Pharmaceutical Lipids Market: Segmentation
Lipids are vital biomolecules. For instance, cholesterol is a critical component of the human cell membrane as well as a precursor of bile acids and steroid hormones. Moreover, Triglycerides also play a critical role in the transfer of energy from food to body cells. However, any biomolecule in abundance is detrimental to human health. Similarly, an increase in various types of lipids in the bloodstream, known as hyperlipidemia, is a constant health problem. Since lipids are held in the bloodstream, hyperlipidemia is often a danger to coronary arteries and the most significant risk factor for coronary heart disease.
However, in order to combat these issues, a number of medications known as lipid-lowering drugs are developed. Statins are a class of drugs that lower cholesterol by interacting with the cholesterol biosynthetic pathway. Fibrates, on the other hand, lower fatty acid and triglyceride levels by activating the peroxisomal β-oxidation pathway.
Global Pharmaceutical Lipids Market: Regional Analysis
By Geography, the pharmaceutical lipids market is segmented into North America, Europe, Latin America, Asia Pacific, and Middle East and Africa.
Asia Pacific is the most lucrative market for pharmaceutical lipids due of the high rate of adoption of proprietary drugs. Increased acceptance of generic drugs and branded generic in Asia-Pacific will drive the lipids active pharmaceutical ingredients market to exponential growth in the near future. However, the FDA's stringent regulatory environment for the approval of drugs containing lipid active pharmaceutical ingredients would restrict the market's growth. The pharmaceutical lipids market in Asia-Pacific is dominated by India, Japan, and China. South Asia is a promising market due to growth in in-house production.
North America is also seeing an increase in the market for long-acting formulations. Increased cases of various deadly diseases are expected to fuel the demand during the forecast era. The market for lipophilic drugs in Europe, on the other hand, is driven by better bioavailability. An increasing number of healthcare centers and growing demand for medical formulations are expected to drive the market in Europe.
Global Pharmaceutical Lipids Market: Competitive Players
The major players in the global pharmaceutical lipids market include Merck KGaA, BASF SE, Avanti Polar Lipids Inc., Corden Pharma International, Cayman Chemical Company, NOF Corporation, Stepan Company, and Croda International Plc among others.
The report segment of global pharmaceutical lipids market are as follows:
Global Pharmaceutical Lipids Market: Product Type Segment Analysis
Cholesterol
Fatty Acids
Phospholipids
Sphingolipids
Others
Global Pharmaceutical Lipids Market: Form Segment Analysis
Global Pharmaceutical Lipids Market: Source Segment Analysis
Natural
Synthetic
Semi-Synthetic
Global Pharmaceutical Lipids Market: Application Segment Analysis
Solid Lipid Nanoparticles
Self-Emulsifying Drug Delivery Systems (SEDDS)
Self-Microemulsifying Drug Delivery Systems (SMEDDS)
Conventional Lipid-Based Drug Delivery Systems (LBDDS)
Nanostructured Lipid Carriers
Liposomes
Others
Global Pharmaceutical Lipids Market: Regional Segment Analysis
North America
Europe

France
The UK
Spain
Germany
Italy
Rest of Europe

Asia Pacific

China
Japan
India
South Korea
Southeast Asia
Rest of Asia Pacific

Latin America

Brazil
Mexico
Rest of Latin America

Middle East & Africa

GCC
South Africa
Rest of Middle East & Africa