Abstract
The global Permethrin market was estimated at 145 (USD Million) in 2018 and is projected to hit the revenue of over 195 (USD Million) by 2025. The report offers valuation and analysis of the Permethrin market on a global as well as regional level. The study offers a comprehensive assessment of the industry competition, limitations, revenue estimates, avenues, current & emerging trends, and industry-validated market data. The report offers historical data from 2016 to 2018 along with a forecast from 2019 to 2025 based on value (USD Million).
Introduction
Permethrin is utilized for eliminating parasites including head lice, scabies, and ticks from animals & human beings. It is an insecticide in which esterifying alcohol comprises of cyclopropane & 3-phenoxybenzyl alcohol and is substituted by 2, 2-dichlorovinyl group & gem-dimethyl group. Furthermore, Permethrin plays a key part as pyrethroid ester acaricide, scabicide, pyrethroid ester insecticide, agrochemical, and ectoparasiticide. Moreover, Permethrin is a pale brown liquid and is comparatively insoluble in water.
Market Growth Dynamics
Permethrin is used as an effective treatment alternative for treating children suffering from scabies. Furthermore, Permethrin is a synthetic pyrethroid that finds application as a topical 5% cream for treating scabies in children. Moreover, its use for treating patients older than 2 months has received the green signal from U.S. food and drug administration. All these aforementioned factors are anticipated to steer the growth of the Permethrin industry over the forecast period.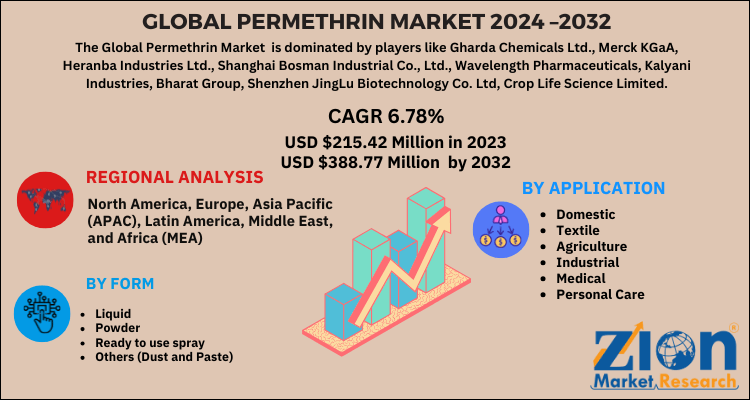 In addition to this, favorable features of the product have made it a very popular option in the treatment of scabies even among the adult population. For instance, it has been deduced & revealed through observations that Permethrin is effective & well tolerated. It is poorly absorbed through the skin and quickly metabolized. Apparently, the product helps in disrupting sodium channel current, thereby resulting in delayed repolarization and causing the death of parasites in all the phases of the diseases.
Asia Pacific Market To Contribute Lucratively Towards Overall Market Share By 2025
Affirmative government initiatives such as the National Food Security Mission for increasing the yield of rice, pulses, and wheat are anticipated to increase the demand for pesticides in farming activities. This, in turn, will leverage the growth of the Permethrin industry over the forecasting years.
Key players profiled in the Permethrin industry include Gharda Chemicals Ltd., Merck KGaA, Heranba Industries Ltd., Shanghai Bosman Industrial Co., Ltd., Wavelength Pharmaceuticals, Kalyani Industries, Bharat Group, Shenzhen JingLu Biotechnology Co. Ltd, Crop Life Science Limited, Aristo Biotech, and Guilin Chany Nutra Limited.
The global Permethrin market is segmented as follows:
By Form
Liquid
Powder
Ready to use spray
Others (Dust and Paste)
By Application
Domestic
Textile
Agriculture
Industrial
Medical
Personal Care
By Region
North America
Europe

France
The UK
Spain
Germany
Italy
Rest of Europe

Asia Pacific

China
Japan
India
South Korea
Southeast Asia
Rest of Asia Pacific

Latin America

Brazil
Mexico
Rest of Latin America

Middle East & Africa

GCC
South Africa
Rest of Middle East & Africa