Introduction
The patient identification wristbands market is set for a rapid growth over the forecast period. In terms of revenue, the global patient identification wristbands market accounted for USD 7.23 Billion in 2019 and is expected to reach USD 24.11 Billion by 2026, growing at a CAGR of 18.77%.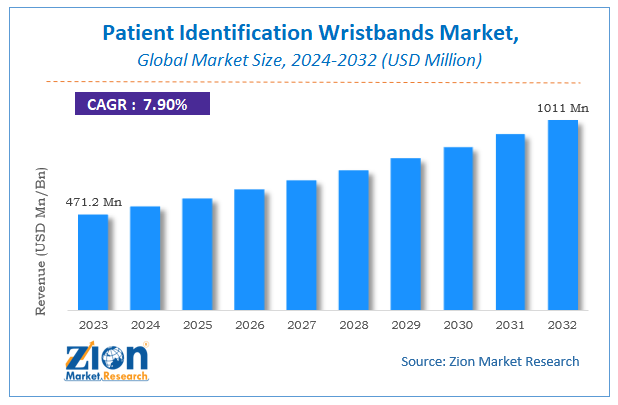 Request Free Sample
Global Patient Identification Wristbands Market: Overview
The safety of patients is still a top priority for the healthcare industry. In light of the situation and the use of technology, the industry is now using patient ID wristbands. It has barcodes on it that serve as patient identification codes. It is referred to as the patient's ID wristband and functions as a possible scanner to read the information collected by the barcode. These patient ID wristbands are suitable for the healthcare sector, which includes hospitals, clinics, rehabilitation centres, senior citizen shelters, dispensaries, and other services. It is vital to identify patients, ensure accurate monitoring, and provide adequate medical care. In this context, the healthcare sector's strategy is very clear: provide full protection and quality treatment to patients while minimising the risk of errors. These patient ID wristbands have a high rate of success. Although approximately 85% of patients had ID wristbands with correct details, 11.9% of wristbands were found to be inaccurate, and only 4.2% of patients were found to be without ID wristbands.
For more than a decade, the patient ID wristband has acted as evidence of enhanced safety processes. Cross-checking records with the patient's ID wristband details and the information given by the patient is part of the patient identification process. This stage is regarded as critical because it involves the patient's contact with the related medical team. It is easy to keep an error-free record with the use of a barcode wristband. Prior to the introduction of the barcode band, this was a time-consuming and sometimes inaccurate operation. Carelessness of information inputs can prove dangerous if the patient is not issued with an ID wristband or if the patient's wristband does not provide correct information for identification. The health sector has worked incredibly hard to incorporate technology in terms of the most recent machines, equipment, or security systems. It has been more than a decade after significant improvements have taken place in both medical facilities and patient security programmes.
There are many cases that have posed continuous risks due to human errors. As per the Joint Commission on Accreditation of Hospital Organizations (JCAHO), patient recognition errors were responsible for 13% of surgical errors and 66% of transfusion confusions in the United States. Moreover, the Health Information and Management Systems Society (HIMSS) estimated that over 14% of medical records are inaccurate which is very risky for patient medical treatment because it involves a life and death scenario.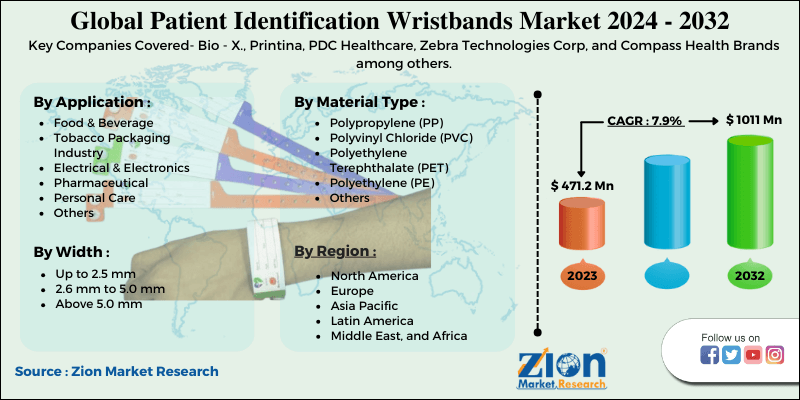 Request Free Sample
Global Patient Identification Wristbands Market: Growth Factors
The Internet of Things has brought the physical and online worlds together, creating major changes in the patient identification wristbands industry. Connected devices are improving the capability of exchanging real-time data about factors such as patient health, behaviour, and prescribed treatment or medications. This will assist healthcare professionals in quickly transitioning to an outcome-based model, allowing for better patient care. Patient monitoring applications, for example, necessitate continuous input and creativity in order to benefit from real-time location systems or active technologies.
Patient identification wristband manufacturers will find more lucrative growth opportunities as the healthcare sector's technical infrastructure becomes more streamlined and sophisticated. Local governments around the world are increasing their investments in the development of low-cost raw materials for the production of patient identification wristbands. This factor alone is expected to provide substantial impetus to the market's growth.
Global Patient Identification Wristbands Market: Segmentation
Some of the products available on the market are laser wristbands, alert wristbands, thermal wristbands, RFID wristbands, and write-on wristbands. Thermal wristbands have the largest market share currently.
Thermal identification wristbands aid in the simplification of patient admission and the speeding up of check-in facilities in healthcare sector. A thermal patient identification wristband includes admission software and on-demand printing. Thus, it aids in reducing the time required to develop and assemble barcode wristbands. The technology eliminates the need for employees to manually print labels, remove them off the sheet, and adhere them to bands. As a result, it makes the whole process much more efficient, which is one of the primary factors contributing to the growth of thermal patient identification wristbands.
The demand for adhesives was the highest among the different types of closures available on the market. Throughout the forecast period, the segment will continue to dominate the market, outpacing plastic closures, adjustable clasps, permanent snaps, single post snaps, and hoop & loop.
The market can be divided into three age groups: adult, pediatric, and infant. The adult demographic will emerge as the most profitable in the market.
Patient identification wristbands are commonly used in hospitals, specialty clinics, ambulatory surgical centres, long-term care facilities and rehabilitation centres. Because hospitals receive the greatest number of patients, they are expected to hold the largest market share during the forecast period. As the number of chronic illnesses and infections rises, hospitals are expected to see a substantial increase in patient volume. They are likely to spend money on patient identification wristbands in order to streamline patient care, tracking, and management. Hospitals are expected to remain the market's dominant end user during the forecast period.
Patient Identification Wristbands Market Report Scope
Report Attributes
Report Details
Report Name
Patient Identification Wristbands Market Research Report
Market Size in 2019
USD 7.23 Billion
Market Forecast in 2026
USD 24.11 Billion
Compound Annual Growth Rate
CAGR of 18.77%
Number of Pages
144
Forecast Units
Value (USD Billion), and Volume (Units)
Key Companies Covered
Bio - X., Printina, PDC Healthcare, Zebra Technologies Corp, Compass Health Brands
Segments Covered
By Product Type, By Material, By Closure, By Age Group, By End User and By Region
Regions Covered
North America, Europe, Asia Pacific (APAC), Latin America, Middle East and Africa (MEA)
Countries Covered
North America: U.S and Canada
Europe: Germany, Italy, Russia, U.K, Spain, France, Rest of Europe
APAC: China, Australia, Japan, India, South Korea, South East Asia, Rest of Asia Pacific
Latin America: Brazil, Argentina, Chile
The Middle East And Africa: South Africa, GCC, Rest of MEA
Base Year
2022
Historical Year
2018 - 2022
Forecast Year
2023 - 2030
Customization Scope
Avail customized purchase options to meet your exact research needs. Request For Customization
Global Patient Identification Wristbands Market: Regional Analysis
By Geography, the patient identification wristbands market is segmented into North America, Europe, Latin America, Asia Pacific, and Middle East and Africa.
In North America, the market for patient identification wristbands will expand rapidly. The region's rapid growth will be fueled by a high level of advanced technology adoption. The market's expansion is being aided by a substantial increase in the emphasis on healthcare research and development. Furthermore, the presence of a sophisticated healthcare infrastructure would support the market's growth in North America. Within North America, the United States is expected to be a profitable market. The presence of a robust supply chain network would also contribute to the region's growth.
In Europe, hospitals are expected to account for the majority of patient identification wristband sales. Aside from the expansion of healthcare facilities, the market is benefiting from increased investments by leading players. The demand for patient identification wristbands in the area has been steadily increasing. In addition, increased investment in improved technologies and more efforts devoted to finding the most cost-effective sources of materials have aided the region's growth. Germany, Italy, Spain, Russia, the Benelux, and the United Kingdom will all provide lucrative growth opportunities for the market. The United Kingdom is home to one of the most productive and powerful life sciences industries in the world. It is also a global leader in the production and distribution of a wide range of pharmaceuticals and clinical products. As a result, Europe offers a favourable environment for the expansion of the patient identification wristband industry. Britain is also regarded as one of the world's leading hub for scientific innovation and talent, which is expected to aid market expansion.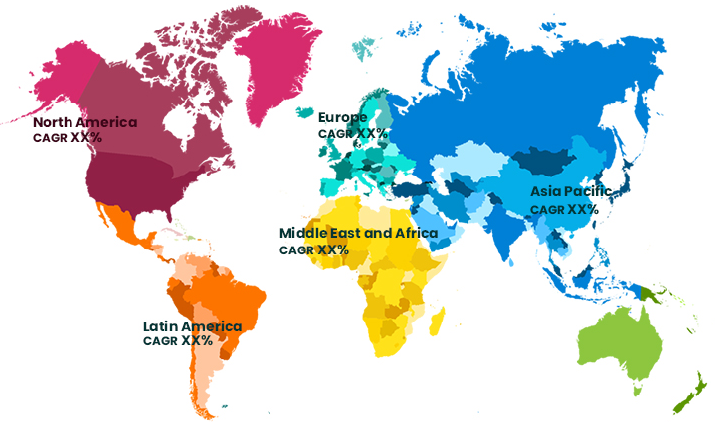 Request Free Sample
Asia Pacific is recognized as one of the most attractive patient identification wristband markets. While developed economies are expected to remain mature markets, potentially high markets in Asia Pacific are expected to expand at a faster rate. The region has largely concentrated on the adoption of novel technologies to optimise healthcare activities. The increasing number of patients in recent years has forced policymakers to focus on reforming healthcare services. Therefore, government agencies have increased their spending on research and development in order to improve the quality of patient care. While the Asia Pacific healthcare sector has made outstanding progress, recent pandemic outbreaks have revealed several vulnerabilities. As a result, hospitals, specialty clinics, and other healthcare industries are increasing their investments in patient identification systems and technologies.
Global Patient Identification Wristbands Market: Competitive Players
The major players in the global patient identification wristbands market include Bio - X., Printina, PDC Healthcare, Zebra Technologies Corp, and Compass Health Brands among others.
The report segment of global patient identification wristbands market are as follows:
Global Patient Identification Wristbands Market: Product Type Segment Analysis
Alert Wristband
RFID Wristband
Write-on Wristband
Global Patient Identification Wristbands Market: Material Segment Analysis
Vinyl
Synthetic
Trilaminate
Tyvek
Non-Tear Paper Plastics
Global Patient Identification Wristbands Market: Closure Segment Analysis
Adhesive
Adjustable Clasp
Permanent Snap
Plastic Closure
Hook & Loop
Single-Post Snap
Global Patient Identification Wristbands Market: Age Group Segment Analysis
Global Patient Identification Wristbands Market: End User Segment Analysis
Hospitals
Specialty Clinics
Ambulatory Surgical Centers
Long Term Care Centers
Rehabilitation Centers
Global Patient Identification Wristbands Market: Regional Segment Analysis
North America
Europe

France
The UK
Spain
Germany
Italy
Rest of Europe

Asia Pacific

China
Japan
India
South Korea
Southeast Asia
Rest of Asia Pacific

Latin America

Brazil
Mexico
Rest of Latin America

Middle East & Africa

GCC
South Africa
Rest of Middle East & Africa