Narcotics Scanner Industry Prospective:
The global narcotics scanner market size was worth around USD 6.48 billion in 2022 and is predicted to grow to around USD 10.85 billion by 2030 with a compound annual growth rate (CAGR) of roughly 6.68% between 2023 and 2030.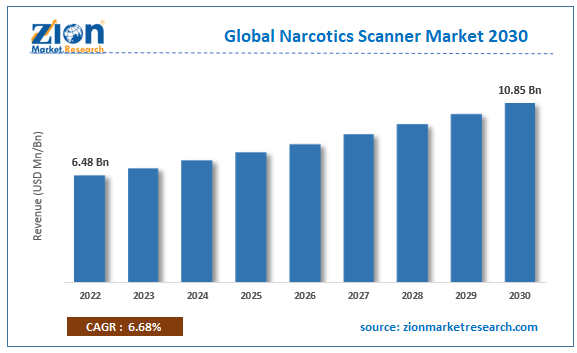 Request Free Sample
Narcotics Scanner Market: Overview
Although the word narcotics is improperly or imprecisely defined, it generally encompasses substances and drugs that are known to relieve pain and dull the senses. However, in recent times, the term narcotics is mostly referring to opioids that are generally used for medicinal purposes but also encompass illegal drugs such as heroin that are typically used for recreational purposes. Narcotics scanners are devices and tools that help in detecting possession of narcotic drugs. These scanners are installed in several crucial places that are generally accessed by large groups of people such as railway stations, airports, seaports, and other areas.
However, they are used on a case-by-case basis in situations where law enforcement agencies have doubts regarding the possession of illegal drugs for illicit activities. Most modern narcotics scanners use spectroscopy however, other systems such as chemical color tests and K-9 detection may also be used. The most common spectroscopy-based technologies are nuclear magnetic resonance (NMR) spectroscopy and infrared spectroscopy. The narcotics scanner market is likely to continue growing at a steady pace during the forecast period.
Key Insights:
As per the analysis shared by our research analyst, the global narcotics scanner market is estimated to grow annually at a CAGR of around 6.68% over the forecast period (2023-2030)
In terms of revenue, the global narcotics scanner market size was valued at around USD 6.48 billion in 2022 and is projected to reach USD 10.85 billion, by 2030.
The narcotics scanner market is projected to grow at a significant rate due to the increasing efforts toward curbing drug smuggling
Based on technology segmentation, ion mobility spectrometry (IMS) was predicted to show maximum market share in the year 2022
Based on end-user segmentation, airport was the leading segment in 2022
On the basis of region, North America was the leading revenue generator in 2022
Narcotics Scanner Market: Growth Drivers
Increasing efforts toward curbing drug smuggling to drive market growth
The global narcotics scanner market is projected to grow owing to the increasing number of drug smuggling cases registered worldwide propelling greater efforts toward curbing the illegal sales of these recreational drugs. Substance addiction is one of the most significant and threatening social problems in the current world. Addiction to recreational drugs not only impacts the personal lives of addicts but also has a large-scale impact on society and its economic growth. As per a report by the National Institute of Health, around 16 million people across the globe are either currently suffering or have suffered from opioid use disorder (OUD). The same report states that over 500,000 people in the US are overly dependent on heroin. Regional governments and international drug agencies are seeking and launching measures to control and completely stop the illegal sale and consumption of narcotic drugs which could impact the demand for narcotic scanners. In December 2021, the Department of Justice announced that through its Operation Dark HunTor, in association with the Joint Criminal Opioid and Darknet Enforcement (JCODE) team, conducted an international project across three continents that led to the arrest of 150 drug traffickers that were operating through the dark web. Drugs and weapons of over USD 31 million were seized during the operation.
Increasing public infrastructure projects to push demand for narcotics scanner
With increasing investments and undertakings aimed at constructing and upgrading public infrastructure projects such as railway stations and sea ports, global narcotics scanner market growth will reach new heights. As more state-of-the-art facilities are built across the globe to support the increasing movement of people from one region to another, the risk of drug trafficking will increase, ultimately causing higher demand for ways to manage such incidents.
Narcotics Scanner Market: Restraints
Evolving strategies by drug traffickers to restrict market growth
As stricter rules against drug trafficking are put in place, people and organizations dealing in illegal drug sales are constantly evolving in ways in which they operate to avoid being detected by narcotics scanners. Some of the older versions cannot detect drugs that are present inside the body. Additionally, there are several other performance constraints with narcotics scanners. For instance, the experience level and presence of mind of the operator play a crucial role in the final application of the tool. Moreover, some of the devices are prone to show false results influenced by several factors. They may indicate the presence of narcotics when in reality they are not present leading to serious legal issues for the accused people.
Narcotics Scanner Market: Opportunities
Increasing technological advancements in narcotic scanner technology to create growth opportunities
The narcotics scanner industry players are projected to witness higher growth owing to the increasing technological advancements observed in narcotics scanner tools and devices. For instance, Rapiscan Systems launched the MobileTrace® Narcotics which functions on proven ITMS™ technology developed by the company. The tool is designed for customs, correctional, and law enforcement agencies that can use the device at checkpoints for the detection of drugs including amphetamine-based substances, cocaine, and opiates. It provides the results within a few seconds. Growing collaboration for the supply of advanced narcotics scanners is projected to fuel the market revenue. In December 2020, OSI Systems Inc. was awarded a contract worth USD 13 million by major Scandinavian airport operators for the supply of Meteor 900M walk-through metal detectors, Orion baggage scanners, and 920 CT checkpoint baggage scanners. The company will also provide integration software for the smooth application of these tools
Narcotics Scanner Market: Challenges
Concerns over profiling-based discrimination to challenge market growth
The use of narcotic scanners especially in individual checking and detection for narcotics has raised ethical concerns since reports of profiling-based discrimination have emerged in recent times. Moreover, some of the older narcotics scanners use ionizing radiation especially metal detectors that are known to be harmful to human health. Hence the adoption of narcotic scanners functioning on radiation is reducing at a steady pace thus creating challenges for the global narcotics scanner market players.
Narcotics Scanner Market: Segmentation
The global narcotics scanner market is segmented based on technology, product type, end-user, and region.
Based on technology, the global market segments are contraband detection equipment, ion mobility spectrometry (IMS), infrared spectroscopy, and visual inspection systems. During the forecast period, the demand for ion mobility spectrometry (IMS) is projected to be the highest since these devices have shown exceptional performance in mass screening at airports and other public areas. They are highly effective in the detection of military, commercial, and homemade narcotic drugs. The data obtained by these spectrometers which is generally in the form of ion mobility spectrum is compared to the existing information related to spectra which helps in identifying illegal drugs. Research indicates that the illegal drug trade is almost as high as 1.1% of the global trade.
Based on product, the global market divisions are walkthrough, handheld, and tabletop.
Narcotics Scanner Market: Report Scope
Report Attributes
Report Details
Report Name
Narcotics Scanner Market
Market Size in 2022
USD 6.48 Billion
Market Forecast in 2030
USD 10.85 Billion
Growth Rate
CAGR of 6.68%
Number of Pages
225
Key Companies Covered
Morpho Detection, Smiths Detection, Bruker Corporation, FLIR Systems, L3Harris Technologies, Leidos Holdings Inc., Rapiscan Systems, Ion Applications Inc., Thermo Fisher Scientific, Kromek Group plc, Agilent Technologies, DetectaChem, Autoclear LLC, AS&E, Westminster International Ltd., and others.
Segments Covered
By Technology, By Product Type, By End-User, and By Region
Regions Covered
North America, Europe, Asia Pacific (APAC), Latin America, Middle East, and Africa (MEA)
Base Year
2022
Historical Year
2017 to 2021
Forecast Year
2023 - 2030
Customization Scope
Avail customized purchase options to meet your exact research needs. Request For Customization
Narcotics Scanner Market: Regional Analysis
North America to generate the highest revenue during the coming period
The global narcotics scanner market will witness the highest growth in North America since countries such as the US and Canada have extremely strict security systems in place to curb and control the sale of illegal drugs. The US has some of the staggering statistics related to drug consumption, addiction, and trade. The country has been working consistently to manage the sale of these drugs. Additionally, they have tight security in public places, especially airports and seaports. The presence of key manufacturers and suppliers of narcotics scanner further contribute to regional growth.
Europe is projected to grow at a rapid pace with the growing number of drug trafficking cases. Reports indicate that between 2016 and 2021, the number of drug trafficking cases in Europe has increased 3 times. In 2021, European officials seized over 23 tons of cocaine which is projected to help the regional market flourish in the coming years. Growth in the Middle East is expected to be the result of strict policies in place related to the sale and consumption of narcotics and other harmful agents. Middle Eastern countries spend large amounts on airport security specifically for the identification of illegal drugs and alcohol that could make an entry through airports and other transportation mediums.
Narcotics Scanner Market: Competitive Analysis
The global narcotics scanner market is led by players like:
Morpho Detection
Smiths Detection
Bruker Corporation
FLIR Systems
L3Harris Technologies
Leidos Holdings Inc.
Rapiscan Systems
Ion Applications Inc.
Thermo Fisher Scientific
Kromek Group plc
Agilent Technologies
DetectaChem
Autoclear LLC
AS&E
Westminster International Ltd.
The global narcotics scanner market is segmented as follows:
By Technology
Contraband Detection Equipment
Ion Mobility Spectrometry (IMS)
Infrared Spectroscopy
Visual Inspection System
By Product Type
Walkthrough
Handheld
Table-Top
By End-User
Defense & Military
Airport
Law Enforcement
Public Transportation
Others
By Region
North America
Europe

France
The UK
Spain
Germany
Italy
Rest of Europe

Asia Pacific

China
Japan
India
South Korea
Southeast Asia
Rest of Asia Pacific

Latin America

Brazil
Mexico
Rest of Latin America

Middle East & Africa

GCC
South Africa
Rest of Middle East & Africa