Metformin Hydrochloride Industry Prospective:
The global metformin hydrochloride market size was worth around USD 268.95 million in 2022 and is predicted to grow to around USD 386.91 million by 2030 with a compound annual growth rate (CAGR) of roughly 4.7% between 2023 and 2030.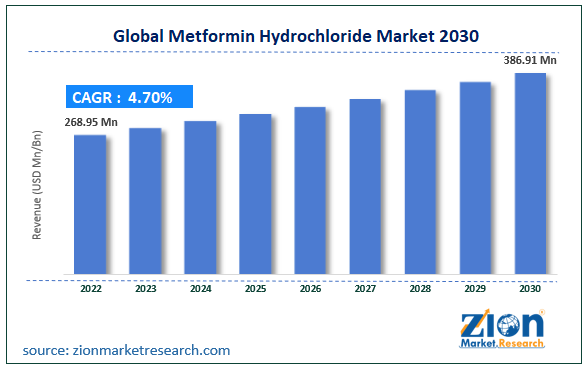 Request Free Sample
Metformin Hydrochloride Market: Overview
The chemical compound form of metformin is metformin hydrochloride which is used to control high blood sugar in patients with type 2 diabetes. Metformin hydrochloride (HCL) can be administered without the patient following any form of exercise or diet and is mostly accompanied by other medications. High blood sugar is a leading cause of other associated and more serious medical conditions including kidney failure, nerve problems, blindness, and loss of limbs among many others. A controlled sugar level means less risk of heart failure or stroke. Metformin HCL functions by directly targeting how the body reacts to insulin naturally produced in the body. It also discourages the liver from producing more sugar which is absorbed by the intestines or stomach causing a hike in blood sugar levels. Metformin HCL is available in different forms including a tablet, liquid, and long-acting tablet to be consumed by mouth. The regular tablet is generally consumed 2 to 3 times a day while the liquid form has to be consumed once or twice a day with meals. The long-acting tablet has to be taken only once a day with the evening meal.
Key Insights:
As per the analysis shared by our research analyst, the global metformin hydrochloride market is estimated to grow annually at a CAGR of around 4.7% over the forecast period (2023-2030)
In terms of revenue, the global metformin hydrochloride market size was valued at around USD 268.95 million in 2022 and is predicted to grow to around USD 386.91 million, by 2030.
The metformin hydrochloride market is projected to grow at a significant rate due to the rising number of patients with type 2 diabetes
Based on application segmentation, the immediate release was predicted to show maximum market share in the year 2022
Based on distribution channel segmentation, retail pharmacy was the leading channel in 2022
On the basis of region, Asia-Pacific was the leading revenue generator in 2022
Metformin Hydrochloride Market: Growth Drivers
Rising number of patients with type 2 diabetes to drive market growth
The global Metformin hydrochloride market is projected to grow owing to the growing number of people living with type 2 diabetes. This condition arises due to the way in which sugar produced in the body also known as glucose is used as a fuel. It is a long-term condition and causes extremely high quantities of sugar to be regulated in the blood. With time and ineffective care, type 2 diabetes is known to cause several other issues impacting the nervous, circulatory, and immune systems. One of the main concerns with type 2 diabetes is that it does not have a cure and requires patients to take help of medicines for the rest of their life. However, the severity of the condition can be controlled by following a good diet, exercising regularly, and administering doctor-prescribed medicines. A report by the National Institutes of Health claims that there are more than 462 million people globally who are diagnosed with type 2 diabetes corresponding to nearly 6.28% of the world population. Additionally, the World Health Organization (WHO) states that out of all the people with diabetes, around 95% are living with the type 2 form.
The condition has certain risk factors that include being overweight or having prediabetes. People over the age of 45 years are at a higher risk along with individuals with immediate relatives who have type 2 diabetes. Additionally, the condition is more common in people who do not follow an active lifestyle or have had gestational diabetes. With the world population growing and in addition to the rising trend of lack of exercise or physical activities adopted by people, it can act as a leading factor for the growing demand for metformin hydrochloride.
Metformin Hydrochloride Market: Restraints
Side effects associated with the medicine to restrict market growth
Metformin HCL is not a naturally occurring medicine and is synthesized chemically. Although considered safe to be used in prescribed doses, the medicine can lead to certain side effects including upset stomach, nausea, diarrhea, vomiting, and a metallic taste in the mouth. While some of these conditions may seem innocuous, it is recommended to consult a doctor if some of the symptoms continue to persist. Additionally, some people have reported that the symptom returns after consuming the same dose for weeks or days. In such cases, the medical professional has to weigh if the medicine is causing more harm than benefit. Such factors are likely to impede the global metformin hydrochloride market growth trend
Metformin Hydrochloride Market: Opportunities
Increasing research and innovation surrounding metformin HCL to provide growth opportunities
Discussions around metformin hydrochloride being an effective drug have been on the rise in the last couple of years. This has led to a higher interest of the medical community in exploring the benefits of the medicine. For instance, in September 2021, Harvard Health published an article discussing in detail if metformin can be considered a wonder drug. It stated that metformin may have applications beyond treating diabetes and it offers exceptional cardiovascular benefits. There are several ongoing investigations to understand if metformin can assist in lowering the risk of cancer in patients diagnosed with type 2 diabetes and a reduced rate of stroke and dementia. In addition to this, certain studies have claimed that the wonder drug can even assist in slowing the process of aging or prevent diseases caused by age. A recent study conducted by Lancet claimed that a recent study concluded a 40% risk reduction of long-term COVID-19 after consuming the diabetic drug metformin which may further provide new growth avenues for the metformin hydrochloride industry players.
Metformin Hydrochloride Market: Challenges
Surging cost of healthcare and inaccessibility to medicine may challenge further expansion
Globally there has been a significant rise in healthcare costs in the last few years. In 1970 the cost was USD 353 per individual and as of 2021, the cost increased to USD 12,900. These trends have been the most harmful to the underprivileged section of society and people in underdeveloped countries who may lack access to primary medical care. The high cost of the medicine along with the lack of awareness is a major challenge existing in the global market.
Metformin Hydrochloride Market: Segmentation
The global metformin hydrochloride market is segmented based on application, distribution channel, and region.
Based on application, the global market segments are extended release, immediate release, combination medicines, and oral solutions. The highest growth was observed in the immediate release segment as this method of application has been more effective compared to the other means. Moreover, such doses are convenient to administer. However, each dose form has applications in the external market as it is best decided by the doctors after evaluating the patient's condition along with a response to the treatment and any other medicine that the patient may be consuming. Generally, the ideal way is to start with a low dosage to avoid any serious side effects and gradually increase with time. Studies conclude that people with South Asian ethnicity are at a risk of up to 4 times higher than people belonging to other ethnic groups.
Based on distribution channel, the metformin hydrochloride industry divisions are retail pharmacy, hospital pharmacy, and online pharmacy. In 2022, the highest growth was observed in the retail pharmacy segment due to the extensive footfall observed in these stores for several types of medicines. Depending on regional laws and regulations, metformin hydrochloride may be allowed to be sold as an over-the-counter (OTC) drug. However, in most cases, the medicine is only consumed when prescribed as overdosage may lead to serious side effects. In 2021, CVS Health, the parent company of CVS Pharmacy which is a US retail pharmacy group, generated USD 323 billion in 2022.
Metformin Hydrochloride Market: Report Scope
Report Attributes
Report Details
Report Name
Metformin Hydrochloride Market
Market Size in 2022
USD 268.95 Million
Market Forecast in 2030
USD 386.91 Million
Growth Rate
CAGR of 4.7%
Number of Pages
204
Key Companies Covered
Shouguang Fukang Pharmaceutical, CR Double-Crane, Wanbury, Keyuan Pharmaceutical, Aarti Drugs, Farmhispania Group, Harman Finochem, Exemed Pharmaceuticals, Vistin Pharma, Shijiazhuang Polee Pharmaceutical, USV., and others.
Segments Covered
By Application, By Distribution Channel, and By Region
Regions Covered
North America, Europe, Asia Pacific (APAC), Latin America, Middle East, and Africa (MEA)
Base Year
2022
Historical Year
2017 to 2021
Forecast Year
2023 - 2030
Customization Scope
Avail customized purchase options to meet your exact research needs. Request For Customization
Metformin Hydrochloride Market: Regional Analysis
Asia-Pacific to emerge as the leading group during the forecast period
The global metformin hydrochloride market is expected to be led by Asia-Pacific during the forecast period. This is mainly because of the high probability of the Asian population developing type-2 diabetes. As per estimates, more than 140 million people in China are diagnosed with diabetes whereas in India, around 135 million people were diagnosed with prediabetes as of 2021. The surging rate of population growth, increase in number of people above the age of 45 years, and adoption of an inactive lifestyle further induced by remote work culture could cause the number of patients to flare up in the coming years.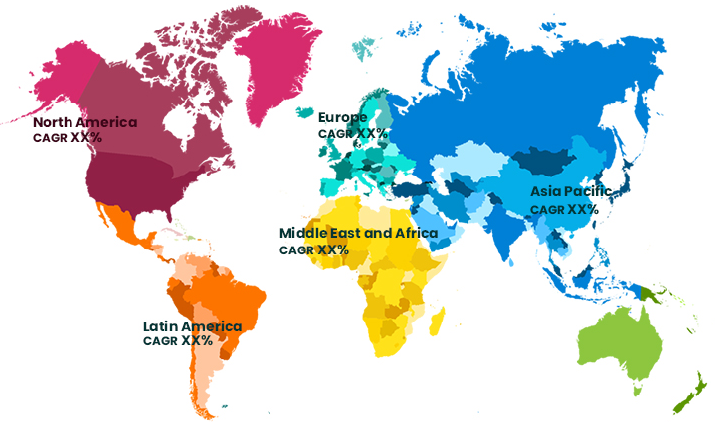 Request Free Sample
In addition to this, the region has one of the largest pharmaceutical markets with India and China leading the global scenario. The former is home to some of the most dominant and stride-making pharmaceutical companies. In 2019, India-based Glenmark Pharmaceuticals announced the approval of its new metformin hydrochloride extended-release tablet USP 1000 mg and USP 500 mg. Similarly, in 2020, Sun Pharma launched RIOMET ER oral suspension in the American market after being approved by the US Food and Drugs Administration (FDA).
Metformin Hydrochloride Market: Competitive Analysis
The global metformin hydrochloride market is led by players like:
Shouguang Fukang Pharmaceutical
CR Double-Crane
Wanbury
Keyuan Pharmaceutical
Aarti Drugs
Farmhispania Group
Harman Finochem
Exemed Pharmaceuticals
Vistin Pharma
Shijiazhuang Polee Pharmaceutical
USV
The global metformin hydrochloride market is segmented as follows:
By Application
Extended Release
Immediate Release
Combination Medicines
Oral Solutions
By Distribution Channel
Retail Pharmacy
Hospital Pharmacy
Online Pharmacy
By Region
North America
Europe

France
The UK
Spain
Germany
Italy
Rest of Europe

Asia Pacific

China
Japan
India
South Korea
Southeast Asia
Rest of Asia Pacific

Latin America

Brazil
Mexico
Rest of Latin America

Middle East & Africa

GCC
South Africa
Rest of Middle East & Africa