Abstract
The report covers a forecast and an analysis of the medical plastics market on a global and regional level. The study provides historical data from 2015 to 2018 along with a forecast from 2019 to 2025 based on revenue (USD Million). The study includes drivers and restraints of the medical plastics market along with their impact on the demand over the forecast period. Additionally, the report includes the study of opportunities and threats to the medical plastics market on a global level.
To understand the competitive landscape in the market, an analysis of Porter's Five Forces model for the medical plastics market has also been included. The study encompasses a market attractiveness analysis, wherein all the segments are benchmarked based on their market size, growth rate, and general attractiveness.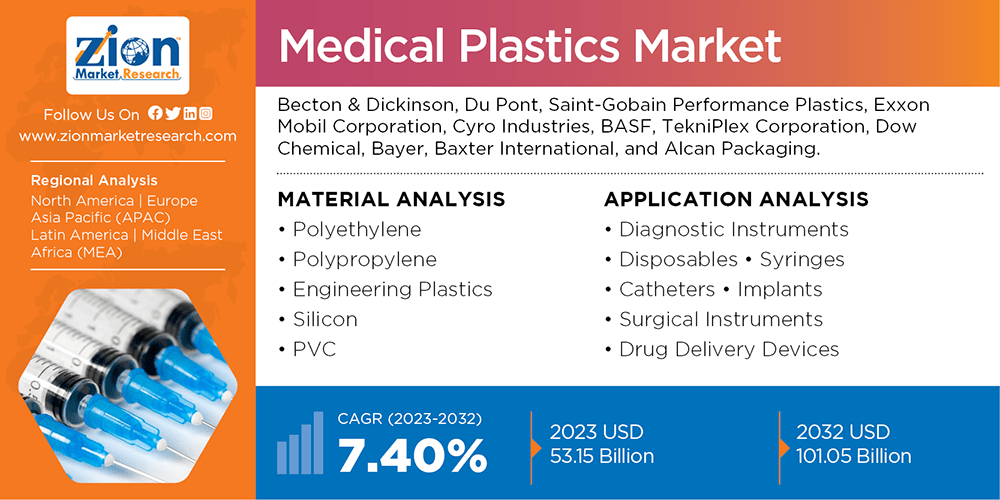 The study provides a decisive view of the medical plastics market based on material, application, and region. All the segments have been analyzed based on present and future trends and the market is estimated from 2019 to 2025. Based on type, the market is divided into polypropylene, silicon, engineering plastics, polyethylene, and PVC. Based on application, the global market is categorized into diagnostic instruments, catheters, disposables, implants, surgical instruments, syringes, and drug delivery devices. The regional segment includes the current and forecast demand for North America, Europe, Asia Pacific, Latin America, and the Middle East and Africa with its further classification into major countries including the U.S., Germany, France, UK, China, Japan, India, and Brazil.
Some key players of the global medical plastics market are Becton & Dickinson, Du Pont, Saint-Gobain Performance Plastics, Exxon Mobil Corporation, Cyro Industries, BASF, TekniPlex Corporation, Dow Chemical, Bayer, Baxter International, and Alcan Packaging.
This report segments the global medical plastics market as follows:
Global Medical Plastics market: Material Analysis
Polyethylene
Polypropylene
Engineering Plastics
Silicon
PVC
Global Medical Plastics market: Application Analysis
Diagnostic Instruments
Disposables
Syringes
Catheters
Implants
Surgical Instruments
Drug Delivery Devices
Global Medical Plastics market: Regional Analysis
North America
Europe
Asia Pacific
Latin America
Middle East and Africa