According to the report published by Zion Market Research, global demand Medical Equipment Cooling market was valued at approximately USD 200 Million in 2019, and is expected to generate revenue of around USD 250 Million by end of 2025, growing at a CAGR of around 7.1% between 2020 and 2026.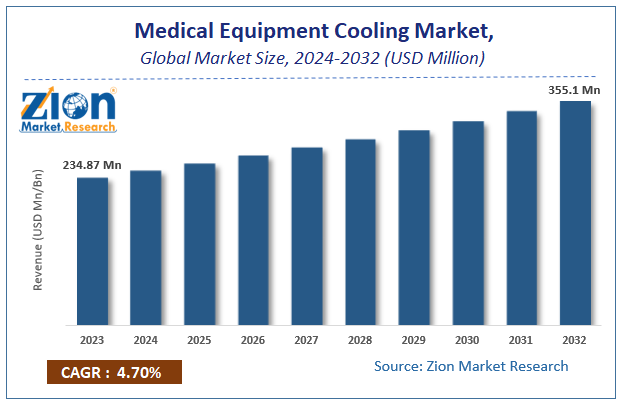 Request Free Sample
Global Medical Equipment Cooling Market: Overview
The medical cooling equipment demand will incessantly increase across the medical sector. The thermal management finds a spectrum of applications in patient core management, medical cooling device, skin cooling, and lab equipment cooling. Medical cooling equipment is utilized for diminishing heat produced by medical device at the time of diagnostic processes. Through this, the medical cooling device can retain lifespan of imaging device and assist in achieving the objective of offering high quality care to the patients.
Global Medical Equipment Cooling Market: Growth Factors
The growth in the medical equipment cooling market is mainly influenced by the financial advantages offered by cooling equipment, high frequency of cancer cases and other diseases, and inflating aging population base. Additionally, rise in diagnostic centers, ambulatory units, and hospitals will also contribute remarkably towards medical equipment cooling market size over the next few years. A fiscal benefit provided by medical equipment cooling and technological breakthroughs in diagnostic imaging is set to offer new horizons of development for the firms of the medical equipment cooling market. However, the rusting risk associated with the cooling equipment is likely to pose a threat towards the market surge during the estimated time.
Nonetheless,reliable patient care and economic advantages provided by medical chillers, technical innovations embedded in medical chillers, and favorable government programs along with massive incidence of chronic ailments is expected to lift the market trends.
Global Medical Equipment Cooling Market: Segmentation
The medical equipment cooling market can be classified into type, configuration, application, compressor, and end user. Type wise, the medical equipment cooling market is sectored into liquid & air-based cooling. Compressor wise, the market is divided into Scroll, Screw, Centrifugal, and Reciprocating. Configuration wise, the market is classified into packaged, modular, and split. Application wise, the market is segmented into MRI, CT, PET, LINAC, and medical lasers. Based on the end user, the market is divided into hospitals & labs, oems, and diagnostic treatment centers & laboratories.
Global Medical Equipment Cooling Market: Regional Analysis
Based on region, the medical equipment cooling market can be divided into five main regions: Asia Pacific, North America, Europe, the Middle East and Africa, and Latin America. North America is likely to contribute majorly towards overall medical equipment cooling market in the near future. The growth can be mainly credited to the well-established healthcare system in the region, greater adoption of advanced technologies, growing prevalence of non-communicable diseases, and presence of key players. It is likely to be followed by Europe and APAC in terms of growth. The market in Asia Pacific will gain traction over the coming decade due to accelerated economic development along with massive government focus & emphasize on healthcare sector. Additionally, rising cases of chronic diseases and increasing old-age population is more susceptible to chronic ailment which will further contribute towards the regional growth.
Global Medical Equipment Cooling Market: Competitive Players
Some of key players in medical equipment cooling market are Parker Hannifin (U.S.), SKF (U.S.), Trelleborg AB (Sweden), A.W. Chesterton Company (U.S.), and IDEX Corporation (U.S.)
Medical Equipment Cooling Market: Regional Segment Analysis
North America
Europe

France
The UK
Spain
Germany
Italy
Rest of Europe

Asia Pacific

China
Japan
India
South Korea
Southeast Asia
Rest of Asia Pacific

Latin America

Brazil
Mexico
Rest of Latin America

Middle East & Africa

GCC
South Africa
Rest of Middle East & Africa