According to the report, the global management decision market was valued at USD 3,765.7 Million in 2019 and is expected to reach over USD 9,775.5 Million by 2026, growing at a CAGR of around 14.6% during the forecast period from 2020 to 2026.
Management Decision also known as Business Decision Management, which involves all aspects of designing, building and managing an organization's automated decision-making systems to manage its interactions with customers, employees. Increase in need for business agility and also faster operational decisions are main factors that are driving the growth for management decision market.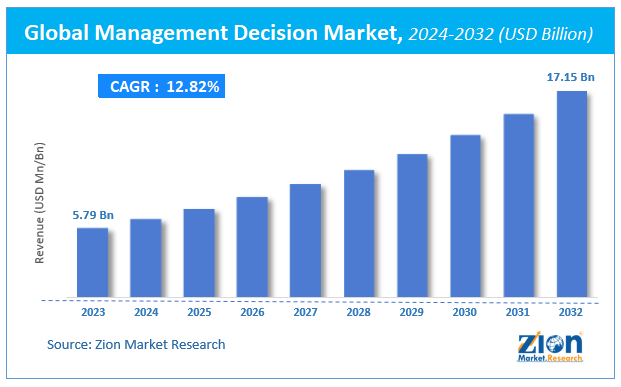 Request Free Sample
Global Management Decision Market: Overview
Management Decisions are useful in optimizing and automating the tactical decision-making process. It is considered to be important as it helps in improving operational efficiency in the organization, improve business operations and streamline workflow processes. It helps enterprises to make critical decisions related to credit risk which minimizes risks related to meet specific standards and enhances business responsiveness. Traditionally decision management was done manually but nowadays decision management applications are designed which help an enterprise to solve critical problems, manage and analyze huge data.
Global Management Decision Market: Growth Factors
Some of the major growth drivers of the management decision market are an acceleration of return on investment for organizations, faster operational decisions and rapid growth of business and need to adhere to the increasing government demands. The rapidly changing regulations across the countries are a major contributor to the growth of this market. Enterprises are adopting the management decision strategies to meet the rapidly changing competitive situations. Increasing number of repeatable operation decisions which have to be taken daily, critical credit management and effective fraud detection management are some of the key aspects that contribute to the adoption of management decision strategies. The major restraining factor that resists the market growth is the middle management that hesitates to adopt these management decisions.
Global Management Decision Market: Segmentation
The management Decision market can be classified by component, by function, by deployment type, by size, and by industry. In terms of the component, the divisions are software and services. Services and further sub-divided into deployment and integration, support and maintenance and consulting. Market by the function is divided into collection management, customer experience management, fraud detection management, pricing optimization, credit risk management and others. Management decision market by deployment type is divided into the cloud and on- premises. Division in terms of organization size is into large enterprises and small and medium-sized enterprises. In terms of segmentation by industry, Banking, Financial Services, and Insurance, retail and consumer goods, telecom and IT, healthcare and life sciences, manufacturing, Government, transportation and logistics, energy and utilities and others are the divisions.
Global Management Decision Market: Regional analysis
The largest market share is estimated to be of North America, while Europe is estimated to reach the largest market share in recent years. North America is dominating the market due to the availability of high concentrations of BFSI, Telecom and IT and healthcare and life sciences companies which widely adopt these management decisions for efficiency in the organization.
Asia Pacific region is expected to grow at the highest CAGR as there is an increase in the commercial investments by companies of developing countries. Asia and Pacific's market are expected to provide high growth opportunities as multi-national companies are entering the region through partnerships with local companies and also channel partners and technology partners.
Global Management Decision Market: Competitive Players
The Management decision market comprises major companies, such as FICO, SAS, TIBCO, Oracle, IBM, Sapiens, Experian, ACTICO, Pegasystems, Equifax, Parmenides, Decision Management Solutions, and Sparkling Logic.
Global Management Decision Market: Regional segment analysis
North America
Europe
The Asia Pacific
Latin America
The Middle East and Africa
What Reports Provides
Full in-depth analysis of the parent market
Important changes in market dynamics
Segmentation details of the market
Former, on-going, and projected market analysis in terms of volume and value
Assessment of niche industry developments
Market share analysis
Key strategies of major players
Emerging segments and regional markets
Testimonials to companies in order to fortify their foothold in the market.