The report covers a forecast and an analysis of the lubricant packaging market on a global and regional level. The study provides historical data for 2016, 2017, and 2018 with a forecast from 2019 to 2025 based on both volume (Kilotons) and revenue (USD Billion). The study covers the key drivers and restraints of the lubricant packaging market. Furthermore, the study also includes the opportunities accessible within lubricant packaging market on a global level.
The study also offers the market attractiveness and Porter's Five Forces model analysis to gauge the competitive landscape of the major vendors of the global lubricant packaging market. This comprehensive study also provides a detailed analysis and overview of each segment.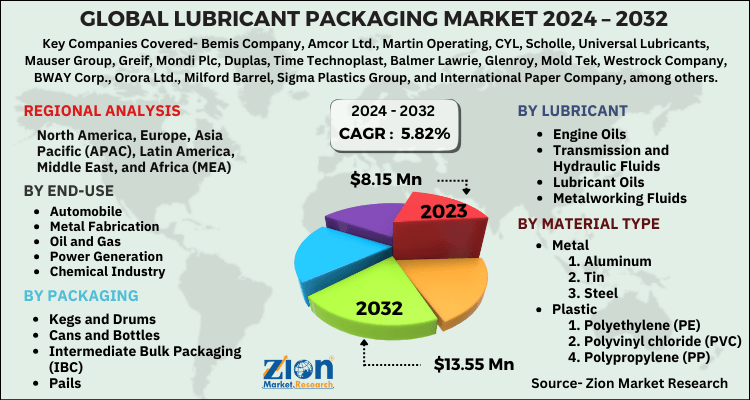 Request Free Sample
The report concludes the major material type, lubricant, packaging, end-user, and region. All the segments have been analyzed based on present and future trends and the market is estimated from 2019 to 2025. The regional segmentation includes the historic and forecast demand for North America, Europe, Asia Pacific, Latin America, and the Middle East and Africa.
Some key players of the lubricant packaging market are Bemis Company, Amcor Ltd., Martin Operating, CYL, Scholle, Universal Lubricants, Mauser Group, Greif, Mondi Plc, Duplas, Time Technoplast, Balmer Lawrie, Glenroy, Mold Tek, Westrock Company, BWAY Corp., Orora Ltd., Milford Barrel, Sigma Plastics Group, and International Paper Company, among others.
This report segments the global lubricant packaging market into:
Global Lubricant Packaging Market: Material Type Analysis
Metal
Plastic

Polyethylene (PE)
Polyethylene terephthalate (PET)
Polyvinyl chloride (PVC)
Polypropylene (PP)
Others
Global Lubricant Packaging Market: Lubricant Analysis
Engine Oils
Transmission and Hydraulic Fluids
Lubricant Oils
Metalworking Fluids
General Industrial Oils
Others
Global Lubricant Packaging Market: Packaging Analysis
Kegs and Drums
Cans and Bottles
Intermediate Bulk Packaging (IBC)
Pails
Others
Global Lubricant Packaging Market: End-User Analysis
Automobile
Metal Fabrication
Oil and Gas
Power Generation
Chemical Industry
Others
Global Lubricant Packaging Market: Regional Analysis
North America
Europe
Asia Pacific
Latin America
Middle East and Africa