Description
Market Overview
The global LTE IoT market accounted for USD 899 Million in 2020 and is expected to reach USD 5928 Million by 2028, growing at a CAGR of 27% from 2021 to 2028.
LTE IoT is a relatively new technology that is expected to grow rapidly in the coming years. The Internet of Things (IoT) is rapidly evolving, resulting in a high demand for data transfer and storage applications. Several fields, including IoT-enabled manufacturing, professional services, telematics, navigation, and infotainment in transportation, are expected to contribute to the rapid growth. The emergence of connected devices is fueling the LTE IoT market to a large extent all over the world. LTE IoT is made up of two main technologies: LTE-M and NB-IoT. LTE-M is a low-power wide-area network technology standard. It's unique to LTE CatM1, which was created specifically for IoT. By reducing complexity and expanding coverage, LTE-M aims to lower modem costs while also supporting data integrity and security. NB-IoT increases the spectrum's capacity and efficiency. The global LTE IoT market is expected to be driven by the high demand for key NB-IoT benefits such as improved range, better network reliability and security, easy deployment, and cost efficiency in the coming years.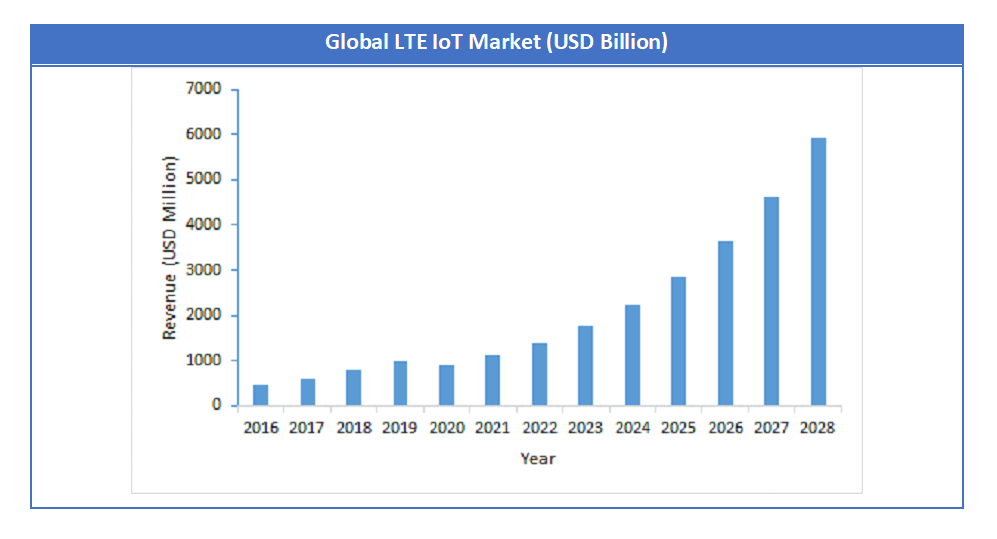 COVID-19 Impact Analysis
Global supply chains and logistics are being impacted by the COVID-19 pandemic, as geographical lockdowns have been imposed, and the continuity of operations for a majority of industries has been severely impacted. Because of COVID-19, the majority of countries have halted all imports in order to prevent the virus from spreading further. As a result of the pandemic, the growth of the NB-IoT chipset market is expected to be slightly slower than previously forecasted due to a decrease in connectivity hardware supply. The spread of COVID-19 has had an impact on the smart street lighting market, as highway and street infrastructure projects have been halted, as have smart city investments. As a result, the number of new smart street lighting installations has slowed. For the next two to three quarters, the shutdown is expected to have a negative impact on potential demand for infrastructure, including lighting. Due to the pandemic's disruptions, annual smart meter shipments will decrease in 2020.
Growth Factors
Increased M2M communications are propelling the connected devices market forward, particularly in the industrial sector. Furthermore, industry trends such as the Internet of Things (IoT) have made connectivity possible in almost every industry, including healthcare, consumer electronics, and retail. Sensors are required for smart devices to generate real-time data. The lower cost of these sensors has resulted in a significant increase in IoT adoption across businesses. Furthermore, smooth communications through better connectivity, low power requirements, and a growing preference for a smarter and greener planet are all driving the increased adoption of IoT. The deployment of M2M/IoT devices such as smart meters, smart streetlights, livestock monitoring devices, and smart parking solutions is expected to be driven by the rising demand for connected devices for long-range connectivity.
Report Scope :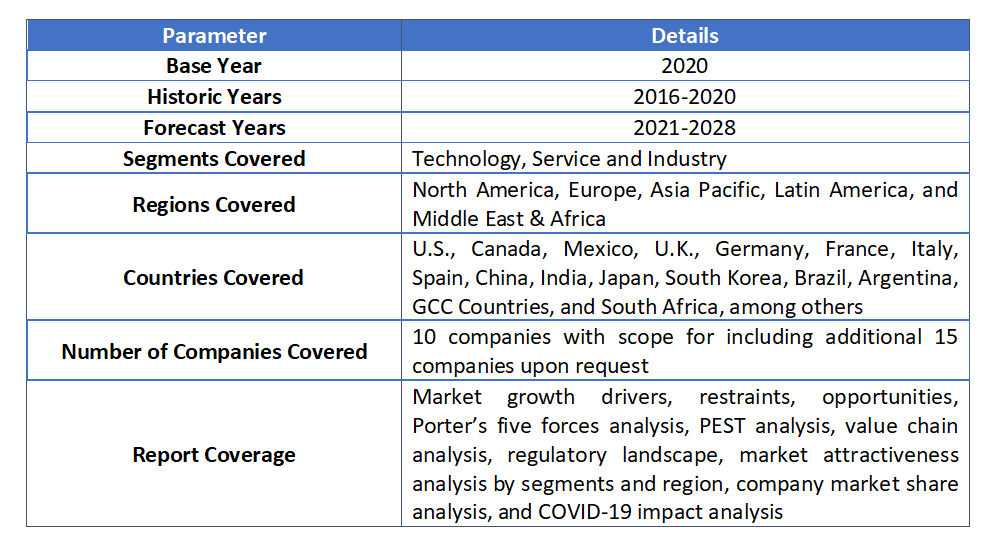 Technology Segment Analysis Preview
NB-IoT holds the major potion in the technology segment. Wider applications of NB-IoT technology, increased industry participation in NB-IoT development, growing adoption of IoT, and increased use of connected devices are some of the factors driving the NB-IoT chipset market forward. LTE-M forms the other type of technology segment.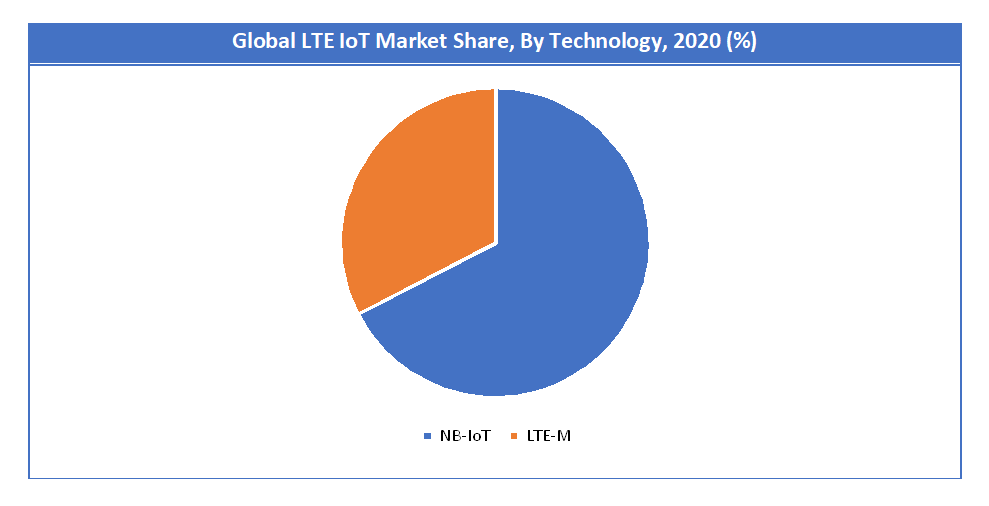 Service Segment Analysis Preview
Professional services are needed before, during, and after the deployment of LTE IoT technologies like LTE-M and NB-IoT. Planning, design, and implementation, consulting, support and maintenance, and upgrades are all examples of these services. The professional services market is expanding, with large corporations turning to players for consulting and implementation services. Professional services are very important in the LTE IoT market, because customers need to understand the feasibility of LTE IoT solutions. As a result, companies that provide these services employ consultants, security experts, and dedicated project management teams who specialize in the design and delivery of critical decision support software, tools, services, and expertise. Managed services form the other type of service segment.
Industry Segment Analysis Preview
The manufacturing industry has changed dramatically as a result of technological advancements such as robotics and automated production lines. Because manufacturing operations are so delicate, manufacturers are turning to IoT solutions, sensors, and IoT wireless connectivity platforms to boost productivity and turn their operations into smart manufacturing. Many software and solution providers are offering smart manufacturing applications to industries that include proactive and automatic analytics capabilities, transforming industrial manufacturing into an intelligent and self-managing environment. LTE technology is used to establish stable data transmission connectivity among various devices in a factory, allowing industries to address issues such as predictive maintenance and autonomous production. Energy and Utilities, Transportation and Logistics, Healthcare, and Agriculture forms the other type of industry segment.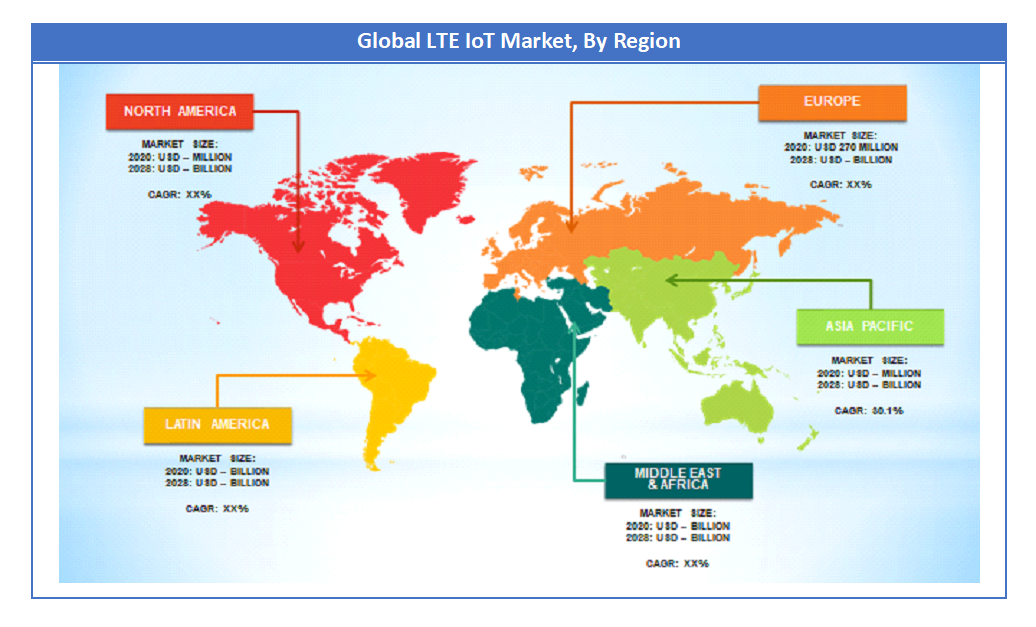 Regional Analysis Preview
The widespread adoption of LTE technology for enterprise IoT applications has propelled Europe to the forefront of the LTE IoT market. In terms of LTE IoT coverage, the region is on top. Europe claims credit for coining the term "Internet of Things" and for making a significant contribution to the global promotion of IoT telecom and related services. The European Commission and member states of the European Union are working on strategies to support experiments and the deployment of IoT telecom and related services. Germany, the United Kingdom, and France are the top three contributors to Europe's LTE IoT market. The overall growth of LTE IoT would be driven by the rising adoption of telco cloud, growing data consumption, increasing adoption of smart devices at a peak rate, and reduced cost of IoT components with evolving wireless technology, such as 5G and NB-IoT.
APAC region is expected to have the highest growth in the forecast period. China leads the APAC market in IoT spending, accounting for more than half of all spending, followed by Japan and Australia. Government spending on smart cities accounts for nearly a third of all spending in the region, followed by transportation and logistics, and finally manufacturing. Around 40% of global Low Power Wide Area (LPWA) connections are in the APAC region, with NB-IoT accounting for 97 percent of those. On a macro level, the region's demand for digital IoT solutions such as eGovernment, public transportation, smart traffic management systems, and smart power grids is being fueled by the government's increased focus on smart cities and Industry 4.0 initiatives. Telcos are poised to become IoT one-stop shops, with portfolios ranging from business application solutions to data analytics and end-to-end platforms.
Key Market Players & Competitive Landscape
Some of key players in LTE IoT market are Ericsson (Sweden), Vodafone (UK), Telstra (Australia), Sierra Wireless (Canada), PureSoftware (India), Sequans Communications (France), Orange (France), T-Mobile (US), Telus (US), MediaTek (Sweden), Athonet (Italy), NetNumber (US), Telensa (UK), Actility (France), and Link Labs (US), among others.
In terms of market share, some of the major players currently dominate the market. However, with the advancement in the industrial IoT application across multiple end-user industries, new players are increasing their market presence thereby expanding their business footprint across the emerging economies. For instance, in a recent development in May 2019, Sequans Communications S.A. has announced the certification and commercial availability of the SP150Q LTE Cat 1 module, which is designed to work with Sprint's Curiosity IoT dedicated core network and operating system, which is designed to generate real-time business intelligence from connected devices. PUI (Positioning Universal) is the first customer to use the module and has just launched the product.
The global LTE IoT market is segmented as follows:
By Technology
By Service
Professional Services
Managed Services
By Service
Professional Services
Managed Services
By Industry
Manufacturing
Energy and Utilities
Transportation and Logistics
Healthcare
Agriculture
By Region
North America
Europe

France
The UK
Spain
Germany
Italy
Rest of Europe

Asia Pacific

China
Japan
India
South Korea
Southeast Asia
Rest of Asia Pacific

Latin America

Brazil
Mexico
Rest of Latin America

Middle East & Africa

GCC
South Africa
Rest of Middle East & Africa