LC-MS Industry Prospective:
The global LC-MS market size was worth around USD 4.90 billion in 2022 and is predicted to grow to around USD 13.80 billion by 2030 with a compound annual growth rate (CAGR) of roughly 13.82% between 2023 and 2030.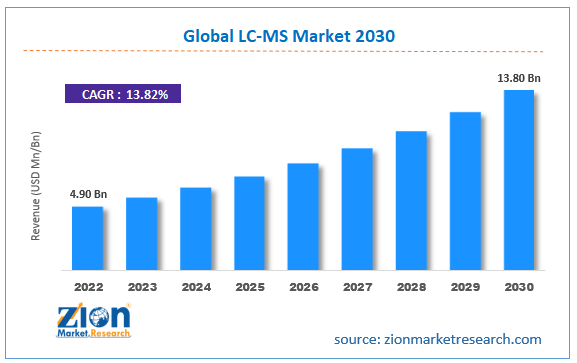 Request Free Sample
LC-MS Market: Overview
LC-MS stands for Liquid Chromatography-Mass Spectrometry. It is an extremely common and highly popular analytical chemistry technique that stands on two separate scientific concepts. The primary is liquid chromatography also known as high-performance liquid chromatography (HPLC) that deals with physical separation capabilities. The secondary concept is that of mass spectrometry dealing with mass analysis. LC-MS technology is used in several research and testing facilities to separate and determine the components present in a mixture sample. During the application, liquid chromatography helps in separating each component based on their exact chemical interaction with stationary phase material, and other properties such as polarity or molecular size. Once the components are separated they are subject to mass spectrometry which in turn helps to provide spectral information of each component. The information consists of the mass-to-charge ratio of ions which is essential to confirm structural information and molecular size of the sample components. The LC-MS industry has several applications in end-user verticals driven by the key advantages associated with the technique.
Key Insights:
As per the analysis shared by our research analyst, the global LC-MS market is estimated to grow annually at a CAGR of around 13.82% over the forecast period (2023-2030)
In terms of revenue, the global LC-MS market size was valued at around USD 4.90 billion in 2022 and is projected to reach USD 13.80 billion, by 2030.
The LC-MS market is projected to grow at a significant rate due to the rising application in environmental testing
Based on end-user segmentation, hospitals was predicted to show maximum market share in the year 2022
Based on technology segmentation, triple quadruple was the leading segment in 2022
On the basis of region, North America was the leading revenue generator in 2022
LC-MS Market: Growth Drivers
Rising application in environmental testing to drive market growth
The global LC-MS market is expected to grow at a tremendous pace owing to the extensive applications of Liquid Chromatography-Mass Spectrometry in environmental testing. The efficient analytical tool is used to determine and identify exact compounds of several environmental components including air, soil, and water. The rising pollution rate across the globe has intensified the need for determining air and water quality in recent times. Air pollution has become one of the leading causes of severe medical conditions impacting millions of people across the globe. A recent report by the United States Environmental Protection Agency estimated that nearly 6 million asthmatic children in the US are vulnerable to rising air pollution rates.
On the other hand, the World Bank estimates that nearly 90% of the world's population is exposed to unhealthy and polluted air. These statistics have resulted in regional governments and environmental agencies enacting several laws and guidelines to track air emissions caused by several industries. For instance, the automotive sector, especially vehicles fueled by non-renewable sources of energy is considered the leading reason for the reduction in air quality. The major pollutants emitted are nitrogen oxides (NOx), carbon monoxide (CO), and hydrocarbon (HC) along with other poisonous gasses. Environmental agencies use LC-MS tools to determine air components from samples which ultimately helps governments to undertake corrective measures.
Increasing product and technology innovation to propel expansion trend
The LC-MS industry is likely to benefit from the increasing innovation rate in terms of the technology and the product facilitating the application of Liquid Chromatography-Mass Spectrometry. In June 2022, Agilent Technologies announced the launch of new LC/MS quadrupole mass spectrometers along with the Gas Chromatography-Mass Spectrometry (GC/MS) variant. The product is equipped with in-built instrument intelligence that allows lab operation simplification.
LC-MS Market: Restraints
High cost of LC-MS and expensive maintenance to restrict market growth
The global LC-MS market growth trend is expected to witness certain growth restrictions owing to the high cost of LC-MS tools. For instance, the average price of a fixed liquid chromatography-mass spectrometer may be around USD 20000. The price may vary depending on the exact product features and functionality. In addition to this, the maintenance expense associated with the use of LC-MS facilitating devices is equally high. It also requires access to skilled professionals who understand device functions and other technicalities.
LC-MS Market: Opportunities
Growing applications in pharmaceutical industry and increasing clinical trials to deliver higher results
LC-MS analytical technique is highly valuable in the pharmaceutical industry. It is used in pharmaceutical research, studies, and clinical trials. LC-MS tools are of critical importance when testing for drug safety and toxicology or endogenous compound quantification. LC-MS application in the pharma industry has started from early development stages until the final drug launch and even beyond with continuous post-commercialization testing and trials. With the mounting pressure on the healthcare sector with increasing population, mutating diseases, absence of cure for specific life-threatening medical conditions, and surging geriatric population, players in the pharmaceutical industry have increased the number of clinical trials. Specific attention is being paid to developing novel therapies and drugs that can cure leading causes of fatalities such as cancer and heart conditions. In April 2023, the Institute of Cancer Research reported that a new oral drug called NXP800 for cancer has shown potent activity working against cancer cells. The product has already entered phase I clinical trial. These factors are likely to create higher growth opportunities for the LC-MS industry.
LC-MS Market: Challenges
Operational complexities of LC-MS devices to challenge market growth
Liquid Chromatography-Mass Spectrometers are operationally complex to operate. Accurate result analysis and interpretation also require expertise or skilled professionals who have a thorough knowledge of the analytical concept. LC-MS technique is highly sensitive which is also one of the major reasons for its high application. However, this attribute makes it difficult to be used in testing dealing with trace analysis. The associated technical complexities of LC-MS are expected to challenge global market size expansion.
LC-MS Market: Segmentation
The global LC-MS market is segmented based on end-user, application, technology, and region.
Based on end-user, the global market segments are pathology laboratories, academic research institutions, hospitals, forensic laboratories, diagnostic centers, contract research organizations, and others. In 2022, the highest growth was observed in the hospitals segment driven by the high application of the LC-MS technique to provide enhanced and effective patient care. LC-MS devices are used to diagnose medical conditions and determine the impact of medical care on disease management or treatment. An increasing number of patients with several medical conditions and a rising elderly population are the main causes for higher segmental growth. In 2019, around 0.6 million people in the US visited hospitals every day.
Based on application, the liquid chromatography-mass spectrometer industry segments are forensic testing, environmental testing, clinical testing, drug discovery & development, and others.
Based on technology, the global liquid chromatography-mass spectrometer market segments are quadruple-time of flight, time of flight, triple quadruple, and others. In 2022, the highest demand was recorded for triple quadruple technology due to large-scale applications in environmental testing and drug development testing procedures along with extensive application in clinical trials or diagnostics. Quadruple-time of flight is a hybrid method leveraging the functionalities of quadruple and time-of-flight technologies. The sample size for the LC-MS method typically stands at 50-200 μL.
LC-MS Market: Report Scope
Report Attributes
Report Details
Report Name
LC-MS Market
Market Size in 2022
USD 4.90 Billion
Market Forecast in 2030
USD 13.80 Billion
Growth Rate
CAGR of 13.82%
Number of Pages
205
Key Companies Covered
Agilent Technologies, Thermo Fisher Scientific, SCIEX, Waters Corporation, PerkinElmer Inc., Shimadzu Corporation, Rigaku Corporation, Bruker Corporation, LECO Corporation, Markes International Ltd., Kore Technology Ltd., Hitachi High-Tech Corporation, AB Sciex, Extrel CMS LLC, Zhejiang University Chuangxin Instruments Co. Ltd., Advion Inc., JEOL Ltd., and others.
Segments Covered
By End-User, By Application, By Technology, and By Region
Regions Covered
North America, Europe, Asia Pacific (APAC), Latin America, Middle East, and Africa (MEA)
Base Year
2022
Historical Year
2017 to 2021
Forecast Year
2023 - 2030
Customization Scope
Avail customized purchase options to meet your exact research needs. Request For Customization
LC-MS Market: Regional Analysis
North America to deliver the best results during the projected timeline
The global LC-MS market will be led by North America with the US representing the highest regional market share. The primary reason for higher growth is the robust healthcare infrastructure in the US. The country is known for its progressive approach in terms of novel drug development and the introduction of new treatment therapies for fatal and rare medical conditions. As per official data from the company, Pfizer invested nearly USD 11.4 billion in research and development in 2022. In May 2022, the company announced that it would invest INR 150 crore to build a new drug development center in India. In addition to this, the US government is strengthening its take on environmental pollution leading to growing expenditure on environmental testing. In the last year, the country spent more than USD 150 billion on environmental protection. Growth in Asia-Pacific is likely to be the result of growing healthcare infrastructure and the presence of a growing number of LC-MS device makers. The rising population and increasing need for efficient drugs and medicines could create higher growth streams for the regional market.
LC-MS Market: Competitive Analysis
The global LC-MS market is led by players like:
Agilent Technologies
Thermo Fisher Scientific
SCIEX
Waters Corporation
PerkinElmer Inc.
Shimadzu Corporation
Rigaku Corporation
Bruker Corporation
LECO Corporation
Markes International Ltd.
Kore Technology Ltd.
Hitachi High-Tech Corporation
AB Sciex
Extrel CMS LLC
Zhejiang University Chuangxin Instruments Co. Ltd.
Advion Inc.
JEOL Ltd.
The global LC-MS market is segmented as follows:
By End-User
Pathology Laboratories
Academic Research Institutions
Hospitals, Forensic Laboratories
Diagnostic Centers
Contract Research Organization
Others
By Application
Forensic Testing
Environmental Testing
Clinical Testing
Drug Discovery & Development
Others
By Technology
Quadruple-Time of Flight
Time of Flight
Triple Quadruple
Others
By Region
North America
Europe

France
The UK
Spain
Germany
Italy
Rest of Europe

Asia Pacific

China
Japan
India
South Korea
Southeast Asia
Rest of Asia Pacific

Latin America

Brazil
Mexico
Rest of Latin America

Middle East & Africa

GCC
South Africa
Rest of Middle East & Africa