Introduction
The knee hyaluronic acid injections market is set for rapid growth over the forecast period. In terms of revenue, the global knee hyaluronic acid injections market accounted for USD 1,105.9 Million in 2019 and is expected to reach USD 2,265.9 Million by 2026, growing at a CAGR of 10.79%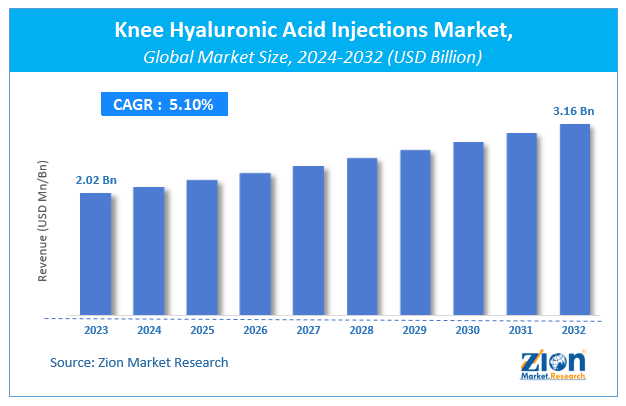 Request Free Sample
Global Knee Hyaluronic Acid Injections Market: Overview
The intra-articular injection is the injection method used to deliver hyaluronic acid to the knee. An intra-articular injection is one that is given directly into the joint capsule. Osteoarthritis patients are given a hyaluronic acid injection as it aids in the relief of knee discomfort and pain. The acid also helps in joint lubrication and allows the knees to function more smoothly. While hyaluronic acid is available in pill form, doctors recommend administering the drug by injection. As a result, this aspect significantly boosts the growth of the knee hyaluronic acid injection industry.
This operation is usually performed in a doctor's office by an orthopedic physician. This treatment can also be provided by some rheumatologists and primary care physicians. The injection process normally takes just a few minutes and does not require any prior planning. It is, however, recommended to discuss the medical history and current medications with doctors before starting this procedure.
Knee Hyaluronic Acid Injections Market Report Scope:
Report Attributes
Report Details
Report Name
Knee Hyaluronic Acid Injections Market Report
Market Size in 2019
USD 1,105.9 Million
Market Forecast in 2026
USD 2,265.9 Million
Compound Annual Growth Rate
CAGR of 10.79%
Number of Pages
110
Forecast Units
Value (USD Billion), and Volume (Units)
Key Companies Covered
Seikagaku Corporation (Zimmer Biomet Inc.), Sanofi S. A., Bioventus LLC, Fidia Farmaceutici S.p.A., Ferring B.V, Anika Therapeutics Inc. (DePuy Synthes Inc.) (Johnson & Johnson), Meiji Seika Pharma Co., Ltd, Biochimique SA (Bioventus LLC), Hanmi Pharmaceutical co., ltd., and Mylan N.V.
Segments Covered
By Type,By end-user, And By Region
Regions Covered
North America, Europe, Asia Pacific (APAC), Latin America, Middle East and Africa (MEA)
Countries Covered
North America: U.S and Canada
Europe: Germany, Italy, Russia, U.K, Spain, France, Rest of Europe
APAC: China, Australia, Japan, India, South Korea, South East Asia, Rest of Asia Pacific
Latin America: Brazil, Argentina, Chile
The Middle East And Africa: South Africa, GCC, Rest of MEA
Base Year
2021
Historical Year
2016 to 2020
Forecast Year
2022 - 2030
Customization Scope
Avail customized purchase options to meet your exact research needs. Request For Customization
Global Knee Hyaluronic Acid Injections Market: Growth Factors
The growing prevalence of osteoarthritis among the geriatric population has remained a major challenge over the years, affecting their quality of life. While both middle-aged and elderly people are susceptible to common joint pains and inflammations, the impact of osteoarthritis is severe and has a significant impact on the health of people aged 60 or above.
Osteoarthritis, the most common form of arthritis, affects the cartilage, a tissue that covers the knee joint, stiffening free movement and causing persistent pain. Although there is no permanent solution, a procedure known as viscosupplementation has emerged as an effective remedy that medical professionals prescribe when other treatment approaches fail to relieve pain. In order to enhance the lubricating qualities of the synovial fluid, hyaluronic acid/hyaluronate, is injected into the knee joint. Viscosupplementation is often not a permanent treatment, but injections can help relieve discomfort and improve mobility and comfort in the knee. The treatment usually entails three to five injections, each on a weekly basis. As the incidence of osteoarthritis rises in direct relation to the growing geriatric population, the demand for viscosupplementation will rise, thereby contributing to the growth of knee hyaluronic injections in the years ahead.
According to the World Health Organization's (WHO) Global Burden of Diseases Report, osteoarthritis is the leading cause of disability in older people. More than 10% to 15% of people aged 60 and up experience osteoarthritis of varying severity, with women being more at risk than men. According to the Centers for Disease Control and Prevention (CDC), over 32 million people in the United States are currently living with osteoarthritis. About 300 million people worldwide are reportedly living with osteoarthritis, and the number is growing year after year.
Although hyaluronic acid injections continue to be the treatment of choice for both patients and doctors worldwide, some drawbacks associated with the treatment are limiting market growth to some degree. The most common side effects have been stated to be injection-site pain, heat, swelling, redness, itching, rash, and bruising around the joint, among others. While they are just temporary, the severity varies from person to person, causing intense pain in others. Fluid accumulation in the injected knee, infections, and bleeding have been reported as complications in some severe cases. While medical associations have suggested that side effects are caused by a lack of medical professional expertise rather than the risk of the procedure, it has had a negative impact on patients' understanding of the treatment. In a similar vein, injection therapy offers pain relief for 3 to 6 months before requiring another dose of injections. This is causing patients with more disposable income to opt for knee replacement surgery, which provides a permanent cure for the condition.
Global Knee Hyaluronic Acid Injections Market: Segmentation
Three-injection visco-supplementation will continue to be the most common, accounting for more than half of global value. This is primarily due to a strong demand among patients due to its demonstrated popularity and the availability of a diverse range of licensed products globally. Moreover, single injection viscosupplementation is considered to be the second most common, owing to benefits such as fewer hospital visits and lower pain or side effects. A novel version known as next-generation viscosupplementation, on the other hand, is expected to find a place among patients interested in taking steroid combinations.
The ambulatory surgical center segment is expected to account for approximately one-third of the market value by the end of the evaluation period. A preference for the segment can be attributed to a shorter length of stay and lower expenditure as compared to hospitals. On the same note, orthopedic clinics are poised to command a sizable market share, owing to their low cost and the increasing number of orthopedic centers around the world.
Global Knee Hyaluronic Acid Injections Market: Regional Analysis
By Geography, the knee hyaluronic acid injections market is segmented into North America, Europe, Latin America, Asia Pacific, and Middle East and Africa.
North America is poised to retain its supremacy in the regional landscape, accounting for a significant market value in the forecast era. The region's dominance is largely due to the presence of a large population in the United States suffering from arthritis. According to the CDC, one in every four adults in the United States suffers from arthritis, with osteoarthritis being the most common types. Furthermore, the number is estimated to exceed in the United States alone, generating a large demand for hyaluronic acid injections in the treatment.
In Europe, as in North America, the use of knee hyaluronic acid injections is linked with a rise in the incidence of arthritis. According to the British Society for Rheumatology, it affected over 40 million people in the region, and 45% of people have a long-term risk of knee osteoarthritis. Also, osteoarthritis was identified as the fastest-growing cause of disability globally, becoming a source of concern among the geriatric population in the region. The European Community and the European League Against Rheumatism initiated the EUMUSC project, with the aim of establishing patient-centered and consensus-based standards of care (SOC) for osteoarthritis. Such beneficial policies would keep the European economy on a profitable growth path.
Due to the increasing burden of osteoarthritis in China, Japan, and South Korea, Asia Pacific is expected to be the third largest regional market for knee hyaluronic acid injections. According to recent statistics, the number of people in China suffering from the disease rose from 26.6 million in 1990 to 61.2 million in 2017. Similarly, a survey titled 'Research on Osteoarthritis/osteoporosis' against Disability discovered that more than 25 million people in Japan over the age of 40 suffer from osteoarthritis. As affected populations pursue viscosupplementation treatment methods, this presents a tremendous opportunity for players in the knee hyaluronic acid injections industry.
Global Knee Hyaluronic Acid Injections Market: Competitive Players
The major players in the global knee hyaluronic acid injections market include
Seikagaku Corporation (Zimmer Biomet Inc.)
Sanofi S. A.
Bioventus LLC
Fidia Farmaceutici S.p.A.
Ferring B.V
Anika Therapeutics Inc. (DePuy Synthes Inc.) (Johnson & Johnson)
Meiji Seika Pharma Co.Ltd
Biochimique SA (Bioventus LLC)
Hanmi Pharmaceutical co.ltd.
Mylan N.V. (Meda AB) among others.
The report segment of global knee hyaluronic acid injections market are as follows:
Global Knee Hyaluronic Acid Injections Market: Product Type Segment Analysis
One (Synvisc One)
Three (Euflexxa, Synvisc)
Four (Orthovisc)
Five (Hyalgan)
Next Generation (Steroid Combination)
Global Knee Hyaluronic Acid Injections Market: End-User Segment Analysis
Hospitals
Orthopedic Clinics
Online Sales
Retail Pharmacies
Global Knee Hyaluronic Acid Injections Market: Regional Segment Analysis
North America
Europe

France
The UK
Spain
Germany
Italy
Rest of Europe

Asia Pacific

China
Japan
India
South Korea
Southeast Asia
Rest of Asia Pacific

Latin America

Brazil
Mexico
Rest of Latin America

Middle East & Africa

GCC
South Africa
Rest of Middle East & Africa