The report includes revenue forecast & analysis of the IoT in Chemical Industry Market on a global as well as regional level. It also offers historic data of 2016 and 2017 and provides evaluation of the industry growth during 2019-2025 in terms of USD Billion. Our study includes competitive strategies adopted by the key business players based on the framework offered by the Porter's Five Forces Analysis impacting the market evolution.
According to the report, global demand for IoT in Chemical Industry Market was valued at nearly USD 47 Billion in 2018, and is expected to generate revenue of around USD 80 Billion by end of 2025, growing at a CAGR of around 9% between 2019 and 2025.
Our study offers accurate market attractiveness analysis, thereby assisting the customer in exploring the high growth prospects of the IoT in Chemical Industry over the timespan from 2019 to 2025. The report also offers historical data from 2016 to 2018. Moreover, the market is divided into segments including technology type, chemical verticals, and region.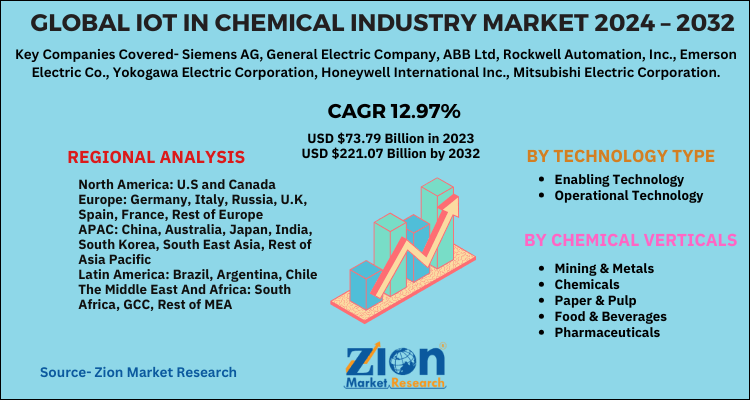 Request Free Sample
Based on the technology type, the IoT in chemical industry market is segregated into Enabling Technology and Operational Technology. In terms of chemical verticals, the business is classified into Mining & Metals, Chemicals, Paper & Pulp, Food & Beverages, and Pharmaceuticals. Region-wise, the prostate cancer therapeutics market is segregated into North America, Latin America, the Middle East and Africa, Europe, and the Asia Pacific.
The report encompasses PESTEL and SWOT analysis for critically examining the factors affecting the performance of each industry player in the current scenario as well as during the forecast timeline. It also provides an insight into the competitive moves adopted by the key market players to gain competitive edge.
Details of the Report:
| | |
| --- | --- |
| Report Metric | Details |
| Base Year | 2018 |
| Historical Data | 2016 and 2017 |
| Forecast period | 2019-2025 |
| Segments Analyzed | By Technology Type, By Chemical Verticals, and By Region |
| Regions Analyzed | North America, Asia Pacific, Latin America, Europe, and the Middle East and Africa |
Key Drivers:
With IoT trends becoming prevalent across all the industries, Chemical industry is no exception to it. Moreover, the ability of this new technology to improve the operational efficiency of the chemical processes has led to its massive use by various players involved in the business of chemical production. Apparently, the IoT offers exceptional predictive maintenance, forward integration, and quality assurance and this will further assist the IoT in Chemical industry market growth gain momentum over the coming years.
The key players influencing IoT in chemical industry market growth and profiled in the report include Siemens AG, General Electric Company, ABB Ltd, Rockwell Automation, Inc., Emerson Electric Co., Yokogawa Electric Corporation, Honeywell International Inc., Mitsubishi Electric Corporation, and Schneider Electric SE.
This report segments the IoT in Chemical Industry market as follows:
Global IoT in Chemical Industry Market: By Technology Type Segment Analysis
Enabling Technology

Operational Technology
Global IoT in Chemical Industry Market: By Chemical Verticals Segment Analysis
Mining & Metals

Chemicals

Paper & Pulp

Food & Beverages

Pharmaceuticals
Global IoT in Chemical Industry Market: By Regional Segment Analysis
North America
Europe
Asia Pacific
Latin America
Middle East and Africa