According to the report published by Zion Market Research, Global demand for the Industrial Centrifuge market was valued at approximately USD 7,200 Million in 2019, and is expected to generate revenue of around USD 9,116.2 Million by end of 2026, growing at a CAGR of around 4.4% between 2020 and 2026.
Industrial Centrifuge Market: Overview
The industrial centrifuge is a mechanism that is used for the separation of fluid and particles. Centrifugal force rotations powered by an electric motor are used to generate gravity, which is several hundred or thousands of times of earth's gravity. Industrial centrifuges are used for separating solids from liquids, liquid–liquid–solid separation, and liquid–liquid separation. The separation normally involves the separation of insoluble particles from liquids or mixed liquids of different densities and centrifugally. The industrial centrifuge is extensively used in industries to separate solids from a liquid. Chemical industries, pharmaceutical industries, engineering industries, and other industries widely used an industrial centrifuges.
Industrial Centrifuge Market: Growth Factors
The global industrial centrifuge market is witnessing high demand for water processing and chemical process industries. The growth of food processing industries, pharmaceutical, and biotechnology industries are also fueling the global industrial centrifuge market. Technological development and increasing awareness about the environment and wastewater management will also contribute to the growth of the global market. However, the high cost of centrifuges is a major factor restraining the growth of the industrial centrifuge market.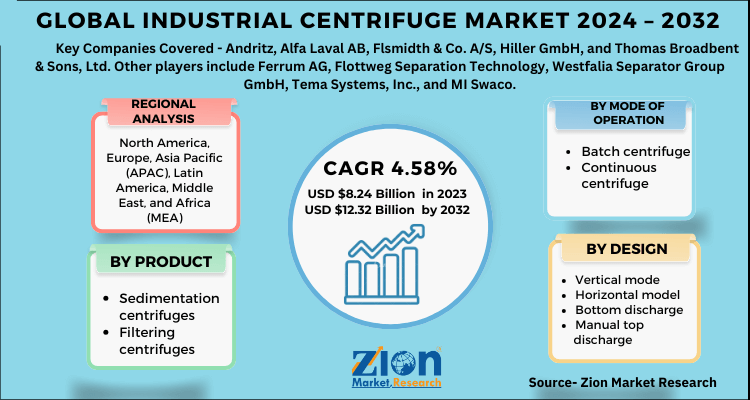 Request Free Sample
Industrial Centrifuge Market: Segmentation
The global industrial centrifuge market can be classified into type, mode of operation, design, and end use. The global industrial centrifuge market is further divided into sedimentation centrifuges and filtering centrifuges. The sedimentation centrifuges are used in different gravities of materials. However, filtering centrifuges are used in filtration media. Based on the mode of operation the global market is bifurcated as a batch centrifuge and continuous centrifuge. The industrial centrifuge market is also classified as a vertical model, horizontal model, bottom discharge, and manual top discharge based on the design. The global industrial centrifuge market is divided on the basis of end-use application as water processing, chemical processing, pharmaceutical and biotechnology industries, fuel and biofuel industry, food processing, mining and mineral processing, and so on.
Industrial Centrifuge Market: Regional Analysis
Geographically, the global industrial centrifuge market is categorized as North America, Europe, Asia-Pacific, Latin America, and the Middle East & Africa. North America contributes the largest market share in the global market. The industrial centrifuge market in Latin America is poised to increase in the future due to growing industrialization and emerging economies such as Brazil and Mexico. The Asia Pacific is witnessing high growth in the industrial centrifuge market due to factors such as rising population, improvement in disposal income, demand for wastewater treatment systems, and rapidly growing pharmaceutical, and chemicals industries.
Industrial Centrifuge Market: Competitive Players
Some main participants in the Industrial Centrifuge market are Andritz, Alfa Laval AB, Flsmidth & Co. A/S, Hiller GmbH, and Thomas Broadbent & Sons, Ltd. Other players include Ferrum AG, Flottweg Separation Technology, Westfalia Separator Group GmbH, Tema Systems, Inc., and MI Swaco.
Industrial Centrifuge Market: Regional Segment Analysis
North America
Europe

France
The UK
Spain
Germany
Italy
Rest of Europe

Asia Pacific

China
Japan
India
South Korea
Southeast Asia
Rest of Asia Pacific

Latin America

Brazil
Mexico
Rest of Latin America

Middle East & Africa

GCC
South Africa
Rest of The Middle East & Africa