Hyperspectral Imaging System Industry Prospective:
The global hyperspectral imaging system market size was worth around USD 14.85 billion in 2022 and is predicted to grow to around USD 34.58 billion by 2030 with a compound annual growth rate (CAGR) of roughly 11.31% between 2023 and 2030.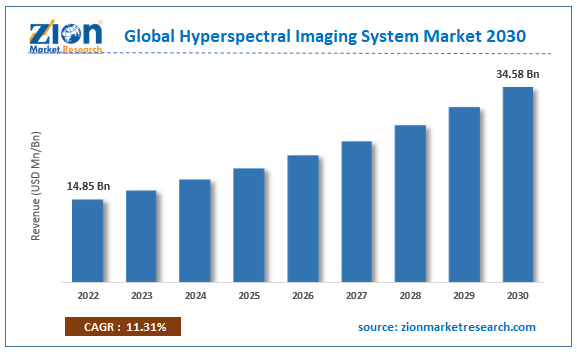 Request Free Sample
Hyperspectral Imaging System Market: Overview
Hyperspectral imaging systems are used for processing and collecting information from across the electromagnetic spectrum. It is the frequency range of electromagnetic radiation. The primary role of a hyperspectral imaging system is to determine and obtain the spectrum associated with each pixel in a given image. The end goal is to identify materials, find objects, and detect processes. In the commercial world, currently, there are three hyperspectral imaging systems including push broom scanners, band sequential scanners, and snapshot hyperspectral imagers. The human eye can only register and see three bands that are long, medium, and short wavelengths; however, the hyperspectral imaging system assists in dividing the spectrum into multiple bands. The system is therefore helpful in analyzing wavelengths that are beyond the capacity of the naked eye. The tool has several applications across end-user verticals such as molecular biology, astronomy, biomedical imaging, surveillance, agriculture, physics, and geosciences. The industry for hyperspectral imaging systems is expected to grow at a steady pace during the forecast period.
Key Insights:
As per the analysis shared by our research analyst, the global hyperspectral imaging system market is estimated to grow annually at a CAGR of around 11.31% over the forecast period (2023-2030)
In terms of revenue, the global hyperspectral imaging system market size was valued at around USD 14.85 billion in 2022 and is projected to reach USD 34.58 billion, by 2030.
The hyperspectral imaging system market is projected to grow at a significant rate due to the increasing application in space exploration activities
Based on application segmentation, the military segment was predicted to show maximum market share in the year 2022
Based on technology segmentation, push broom was the leading segment in 2022
On the basis of region, North America was the leading revenue generator in 2022
Hyperspectral Imaging System Market: Growth Drivers
Increasing application in space exploration activities to drive market growth
The global hyperspectral imaging system market is expected to grow owing to the increasing application of the device in growing space exploration activities. In recent times, nations across the globe have been working toward improving their space programs for several strategic and academic reasons. Space exploration is an important part of the modern world since it helps us gain more understanding of the outer environment. Hyperspectral imaging systems are critical components that facilitate astronomy-related adventures. Additionally, they are also helpful in aiding technological growth on Earth by providing necessary communication and image-based infrastructure from outer space. These tools are essential for identifying space objects with utmost precision and clarity. They are also helpful in detecting faint signals coming toward the planet or moving away from it. This technique is used for several space-related calculations and research. In December 2022, China launched a new hyperspectral earth-imaging tool in outer space. The satellite launched is called the Long March 2D rocket and is China's one step forward toward its ambitious space-related vision. In 2018, the Indian space agency launched a massive number of 30 satellites in November. One of the launched satellites was capable of hyperspectral imaging for earth observations. The data thus obtained has applications across telecommunication, military, and other technology-oriented sectors.
Research toward 5-D imaging systems to create exceptional revenue streams
The hyperspectral imaging system market is projected to further gain benefits from the rising attention toward the development of 5-dimensional hyperspectral imaging systems. In 2018, the research team at Fraunhofer Institute for Applied Optics and Precision Engineering, Germany, and Stefan Heist of Friedrich Schiller University Jena in association with a research group belonging to Ilmenau University of Technology developed a new and compact imaging system with 5-D imaging capabilities. While capturing multiple wavelengths, it also deals with spatial coordinates as a function of time. The researchers claimed that the device, with further miniaturization, could be integrated with smartphones and used for agricultural or medical purposes.
Hyperspectral Imaging System Market: Restraints
High cost of equipment to restrict market growth
The global hyperspectral imaging system market growth is expected to be restricted due to the high cost associated with hyperspectral imaging systems. For instance, cameras with this technology developed by OPTOSKY with 400-1000 nm dimensions range between USD 45000 to USD 50000. Since these tools are resource-intensive, it is crucial that the performance attributes of the tool match the intended goal, and selecting ideal hyperspectral imaging systems becomes a crucial factor. In addition to these expenses, users also have to invest in supporting equipment required for data storage and interpretations leading to added costs.
Hyperspectral Imaging System Market: Opportunities
Growing collaboration between market players to assist in developing new opportunities
The growth trend for the hyperspectral imaging system industry will be presented with new growth opportunities as a result of ongoing and increasing strategic collaborations between market players. For instance, in April 2023, the Indian Institute of Technology (IIT)-Indore collaborated with research teams from the National Aeronautics and Space Administration (NASA)-Caltech and the University of Gothenburg for the development of a low-cost hyperspectral imaging camera that can provide multispectral imaging for 4 chemical species using only a Digital Single-Lens Reflex (DSLR) camera. In November 2020, XIMEA in collaboration with imec launched a brand new and improvised version of the previously popular xiSpec hyperspectral cameras. imec or Interuniversity Microelectronics Centre is a global research and development center whereas XIMEA is known for its industrial and scientific-grade cameras with all essential certifications. The new device has maintained its original dimensions but has worked on optimizing spectral performance. The market value will further be improved due to several advancements in the current imaging systems. A prime example is the September 2022 launch of new hyperspectral imaging system hardware by Raptor for Original Equipment Manufacturers (OEM). The new tool is equipped with an Owl 320HS camera and boasts a custom spectrometer with an option for the lens.
Hyperspectral Imaging System Market: Challenges
Accurate management of multiple bandwidths to challenge market expansion
The hyperspectral imaging system industry is plagued with several technical challenges that are mainly associated with the massive number of bandwidths these tools deal with. Some of the obstacles that arise during application are geometric distortion, noise-causing imaging calibration, noisy labels, and unbalanced labeled training samples. These factors impact storing, mining, and managing the data thus collected.
Hyperspectral Imaging System Market: Segmentation
The global hyperspectral imaging system market is segmented based on application, product, technology, and region.
Based on application, the global market sensors are remote sensing, military, machine vision & optical sorting, medical diagnostics, and others. In 2022, the military segment was the leading revenue generator with control over 25.1% of the total revenue. Hyperspectral imaging systems play a crucial role in managing national security issues. It helps in the identification of objects and personnel. The rising rate of advanced imaging systems in military applications could assist further segmental growth during the forecast period. The medical diagnostics segment is projected to grow at a CAGR of 11.35% by 2030.
Based on product, the hyperspectral imaging system industry's segments are accessories and cameras.
Based on technology, the global market is fragmented into snapshot, push broom, and others. In 2022, the leading segment was push broom technology. These tools can be mounted on moving objects such as satellites and aircraft thus having higher applications in the military and aerospace sectors. They allow spectral scanning line by line thus creating a continuous spectral image for analysis. The snapshot segment is also a crucial contributor. Most application accuracies using hyperspectral imaging systems reached over 90%.
Hyperspectral Imaging System Market: Report Scope
Report Attributes
Report Details
Report Name
Hyperspectral Imaging System Market
Market Size in 2022
USD 14.85 Billion
Market Forecast in 2030
USD 34.58 Billion
Growth Rate
CAGR of 11.31%
Number of Pages
227
Key Companies Covered
Telops Inc., Headwall Photonics Inc., Corning Incorporated, Surface Optics Corporation, Specim, Spectral Imaging Ltd., Brimrose Corporation, Resonon Inc., Norsk Elektro Optikk AS (NEO), BaySpec Inc., Galileo Group Inc., imec, ChemImage Corporation, and others.
Segments Covered
By Application, By Product, By Technology, and By Region
Regions Covered
North America, Europe, Asia Pacific (APAC), Latin America, Middle East, and Africa (MEA)
Base Year
2022
Historical Year
2017 to 2021
Forecast Year
2023 - 2030
Customization Scope
Avail customized purchase options to meet your exact research needs. Request For Customization
Hyperspectral Imaging System Market: Regional Analysis
North America to lead with the highest market share in the near future
During the forecast period, the global hyperspectral imaging system market will be dominated by North America. In 2022, the region controlled more than 30.5% of the global revenue. One of the leading factors for higher regional growth is the extensive proliferation of hyperspectral imaging systems across industries including healthcare, military, aerospace, and others. The technology is used for cancer detection and the US has one of the most well-renowned infrastructures that supports cancer detection and treatment. Centers such as Roswell Park Cancer Institute in New York, Abramson Cancer Center in Philadelphia, and Johns Hopkins Hospital Sidney Kimmel Comprehensive Cancer Center are some of the leading institutes working toward intensive cancer research.
In addition to this, the growing research and development for technology advancement with an intention to improve product application is expected to further promote regional expansion trajectory. In June 2023, NASA announced that it would take the assistance of industry players to develop orbiting hyperspectral space sensors capable of measuring ocean ecosystems. In November 2022, the National Reconnaissance Office will expand its applications of commercial hyperspectral imaging technology thus providing extensive support to the US government.
Hyperspectral Imaging System Market: Competitive Analysis
The global hyperspectral imaging system market is led by players like:
Telops Inc.
Headwall Photonics Inc.
Corning Incorporated
Surface Optics Corporation
Specim
Spectral Imaging Ltd.
Brimrose Corporation
Resonon Inc.
Norsk Elektro Optikk AS (NEO)
BaySpec Inc.
Galileo Group Inc.
imec
ChemImage Corporation
The global hyperspectral imaging system market is segmented as follows:
By Application
Remote Sensing
Military
Machine Vision & Optical Sorting
Others
By Product
By Technology
Snapshot
Push Broom
Others
By Region
North America
Europe

France
The UK
Spain
Germany
Italy
Rest of Europe

Asia Pacific

China
Japan
India
South Korea
Southeast Asia
Rest of Asia Pacific

Latin America

Brazil
Mexico
Rest of Latin America

Middle East & Africa

GCC
South Africa
Rest of Middle East & Africa