Description
The hospital capacity management solution market is set for a rapid growth over the forecast period. In terms of revenue, the global hospital capacity management solution market accounted for USD 640.08 Million in 2019 and is expected to reach USD 1,023.20 Million by 2026, growing at a CAGR of 6.93%
Global Hospital Capacity Management Solution Market: Overview
The number of patients and the number of diseases worldwide is growing exponentially. This is a massive strain on the healthcare system. Efficiency is crucial for the growth of better treatment, the management of expenditure and the delivery of excellent patient service. Emerging technologies and creative approaches in healthcare management systems are therefore causing significant improvements to the workforce environment of hospitals and other medical facilities.
Healthcare operations management is now working to resolve various hurdles and enhance patient satisfaction through minimizing costs by smooth operations and providing greater visibility. Many hospitals are deploying Hospital Capacity Management (HCM) Solutions to accomplish this. HCM lets hospitals better track patient services and make efficient use of their resources to produce more revenue.
HCM solutions also facilitate better management of hospital risks. HCM adopts a pragmatic approach for reliable demand forecasting, acuity-aligned medical staffing, and diverse patient movements focused on real-time situation in order to reduce risks.
Bed Management solutions is used for monitoring bed usage rates and controlling processes from bed enrollment to maintenance.
Asset Management solutions is used for monitoring the patterns of use and appropriate usage of high-end medical equipment.
Quality patient care solutions are applied for improved patient satisfaction.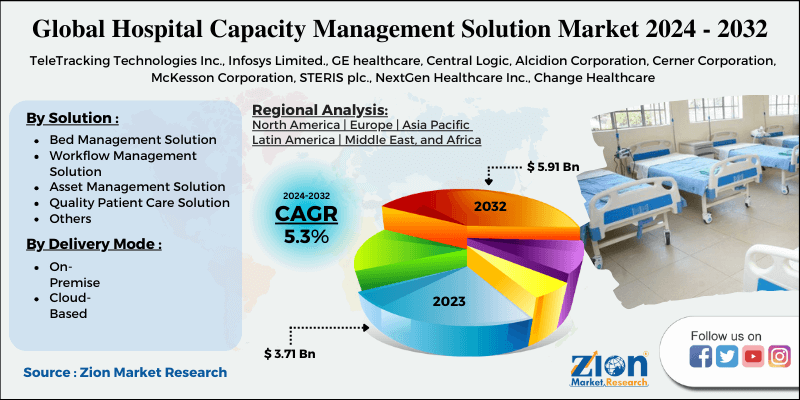 Benefits of Hospital Capacity Management (HCM)
HCM ensures early patient recovery and faster treatment pathways, as well as helping hospitals retain a favorable market edge.
It facilitates sustainable cost structure reduction and integrates real-time patient flows with business analytics for effective allocation of resources.
HCM decreases the duration of hospitalization of the patient and increases the standards and timeliness of care delivery.
HCM encourages openness by facilitating prompt contact between hospital staff, patients and their caregivers, while also reducing patient waiting times.
It also shows real-time insight of patient's current location and status and ensures efficient time management and error reduction through user-friendly monitoring systems.
Global Hospital Capacity Management Solution Market: Growth Factors
The factors driving the HCM market include the increase in the number of registered in-patients seeking long-term treatment and rising demand for quality patient care and transparency in healthcare dealings.
Earlier patient discharges and reduction of readmissions and the need for prompt care and successful cure are other factors driving market development.
The need for integrated and comprehensive healthcare services and solutions in hospitals and the availability of user-friendly solutions and capacity management interfaces is expected to boost the HCM market.
The objective of providing cost-effective care services by optimal use of hospital resources to increase revenue generation is future anticipated to contribute to the market growth.
Global Hospital Capacity Management Solution Market: Regional Analysis
By Geography, the hospital capacity management solution market is segmented into North America, Europe, Latin America, Asia Pacific, and Middle East and Africa.
North America accounts for a significant share of the global hospital capacity management market due to factors such as increasing prevalence of chronic diseases and growing demand for early-stage disease treatment. In addition, growing government emphasis on providing better healthcare services and increasing hospital capacity management solutions in North America and Europe promote the use of hospital capacity management solutions in the region. Countries such as the United States, the United Kingdom, Canada, Italy, Germany, France and Spain are generating enormous opportunities for players operating in the hospital capacity management industry.
The market in Asia Pacific is anticipated to witness significant growth during the forecast period. The expansion of the market in the region is due to factors such as a growth in disposable income of population, an increase in government spending in better health care facilities and an increase in the adoption of technically advanced products in the region.
Global Hospital Capacity Management Solution Market: Competitive Players
The major players in the global hospital capacity management solution market include TeleTracking Technologies, Inc., Infosys Limited., GE healthcare, Central Logic, Alcidion Corporation, Cerner Corporation, McKesson Corporation, STERIS plc., NextGen Healthcare, Inc., and Change Healthcare among others.
The report segment of global hospital capacity management solution market are as follows:
Global Hospital Capacity Management Solution Market: Solution Segment Analysis
Bed Management Solution
Workflow Management Solution
Asset Management Solution
Quality Patient Care Solution
Others
Global Hospital Capacity Management Solution Market: Delivery Mode Segment Analysis
Global Hospital Capacity Management Solution Market: Regional Segment Analysis
North America
Europe

France
The UK
Spain
Germany
Italy
Rest of Europe

Asia Pacific

China
Japan
India
South Korea
Southeast Asia
Rest of Asia Pacific

Latin America

Brazil
Mexico
Rest of Latin America

Middle East & Africa

GCC
South Africa
Rest of Middle East & Africa