According to the report published by Zion Market Research, the global demand for Herbicides market was valued at approximately USD 31.2 Billion in 2019 and is expected to generate revenue of around USD 52.13 Billion by end of 2026, growing at a CAGR of around 6.1% between 2020 and 2026.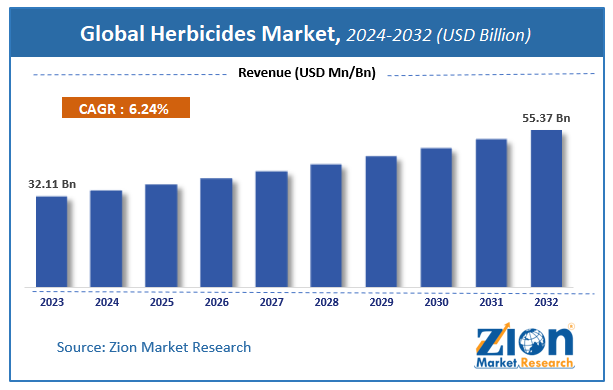 Request Free Sample
Global Herbicides Market: Overview
In Global Herbicides Market Report, herbicide is a chemical material that is used to control the growth of unwanted plants or weeds. It is also known as weed killers and are commonly used in clearing industrial sites, waste ground, and kill all types of plant. It also clears managed landscape and agricultural turf. Herbicides are toxic in nature and cause several health diseases when it directly comes into contact with the human body. The health diseases caused ranges from skin rashes to death on direct consumption. Herbicides protect a wide variety of oilseeds, grains, vegetable crops, and cereals from the influx of weeds.
Global Herbicides Market: Growth Factors
In Global Herbicides Market Report, Major factors that are responsible for the global herbicides market growth are a change in farming practices, the growth of herbicides demand, limited availability of cultivable land, increasing acceptance of modern farming, adoption of the advanced technology, and protected agriculture. Rapid growth in organic herbicides expects to open up new growth opportunities in the future. Growing demand for high agricultural productivity in order to meet increasing demand of the population is positively impacting the global market. It enhances agricultural productivity by killing the unwanted weeds and herbs. Rapidly increasing population and rising financial stability are the key factors that affect the global herbicides market growth.
Global Herbicides Market: Segmentation
The global herbicides market is classified on the basis of crop type, type, mode of action, and regions. The crop type segment is segmented into fruits & vegetables, cereals and grains, cotton, and oilseeds & pulses. The cereals and grains segment dominates the herbicides market. Based on the type, the global market is categorized as paraquat, glyphosate, bio-herbicide, acetochlor, 2, 4-D, atrazine, and others. The glyphosate type segment leads the global market. Based on the mode of selection, the global herbicide market is segmented into selective and non-selective herbicide. Region-wise, the global market is segregated into Asia Pacific, North America, Europe, and Rest of the World.
Global Herbicides Market: Regional Analysis
North America contributed the largest market share in the herbicides market, which is followed by Europe and Asia-Pacific region. Asia-Pacific is the fastest growing region owing to the higher demand for herbicides in terms of production and consumption. China and India are the leading countries in terms of population in the Asia Pacific region and it also shows rapid growth owing to the developing agriculture sector, protected agriculture practices, increasing acceptance of modern farming, and changes in the farming practices. The emerging economies in terms of GDP growth coupled with the increasing disposable income fuels the growth of the market in the region. Acceptance of the bio-based herbicides has opened up new growth opportunities in the North America and European region. Increasing production of cashews, corn, and beans in the South America projects to propel the global herbicides market in coming years.
Global Herbicides Market: Competitive Players
Major players operating in the global herbicides market are Valent Biosciences Corp, Chemtura Corporation, Nufarm Limited, Cheminova A/S, FMC Corporation, Wilbur-Ellis Company, Syngenta AG, and Monsanto Company. Other players influencing the global market are Marrone Bio Innovations Inc., BASF, E.I. Dupont De Nemours & Company, Drexel Chemical Company, Dow Chemical Company, and Nissan Chemical Industries Ltd.
Global Herbicides Market: Regional Segment Analysis
North America
Europe
Asia Pacific
Latin America
The Middle East and Africa
What Report Provides
Full in-depth analysis of the parent market
Important changes in market dynamics
Segmentation details of the market
Former, on-going, and projected market analysis in terms of volume and value
Assessment of niche industry developments
Market share analysis
Key strategies of major players
Emerging segments and regional markets
Testimonials to companies in order to fortify their foothold in the market.