Global Nanomaterials Market: Size
The Global Nanomaterials Market size accounted for USD 13.6 Billion in 2020 and is expected to reach USD 26.3 Billion by 2028, growing at a CAGR of around 8.1% between 2021 and 2028.
Global Nanomaterials Market: Overview
High potential for product adoption for aerospace applications, to enhance the strength and sturdiness of aircraft parts, is predicted to drive the market over the forecast period. Rapid developments in healthcare technology, growth within the medical diagnostics industry, and various advantages of medicinal imaging applications are anticipated to drive the market. Furthermore, increased specialization in research concerning nanotechnology and rising government spending on biotechnology and pharmaceutical R&D is predicted to reinforce the growth of the nanomaterials market size.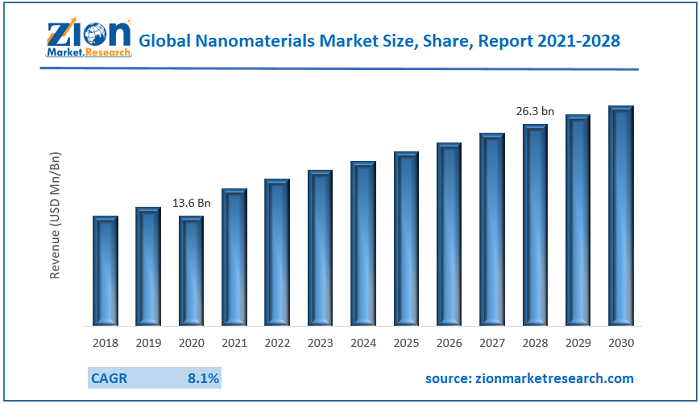 Request Free Sample
COVID-19 Impact Analysis
COVID-19 has impacted businesses across the globe. The imposed lockdown and spread of the contagious virus have slowed down operations in various industries including chemical, metallurgy, power generation, mechanical, and many other industries Measures such as restrictions and lockdowns across the globe have been explicit and unprecedented. Following the pandemic, several companies around the world have announced job cuts as part of their efforts to reduce expenses. It has further disrupted supply chains, delayed projects on chemicals, and power generation, and created labor shortages. The current pandemic situation due to COVID-19 and higher costs of technology is expected to hinder the growth of the market studied.
Growth Factors
Growing government & vendor funding of exploration and production operations is anticipated to favor the worldwide Nanomaterials trends over the approaching years. Escalating usage of the merchandise in healthcare devices, transport, packaging, construction activities, and electrical & electronic appliances will stimulate the expansion of the nanomaterials market in the years to return. Besides this, thriving commodity, chemicals, and energy industries have further contributed to the expansion of the market.
Furthermore, the wide application of the merchandise across batteries, coatings, and anti-bacterial clothing will generate greater demand for the nanomaterials market within the subsequent few years. Nonetheless, technological innovation activities are projected to make lucrative prospects for Nanomaterials over the forthcoming years, thereby normalizing the impact of hindrances on Nanomaterials, reports the study.
Global Nanomaterials Market Restraints
In recent years, the global nanomaterials market size has expanded significantly, propelled by factors such as rising demand for high-performance materials, expanding applications in various industries, and technological advances. However, there are a number of factors that can restrict the market's expansion, including:
High Cost: The production of nanomaterials necessitates expensive, complex manufacturing processes and cutting-edge technologies. The high cost of production can have an effect on the growth of the market because it makes these materials less affordable and accessible for certain applications.
Lack of Standardization: Lack of standardization in the production and testing of nanomaterials can inhibit market expansion. Without established standards, it can be difficult for manufacturers to ensure the quality and safety of their products consistently, which can lead to customer and regulatory concerns.
Regulatory Challenges: There are concerns regarding the potential health and environmental effects of nanomaterials, as their regulatory framework is still in development. As manufacturers and researchers are uncertain about the future of regulations and their impact on their products, regulatory challenges can hinder the market's expansion.
Limited Applications: Although nanomaterials have numerous potential applications, their use in some industries is still limited. The limited applications can hinder the expansion of the market because they reduce the demand for these materials and the opportunities for producers to expand their product lines.
Environmental Concerns: Nanomaterials can have negative environmental effects, particularly if they are not handled or disposed of properly. As consumers and regulators become more aware of the potential risks associated with the use of these materials, environmental concerns may have an impact on the market's expansion.
Report Scope:
| Report Attributes | Report Details |
| --- | --- |
| Report Name | Nanomaterials Market Size Research Survey Report |
| Market Size in 2021 | USD 13.6 Billion |
| Market Forecast by 2028 | USD 26.3 Billion |
| Compound Annual Growth Rate | CAGR of 8.1% |
| Number of Pages | 150 |
| Forecast Units | Value (USD Billion), and Volume (Units) |
| Key Companies Covered | BASF, Evonik Industries, Covestro, Altair Nanotechnologies Inc, EMFUTUR Technologies, and SkySpring Nanomaterials |
| Segments Covered | By Type, By Application, By Region |
| Base Year | 2020 |
| Historical Year | 2016 - 2020 |
| Forecast Year | 2021-2028 |
| Customization Scope | Avail customized purchase options to meet your exact research needs. Request For Customization |
| Report Coverage | Market growth drivers, restraints, opportunities, Porter's five forces analysis, PEST analysis, value chain analysis, regulatory landscape, market attractiveness analysis by segments and region, company market share analysis, and COVID-19 impact analysis. |
Global Nanomaterials Market Opportunities
The global nanomaterials market presents numerous growth and expansion opportunities. Some of the key opportunities for the market include:
Increasing Demand for Nanomaterials in Consumer Electronics: Nanomaterials are increasingly used in consumer electronics due to the demand for high-performance, lightweight, and durable materials. As the demand for advanced electronics products continues to rise, the market is expected to grow significantly.
Growing Applications in Healthcare: With applications ranging from drug delivery to tissue engineering, nanomaterials have huge potential in healthcare. The demand for advanced medical treatments and devices is driving the growth of the market for nanomaterials in the healthcare industry.
Advancements in Nanotechnology: New nanotechnologies and manufacturing processes are expanding the potential applications of nanomaterials in various industries. Innovations in fields such as nanorobotics, nanosensors, and nanomachines generate new market opportunities.
Environmental Applications: Environmental applications for nanomaterials include water purification and air filtration. As concerns about pollution and climate change continue to grow, it is anticipated that demand for these applications will increase.
Emerging Markets: Emerging markets for nanomaterials exist in countries such as China, India, and Brazil, whose industrial sectors are expanding rapidly and whose demand for advanced materials is rising. These emerging markets offer manufacturers and suppliers of nanomaterials opportunities for growth and expansion.
Globally, this market has significant growth potential as new applications and technologies emerge and the demand for advanced materials continues to rise across multiple industries.
Segment Analysis Preview
Key types covered in this study include metal oxides, metals, chemicals & polymers, and others. Among the three, the demand for chemicals & polymers is relatively higher and the trend is anticipated to remain so over the next few years.
Major applications covered in the study are construction, chemical products, packaging, consumer goods, electrical and electronics, energy, healthcare, transportation, and others. The healthcare segment accounted for a market share of 30% in 2019 and is expected to exhibit significant growth over the forecast period, owing to its wide range of applications, including imaging, targeted drug delivery, nanorobots for surgery, nanodiagnostics, cell repair, and nano biosensors.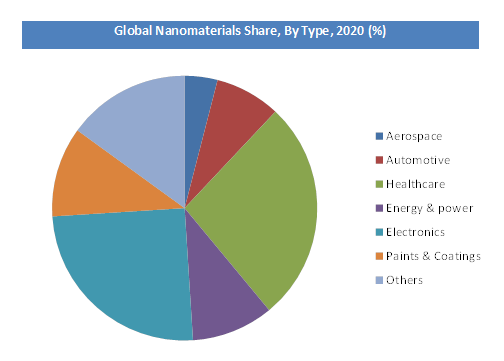 Request Free Sample
Regional Analysis Preview
Regionally, North America has been leading the worldwide market and is anticipated to continue in the dominant position within the years to return, states the market study. The extensive usage of nanotubes in various industries like electronics, chemical products, and pharmaceuticals within the countries like the U.S. is that the main factor behind the dominance of the North American nanomaterials market. The high number of market players headquartered in North America is another significant factor that's supporting this regional market.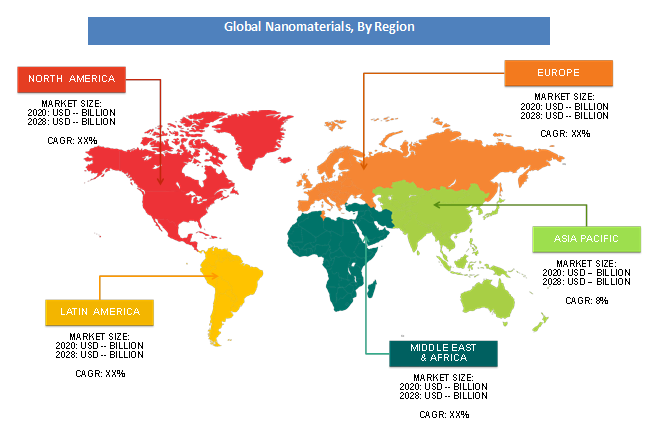 Request Free Sample
Key Market Players & Competitive Landscape
The major players that are comprised of Nanomaterials are BASF, Evonik Industries, Covestro, Altair Nanotechnologies Inc., EMFUTUR Technologies, and SkySpring Nanomaterials among others.
The global Nanomaterials is segmented as follows:
By Application
Aerospace
Automotive
Healthcare
Energy & power
Electronics
Paints & Coatings
Others
By Type
Metal Oxide
Metals
Chemicals and Polymers
Others
By Region
North America
Europe

France
The UK
Spain
Germany
Italy
Rest of Europe

Asia Pacific

China
Japan
India
South Korea
Southeast Asia
Rest of Asia Pacific

Latin America

Brazil
Mexico
Rest of Latin America

Middle East & Africa

GCC
South Africa
Rest of Middle East & Africa