The global Glass Substrate market, which accrued revenue worth 1.63 (USD Billion) in 2019 and is projected to amass earnings about nearly 2.12 (USD Billion) by 2026, will register a CAGR of nearly 5.6% during the period from 2020 to 2026. The report offers assessment and analysis of the Glass Substrate market on a global and regional level. The study offers a comprehensive assessment of the market competition, constraints, sales estimates, opportunities, evolving trends, and industry-validated data. The report offers historical data from 2017 to 2019 along with a forecast from 2020 to 2026 based on revenue (USD Billion).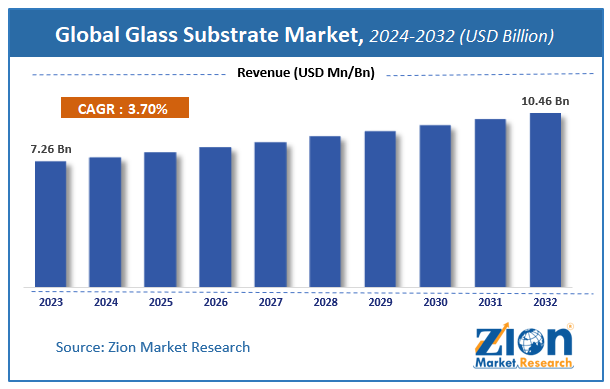 Request Free Sample
Introduction
A glass substrate is a thin panel that is utilized for fabricating of glass units. Moreover, it assist in reducing loss of power supply, enhancement of optical quality, high sensitivity, low die electric constant, and flexible packaging. It is utilized for creation of flat panels for LED & LCD display televisions. Furthermore, the product is also used for producing tablets, laptops, and smartphones. Moreover, with large-scale use of LCD in vehicles, smart devices, and consumer goods, the market for glass substrate is likely to gain traction over the forthcoming years.
Market Growth Drivers
Rise in the use of glass substrate in production of electrical & electronic parts, MEMS equipment, semi-conductors, display equipment, and computing & telecom equipment will drive the market trends. Furthermore, borosilicate is widely utilized glass substrate as a result of its beneficial properties like low thermal co-efficient, high surface strength, and huge chemical resistance. Apart from this, strict government laws pertaining to public safety are few of the major factors influencing the business growth. Apparently, flourishing electronic and semiconductor industries will pave a way for the expansion of glass substrate industry over the ensuing years. Nonetheless, humongous production costs is likely to pose a threat to the growth of glass substrate market over the forthcoming years.
Furthermore, usage of photomasks, which are translucent glass substrates, on metal designs have the ability of blocking light transmissions. Moreover, these metals are chromium ones that can easily bond to glass. Such beneficial properties of the glass substrates will enlarge the scope of the market in the near future.
Asia Pacific To Majorly Contribute Towards Global Market Size During 2020-2026
The expansion of the market in Asia Pacific zone over the estimated timespan is due to huge production of electric as well as electronic goods in the countries like China, Japan, Taiwan, India, South Korea, and Singapore. Apart from this, presence of key players including Guardian Glass, AGC Inc., Viracon, and SCHOTT AG in the region will propel the market revenue over the years ahead. Apparently, the region is headquarter to many of the globally reputed manufacturers and this will eventually translate into lucrative growth opportunities for the business in the sub-continent over the coming years.
Key players profiled in the report include Viracon, The Tunghsu Group, Corning Inc., OHARA Inc., SCHOTT AG, Plan Optik, AGC Inc., HOYA Corporation, LG Chem, Guardian Glass, Nippon Sheet Glass, and IRICO Group New Energy Company Limited.
The global glass substrate market is segmented as follows:
By Type:
Borosilicate-based Glass Substrates
Silicon-based Glass Substrates
Ceramic-based Glass Substrates
Fused Silica/Quartz-based Glass Substrates
Others (Soda-lime and Aluminosilicate-based Glass Substrates)
By End-Use Industry:
Electronics
Automotive
Medical
Aerospace & Defense
Solar
By Region
North America
Europe

France
The UK
Spain
Germany
Italy
Rest of Europe

Asia Pacific

China
Japan
India
South Korea
Southeast Asia
Rest of Asia Pacific

Latin America

Brazil
Mexico
Rest of Latin America

Middle East & Africa

GCC
South Africa
Rest of Middle East & Africa